Most would agree that Microsoft (NASDAQ:MSFT) missed the smartphone revolution and is now doing what it can to stay relevant in that sector by purchasing Nokia's (NYSE:NOK) handset division, plus related patents.
MSFT has been growing its cash steadily over the past four years (see image below)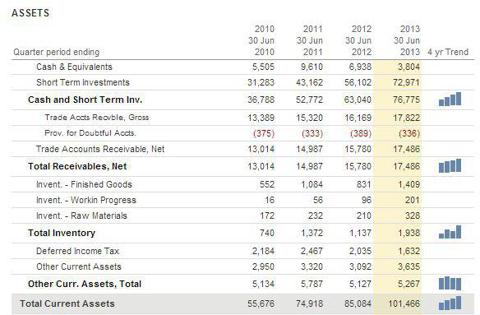 (Image courtesy of RBC Direct Investing)
The reader will note that MSFT only spent roughly 10% of its cash for the NOK related purchase, and this leaves plenty left for another acquisition.
What's interesting is that purchasing part or all of BlackBerry (NASDAQ:BBRY) would be an even cleaner deal than the NOK deal. This is supported by the well known fact that BBRY has no debt and is chalked up with about $3 billion in cash, nearly half of what MSFT just paid for NOK's assets.
The reason why MSFT would want to do something like that is simple. Number 1, MSFT just fought off a patent case brought on by Google (NASDAQ:GOOG), and as a result MSFT could use all the patents it can get. BBRY has patents that GOOG itself bid on in the past from Nortel's old chest of patents. As a result this would add potential protection for MSFT and add value for shareholders.
In examining a potential purchase price of BBRY for MSFT, as of yesterday's close of $10.75 for BBRY, we are only looking at a market cap of $5.6 billion. Therefore if we add a 35% premium to the price similar to what MSFT just paid NOK, then we come out to less than $15 a share for BBRY. What is funny about this number is it is darn close to what MSFT just paid for NOK, roughly $7.5 billion. Which in the end is just another paltry 10% of MSFT's cash. Even if MSFT paid $20 a share for BBRY it would still be a good deal.
So looking at the big picture, MSFT only has to spend roughly 20% of its cash holdings total, and it ends up gobbling up 3rd and 4th spot in smartphone market share to come out as the solid and incontestable 3rd place contender. The solid 3rd place contender that all the cell carriers wanted to see compete with Apple (NASDAQ:AAPL) and Samsung (OTC:SSNLF)
What are some additional reasons on why this makes sense for MSFT? Mainly most corporate enterprise e-mails servers run MSFT Exchange server, and BBRY has proven tied-in management with its BES.
BBRY furthermore is MSFT's main competitor in the automotive industry for HUD and media management in the vehicle, so MSFT now starts to leverage a potential pseudo monopoly in that sector as well.
A move to purchase BBRY quickly puts MSFT back in a mobile market, and allows them to be on the forefront of mobile computing and where it is going. After all most MSFT shareholders were known to complain about how MSFT has not been doing much, and this would be some decisive action to create value for shareholders.
Lastly MSFT has a decent ecosystem and the synergies are natural on the enterprise stage where BBRY is still strong. This is not so far fetched as a concept as MSFT is rumored to be "eyeing" BBRY.
Disclosure: I am long BBRY. I wrote this article myself, and it expresses my own opinions. I am not receiving compensation for it (other than from Seeking Alpha). I have no business relationship with any company whose stock is mentioned in this article.
Additional disclosure: Long BBRY Calls