There have been a lot of positive economic reports released recently, here are six: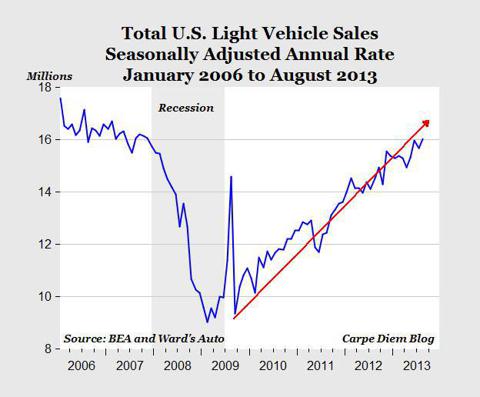 Click to enlarge
(Click to enlarge)
1. US cars sales in August rose to 16.02 million units on a seasonally-adjusted annual rate (SAAR) basis, which was the best sales month since November 2007, the month before the recession started (see chart above). For the month of August, sales this year were just slightly behind sales in 2007 (16.03 million) and ahead of sales in 2006 (15.9 million). As the chart above shows, US car sales have now made a complete recovery from the effects of the 2007-2009 recession, and have rebounded by 7 million units on a SAAR basis from a cyclical low of 9.02 million units in February 2009 to 16.02 million units last month.
2. For the weekend ending August 25, the American Staffing Association's index for temporary and contract employment remained at a level of 97 for the second straight week. That's the highest level of temporary hiring activity since December 2007. Temporary and contract employment has historically been a leading indicator of future employment trends in the economy, and therefore the increase in the ASA staffing index to 2007 levels is a positive sign that the labor market will continue to improve this year.
3. The Conference Board reported last week that its Leading Economic Index for the Euro Area increased 1.0 percent in July, after increasing 0.4 percent in both June and May. "The third consecutive increase in the Euro Area Leading Economic Index signals an improving economic outlook, now that the economy appears to be moving out of recession," says Bert Colijn, Economist for Europe at The Conference Board.
4. Total construction spending in July reached $900.8 billion on a seasonally adjusted annual basis, which was the strongest performance since June 2009 for overall construction spending, and the best performance since September 2008 for residential construction.
5. CoreLogic reported this week that US home prices, including distressed sales, increased by 12.4% in July 2013 from a year earlier, marking the 17th consecutive month of year-over-year home price gains and posting the highest annual price gain since February 2006. Looking forward, CoreLogic expects home prices to rise in August by 12.3%.
6. The August ISM manufacturing index (PMI), a key measure of manufacturing sentiment nationally, came in at 57.7 and easily beat the consensus expectation of 54.0. It was the highest level of manufacturing activity in more than two years, going back to June 2011. According to the Institute for Supply Management, "The past relationship between the PMI and the overall economy indicates that the average PMI for January through August (52.5%) corresponds to a 3.2% increase in real GDP on an annualized basis. In addition, if the PMI for August (55.7%) is annualized, it corresponds to a 4.2% increase in real GDP annually."