Today's ISM Services report for August exceeded expectations by 3.6 points as the actual reading came in at 58.6 relative to expectations of 55.0. To find a month in which the actual reading exceeded expectations by a larger margin, you have to go all the way back to February 2009. Equally impressive is the fact that the actual reading in the ISM Services index was the highest since December 2005.
Combining today's reading in the ISM Services with the ISM Manufacturing report earlier this month and weighting each indicator according to its weight in the overall economy, the overall reading of the ISM Manufacturing and ISM Services index came in at a level of 58.3. This was tied for the highest reading in this indicator since November 2005.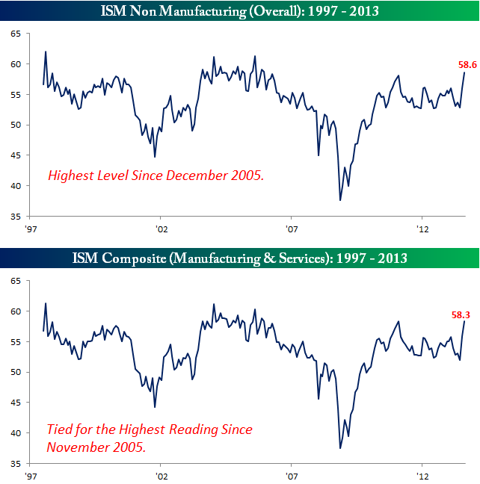 Breaking out this morning's report by each of the indicator's subcomponents showed broad based strength. Relative to last month, the only two components that declined were Inventory Sentiment and Prices, and like the Manufacturing index, both Business Activity and New Orders were both above 60. The last time both of these components were above 60 in each index was back in February 2011.