LeapFrog (NYSE:LF) is currently trading at around $8.50 a share, an incredibly good value for such a unique company. The following are four reasons why I like the stock.
One: High Quality Book Value, Strong Financial Positioning
LF has never been in better financial health than now. As of the end of Q2, LF had nearly $2.70 per share in cash, or nearly 32% of market value. At over $180 million in cash, this is the biggest cash hoard the company has ever sat on. Judging from historical cash levels and operating cash flows, the company is likely sitting on ~ $1.5 per share in redundant cash, which means there is high potentiality for buybacks, dividends and bolt-on acquisitions, events that will likely boost share price once announced.
The company continues its tradition of carrying zero short and long-term debt. LF's current financial leverage (Assets / Common Equity) is 1.22, the lowest level since at least 2002.
The quality of LF's book value is also very high. For a content creator, LF's intangible assets are very low at less than 11% of book value, or a total $35 million - this means not much more than $35 million is at risk of being completely written off.
Furthermore, in the Q2 conference call, the CEO disclosed that there is a $70 million off balance sheet asset in the form of NOLs (net operating loss carry forwards). Adding this $70 million figure to book value and dividing by the number of shares outstanding, I'm calculating $5.82 per share in solid book value - very solid book value.
LF's cash hoard, low leverage, and high quality book value will give the company an uncommon level of financial flexibility and resilience to pursue growth.
Two: Strong Brand Name
When it comes to educational toys, I doubt there is a stronger brand in North America than LF. After reading numerous reviews of various LF products on major platforms such as Amazon, Wal-Mart, Target and popular parenting forums, I have concluded that the LF brand is firmly established in the American psyche. LF products may not be perfect and there are glitches and complaints from parents, but the overriding factor is that children simply love LF products and parents find real educational value in LF products.
After reading extensively about LF products, as an expecting first time father (this November - chocolate cigars all around), I'm most definitely planning on buying LF products for my children. To paraphrase Peter Lynch, if you love the product, chances are you will love the stock.
Given LF's low intangible assets to book value ratio and strong brand name, I believe the LF brand name is another significant off balance sheet asset that should be factored in the final valuation of the company.
Three: Resuming Growth After Period of Trouble
LF has not been a well-managed company, but the company is making a comeback.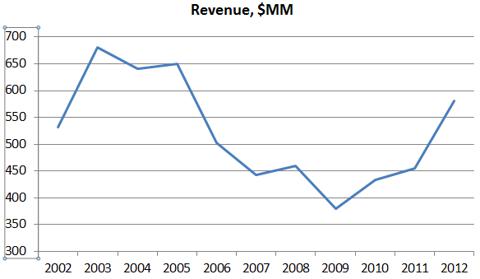 After an explosive period of growth prior to 2003, the company hit a snag and saw its sales plummet. The company did not start recovering until 2011 after being in the scary position of bleeding $22 million in operating cash flow and ending up with merely $19 million in cash by the end of 2010. In early 2011, the company brought in a new CEO and the leadership change along with the general economic recovery looks like a watershed moment for the company. Since the watershed moment, the company made incredible strides in improving its financial position, increasing operating cash flow to $86 million in the trailing 4 quarters, the highest in the company's history.
Four: Increasingly A Working-Capital Light, High Margin Business
In recent years, LF has focused on creating and selling digital content and the electronic platforms on which the content will be consumed. Consumer adoption of LF's latest tablet, the LeapPad Ultra, has exceeded the pace of prior generation offerings, which bodes well for higher margin digital content sales and a more profitable enterprise.
Over the years, LF has dramatically improved its digital ecosystem by investing in the creation of educational contents, apps and improving on-line user experience and distribution. I like where LF is going with this and can identify at least five major benefits of this new digital-focused strategy:
LF's digital platforms will become increasingly attractive to retail buyers and educational institutions as the company's ecosystem benefits from a sort of network effect;
LF's business will be less seasonal as digital content purchases are more evenly distributed than hardware purchases;
With increasing sales originating from LF's own website, the company will be less dependent on its traditional distributors: Wal-Mart, Target and Toys R' Us.
LF's margins will improve given digital content comes with an estimated operating margin of 40-50%; and
Working capital needs relative to sales will decrease since digital content requires no physical inventory.
Conclusion
I believe LF has three unique characteristics that makes it a compelling investment: 1) the company is in excellent financial health and has the resources to take it on the chin a few times before going down, 2) the company has hidden assets such as its strong brand name and a trove of top-tier educational content that are not being considered by the market, and 3) the company adopted and is successfully executing the right strategy.
In my opinion, LF is worth at least $1 billion, and its current market value is suggesting that the company is undervalued by at least 40% - this is a margin of safety hard to find these days.
Thank you for reading. If you have any comments or questions, please post below or e-mail me through my website.
Disclosure: I am long LF. I wrote this article myself, and it expresses my own opinions. I am not receiving compensation for it (other than from Seeking Alpha). I have no business relationship with any company whose stock is mentioned in this article.