One of the boating world's tell tale industry health indicators has traditionally been attendance trends at boat shows.
The stats have varied somewhat, with attendance being reported from flat to 15% or more down from previous shows. With 300 to 400 credible boat shows of all types and sizes in the U.S.A., the boat show market has become oversaturated. In May 2009, the National Marine Manufacturer's Association (NMMA) announced cancellations of three boat shows from its 23 show roster. Those getting cut were San Diego Boat Show, the Schaumberg, Ill. Boat & Sports Show, and the Virginia In-Water Boat Expo & Sailfest. Further pruning is likely to come, while some boat shows will broaden their focus to keep attendance figures from slipping.
The economic slump in the boating industry was evident at the recently-held International Boatbuilder Exhibition & Conference (IBEX) in Miami, where reports indicated a lukewarm attendance this year. Normally, in good years, the exhibitor booths are crammed into every space in the halls. This year's IBEX, with only 500 exhibitors, set up only two exhibit halls and still had to fill out isles with eating areas. IBEX itself is saying goodby to overpriced Miami and is moving the event to Louisville, Kentucky in 2010, bringing cost-savings to both the show organizer as well as attendees and exhibitors.
Nevertheless, the sailboat shows are showing resilience. At one of the biggest in the U.S., the recent U.S. Sailboat Show held in Annapolis, Md., the crowds came and most exhibitors indicated satisfaction with the show. According to anecdotal reports, some exhibitors saw signs of a rebound. At the recent Boats Afloat Show sponsored by the Northwest Yacht Brokers Association, the attendance was lighter than usual but still very strong. A quick survey of brokers onsite by Oyster Yachting indicated many lookers but deals were sparse compared to earlier shows. Boats Afloat is one of the two main boating events in the Pacific Northwest held in the Seattle, Wash. region.
Based on metrics from Info-Link, the boating industry's unit sales overall have started peaking in early 2004 and have dropped about 45% since then – about 1% drop per month on the average. Generally, the boating industry has been slow to throttle back production and has not anticipated the steep drop-off in sales which commenced in early 2008. Dealers have been working on clearing off excess inventories with discounts and incentives as large boat builders pared back production.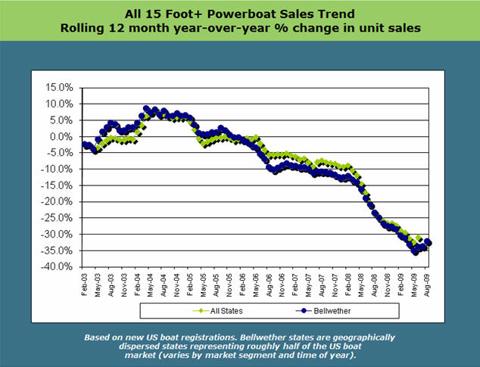 Source: Info-Link Bellwether Report
In June-July 2008, oil prices skyrocketed to almost $150/barrel. Some manufacturers started shifting mix or adding new models of sailboats to their line as gas guzzling power vessel sales stagnated. Within weeks of the July highs, prices collapsed as the mortgage crisis in the United States morphed into a full-fledged economic and financial meltdown around the world.
Because of the overall economic downturn and resultant tight credit policies, boat sales have been held back by a combination of factors:
Tight credit for sub-prime borrowers

Tapping the "house equity bank" has dried up

Shift in consumer funds away from discretionary spending

Consumer confidence has declined, a move toward savings

Stock market portfolio losses
The last time the industry faced an economic hurricane was in the early 1990s when the 10% luxury tax on vessels over $100,000 was levied. The tax burden was coupled with the onset of a recession -- driving many smaller boat builders, dealers and supporting services out of business. At the time, new boat sales peaked in 1988 at 749,000 units and dropped by a third by the end of 1990. The luxury tax plus the recession left boat dealers with large inventories of boats they could not sell while they owed the banks millions of dollars in outstanding loans.
Today, the scenario is different and closely tied to the bursting of the real estate bubble. Companies with low debt loads are less affected and have a far better chance of survival. The ability to quickly adapt to the realities of the battered economy will give smaller boat builders and marine-related business an advantage which have managed to keep debt at low levels.
Hinckley Yachts is one example of the problems brought on by heavy debt. A recent article in the New York Times highlighted this venerable boat builder's troubles. The 80-year old builder of fine yachts has seen its employment slump from 625 at the peak in mid-2008 to about 300 recently. The company took on debt through numerous rounds of sales of stock to private equity firms. It became problematic when the boating industry took a dive. According to insiders, the culture at the company shifted from that of a family-owned business to one controlled by outsiders – sometimes with agendas which does not mesh with the former management's goals or customers' interests.
A reasonably good proxy for the financial trends in the boating industry are the revenues of publicly-held marine-related companies. West Marine (NASDAQ:WMAR) is the largest publicly-held, specialty retailer of boating equipment and supplies to the boating community through a network of 342 stores. It also operates the Port Supply division, one of the largest wholesale distributors of marine equipment serving boat manufacturers, marine services, commercial vessel operators and government agencies. The company's revenues since 2007 have been sliding in tune with general malaise in the boating industry.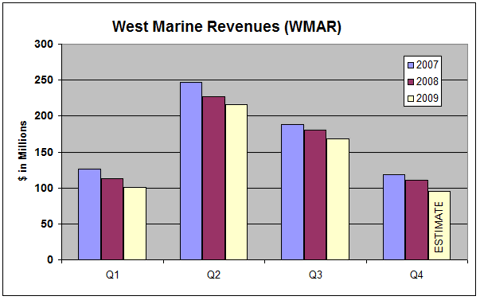 Source: Company data, OysterYachting.com Q4 2009 estimate
The company reported a glimmer of optimism in its latest financial results (ended Jul. 30, 2009) since it beat its expectations on revenues – still lower but less of a sales decline than anticipated.
Geoff Eisenberg, West Marine's CEO, commented:
"We are extremely pleased with our operating results for the second quarter. Our profitability and cash flow increased significantly, and we dramatically lowered debt. While the boating industry overall has continued to struggle, we believe we've benefited from an uptick in boat usage in many markets, a movement towards more "do-it-yourself" projects, and very good Customer acceptance of our product line expansions. We've also been positively impacted by the demise of a large competitor. New boat manufacturing and sales have been soft, and that has had an adverse effect on our Port Supply (wholesale) division. But the relative strength in retail, which has been better than we anticipated, positively impacted our results. Our Associates have performed incredibly well, and while productivity increases have positively impacted our financial results, we are equally excited about our progress towards providing exceptional service to Customers. All of our key strategies (from optimizing real estate with larger, more dominant stores to expanding our West Marine brand merchandise) are multi-year initiatives, but the initial results give us confidence that we're on the right course."
Consumers have been pulling back on spending, including purchase of recreational sail and power boats, often seen as floating money pits. In the current environment, boats and boating equipment are easy budget line items to cut back on. WMAR is surviving due to cost containment measures, expense reductions, on-going in-store and on-line sales, and paying attention to customer service.
Randolph Repass, who founded West Marine in his garage in 1968, has been buying WMAR shares in the past months and now owns almost 1/3 of the company. Whether he is just trying to protect his legacy or whether his optimism stems from a shakeout of WMAR's competitors is difficult to gauge.
Staying afloat in the current economy is the key mantra for boat manufacturers. The upturn, in our view, will be slow and take years for the industry to recover. There is some anecdotal evidence from trade show attendance figures and dealers that the choppy waters are calming down but a clear upturn has not yet materialized.
OysterYachting.com has compiled a Sailboat Industry Ad Index which is normalized to May 2007. This is based on the number of monthly ads appearing in selected sailing-oriented publications. Clearly, the trend in advertising sales as of Oct. 2009 is still on the downswing. When the industry begins to recover, this index will exhibit a turn around.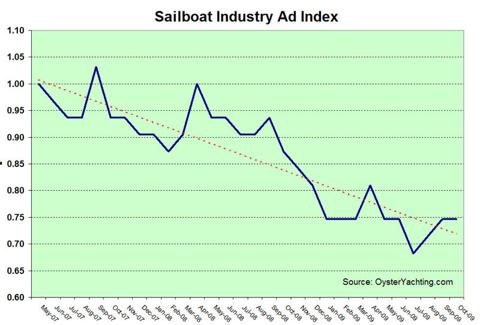 Unlike cars and houses, sailboats and yachts are not items which consumers need to have. As a result of that reality, whenever severe recessions blow through the economy, the boating industry is usually severly battered. In this downturn, the U.S. has seen boat production and employment decline by about 70% in the U.S., according to the NMMA. Europe, along with the world's largest sailboat manufacturer, Beneteau, are faring better than their American counterparts.
The mix of boats, between power and sail, will be driven, to some extent, by the recovery in world markets and price of oil. Overall, the recreational new boat buyer pool will be reduced by the decline in availability of home equity credit, a general tightening in the credit markets and the increased financial conservatism of consumers.
It is worthwhile to note that interest in sailing and cruising has not waned in spite of the tough economy. Cruiser's rallies and races are continuing to be popular. Case in point: the Latitude 38-sponsored cruiser's rally from San Diego to Cabo San Lucas is set to sail on October 26, 2009 and has attracted record interest with over 183 vessels registered in its 16th year. Perhaps it is befitting that the fleet will sail in these stormy economic times just after Hurricane Rick delivers its wake up call near Cabo San Lucas.