Lumber Liquidators (NYSE:LL) has done very well for investors since 2007, rising over 10-fold since the dark days of 2009. The flooring retailer has benefited from the housing downturn as homeowners chose to renovate rather than buy a new home, and the competitive pricing from Lumber Liquidators made it an economical choice over big box stores like Home Depot (NYSE:HD) and Lowe's (NYSE:LOW). More recently, strength in housing has given everyone in the flooring industry a boost.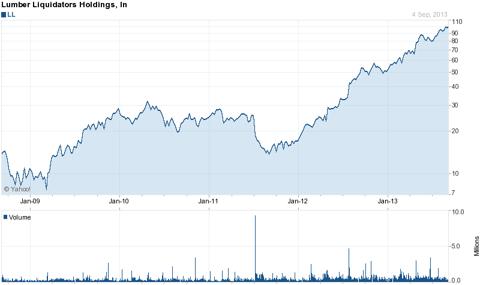 Some indicators suggest that trend is coming to an end and Lumber Liquidators is in danger of a substantial correction. To begin with, Lumber Liquidators trades at over 40 times earnings - a danger signal for a company in a conventional industry with no particular competitive edge other than low prices. Next, insiders and institutions are selling. Insiders have sold almost one-third of their holdings in the last six months and institutions have sold shares representing 6.7 million shares or about 23% of the 27 million shares outstanding. This seems to me to be a classic distribution as managed money offloads its shares to retail investors.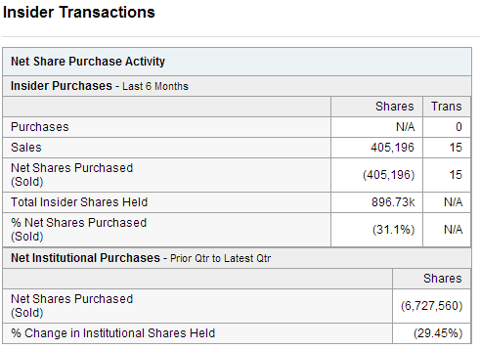 With housing on a recovery one might think this is positive for Lumber Liquidators but this is not the case. As new home building gains momentum, renovations tend to slacken. New home builders install flooring they buy wholesale rather than from retailers like Lumber Liquidators.
A by-product of a rise in housing starts is upward pressure on lumber prices, the main ingredient in flooring. The sharp rise in lumber prices has the potential to crimp margins for flooring retailers that have been benefiting from higher margins during a period of demand growth. A reversal of the recent margin strength for Lumber Liquidators could have a dramatic and negative affect on profits and in turn on the share price.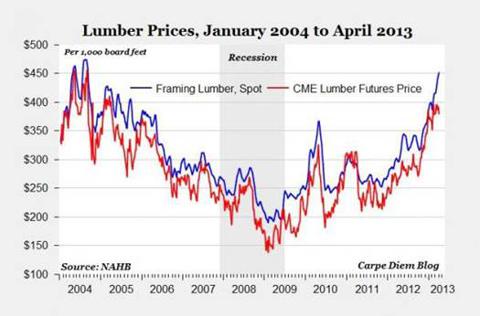 Lumber Liquidators has had its share of quality issues as well, accordingly to numerous comments posted on a reseller rating site. If you are going to flip a house you might be less concerned about longer-term quality than if you plan to live there, but I would prefer to invest in a company that had consistently high quality ratings.
In summary, my view is that this stock is at risk to many factors. It is arguably over priced, in a cyclical industry, with spotty quality and shifts in both demand and input costs that don't look favorable. I have a short position comprising puts at $100 with a long expiry.
Disclosure: I am short LL. I wrote this article myself, and it expresses my own opinions. I am not receiving compensation for it (other than from Seeking Alpha). I have no business relationship with any company whose stock is mentioned in this article.
Additional disclosure: I have a short position comprising puts at $100 strike