A company which is often overlooked by investors is Ocwen Financial Corp (NYSE:OCN). It is one of the largest ($6.9 billion market capitalization) financial institutions that remains unknown to many individual investors. This leading provider of mortgage servicing was floating cheap at $5 during financial crisis but, 5 years later it is trading above $50.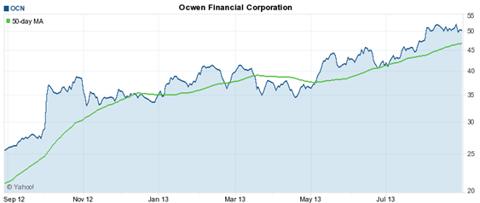 Looking at the share price 12-month performance, the above graph clearly depicts the company's meteoric rise. Ocwen Financial has managed to perform better than its 50-day moving average throughout most of the year, while maintaining a beta of around 0.4. Some may question whether, after such huge gains, there is any room for continued share price growth. It would appear there is as the industry, as a whole, is projected to continue to steadily grow, while Ocwen's revenues are projected to grow at 163% through 2013. With current market volatility due in large part to unknowns in the Fed's interest rate policy, many analyst consider it likely that (in the near term) Ocwen may dip to its 50-day moving average of $47 per share. This potential correction should be considered an opportunity to establish a position in Ocwen as short-term traders take their profits after November 7, (next reporting date); meanwhile, long-term investors can take a stake in a company that has consistently beaten expectations in this growing industry.
2nd-Quarter results declared in August reported record revenue growth of 151% as compared to the same period of 2012. Income from operations grew by 24% to $155.2 million for the second quarter of 2013 as compared to $125.5 million for the second quarter of 2012. The results benefited from impressive top-line growth, partially offset by increased operating and interest expenses. Investors should be pleased with Ocwen's strong earnings and cash flow, which are expected to continue to grow as recent acquisitions are integrated. Specifically, Ocwen's recently announced acquisition of OneWest Bank's $78 billion servicing portfolio, which points toward continued growth as banks strategically reposition their mortgage servicing operations. Acquisitions have a checkered history on whether they actually benefit shareholders. However, over the past few years, Ocwen has been strategically looking to spread its reach through acquisitions, mergers and alliances - and it seems to have done a fairly good job. Ocwen's focus is to continue to leverage its strengths in fee-based revenues, acquisition targets have complimented this strength without creating too much overlap. In addition, Ocwen is focused on developing its servicing segment by expanding the segment's capabilities through reverse mortgages and home equity lines of credit. All these factors are expected to improve the company's revenue generation capacity in the long run.
Analyst Recommendations:

Analyst recommendations should always be taken with a grain of salt, however, they provide a good bellwether. Revenue estimates, as reported by Yahoo Finance, forecast Ocwen to grow at 5.25 % for the current quarter. Forecasts, as collected by CNN Money, estimate Ocwen to reach a 12-month high of $60/share, with a low estimate of $55/share.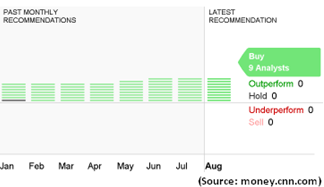 Recommendations, as collected by CNN Money, suggest a "Buy" from all 9 analyst, with no analyst recommending a "Sell."
Conclusion
There is much more analysis that can be done on Ocwen, and I plan to do a follow-up article or two. However, what I've laid out here should pique your interest in this company. Market trends and regulatory reforms like the GSE legislation, along with more private capital flowing into the mortgage credit market, provide excellent long-term prospects for Ocwen. Having said that, higher interest rates (a topic in and of itself) are expected to have little negative impact on earnings, while higher employment and an improving housing market, on the other hand, should further boost Ocwen's earnings. The outlook seems bright for this company which, coupled with a potential good buying opportunity if the stock dips, makes for a long-term position with good upside potential.
Disclosure: I am long OCN. I wrote this article myself, and it expresses my own opinions. I am not receiving compensation for it (other than from Seeking Alpha). I have no business relationship with any company whose stock is mentioned in this article.