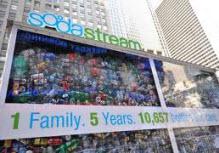 Executive Summary
SodaStream International Ltd. (NASDAQ:SODA) has been moving up at a steady pace this year. The stock is up 38.72% year-to-date, yet is down significantly in recent months. The stock is down 10% over the last quarter. In my article published in February of 2012, I suggested buying the stock at approximately $40 after a significant pullback. In the article, I gave several reasons the stock was a buying opportunity. The stock is up 50% since that time. I took profits on my previous position in the stock and now looking to start a new position. The stock looks strong fundamentally and management has been executing well on its growth plan. In the following sections, I will perform a review of the stock and lay out my bull case going forward. Please review the following chart provided by Finviz.com.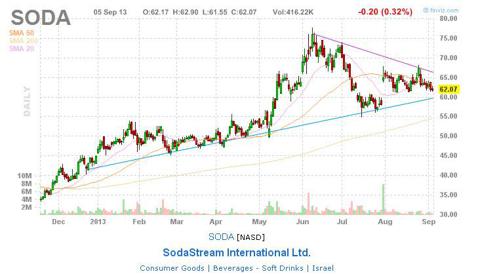 Recent Earnings Report Quick Recap
On 7/31/2013, SODA reported second quarter 2013 earnings of $0.60 per share. This result beat the $0.57 consensus of the 10 analysts covering the company and beat last year's second quarter results by 15.38%. The next earnings announcement is expected on 11/04/2013.
Market Comparison

SodaStream looks solid in comparison to the industry, sector and the S&P 500. SodaStream's EPS growth rate over the last year is impressive at 46%. This is vastly higher than its peers and the S&P 500. Furthermore, SodaStream has a PEG ratio of 1. A PEG ratio of 1 or less signifies the company may be undervalued. This is actually the statistic that caused me to take another look at SodaStream.
Fundamental Analysis
Please review the following analysis of key fundamentals regarding SodaStream. The tables were provided by Scottrade.
Profitability

SodaStream looks good in terms of profitability. The company is increasing sales growth and expanding profits margins. I'm bullish on the stock due to the trajectory of the growth rate and the improving profit margins. SodaStream is on the right track.
Growth

The company has been growing sales and EPS at a steady pace over the last year. The ability to maintain this growth rate is impressive to me. Management has delivered on its promises.
Financial Strength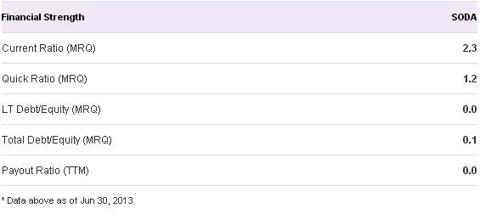 SodaStream's current ratio of 2.3 tells me the company is efficiently turning over its inventory. The company is not having trouble getting paid on their receivables and should not run into any liquidity problems in the near term at least. SodaStream's cash and cash equivalents were lower in June at $35.2 million compared to $62.1 million in December of 2012. The decrease is attributed to an investment in a new production facility, an increase in working capital and the purchase of an Italian distributorship.
Management Effectiveness

Management's effective use of company profits and assets is probably the most important data to analyze when deciding to invest in a company. SodaStream's management is doing a bang up job regarding ROA, ROE and ROI. Furthermore, all these ratios are improving.
Positive Catalysts
Strong Management
Management has executed its plan on time and on budget. There were several major initiatives on the books for the company last year, adding flavors and brand name flavor partners, expanding internationally, increasing retail outlets, introducing new products and initiating new advertising campaigns, to name a few. Management has passed this trial by fire with flying colors in my book.
U.S. Retail Expansion
The company has significantly expanded its reach in the U.S. by obtaining new U.S. retailers. See list below.

When I wrote the article on SodaStream last year there was only a few places to get the company's products. Now, I pull up the same map and it's inundated with places to get the product and supplies. See below.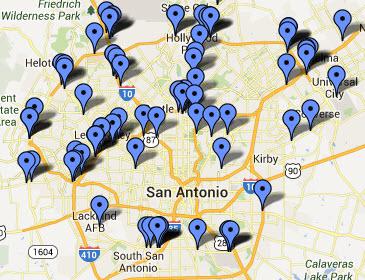 Flavor Brand Partnerships
SodaStream has partnered with Kraft (KRFT) to offer its many popular beverage flavors. This is a win-win for both companies. I can see many more beverage companies getting on board as well. Furthermore, the company solved the flavor dosing issues by introducing the SodaCaps flavor capsules to improving flavor consistency.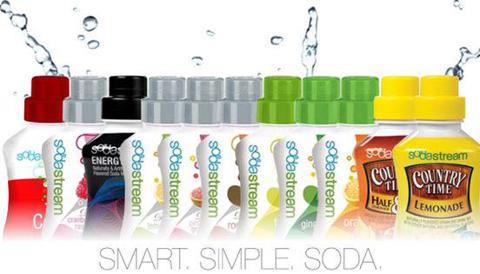 International Expansion Opportunities
SodaStream's international expansion plans are on track as well. The company has successfully grown revenues internationally and still has a lot of room left to run. The Middle East, Africa and Eastern European countries are the weak spot currently.
Advertising Focus
SodaStream plans a continued focus on advertising. SodaStream is planning new national TV spots and will build on spots aired during last year's holiday season on CNN, FOX and CNBC, for example.
New Product Evolution
SodaStream continues to evolve and improve its products. The Revolution and Source soda makers were both introduced into the market during 2012. New stainless steel bottles were also offered.
Unconventional Sales Channel Opportunity
SodaStream still has a significant opportunity related to unconventional sales channels. The company is making its machines available to restaurants, offices and hotels as well as traditional retailers. I like this out of the box thinking.
Downside Risks
Competitive Marketplace
The beverage market is a highly competitive marketplace. By no means does SodaStream have it locked up. The company definitely has first mover advantage in its particular niche, but challenges could arise from giants such as The Coca-Cola Company (NYSE:KO), Pepsico, Inc. (NYSE:PEP) or maybe even a company not currently competing such as Green Mountain Coffee Roasters Inc. (NASDAQ:GMCR). Please review the following table detailing the major players in the beverage industry.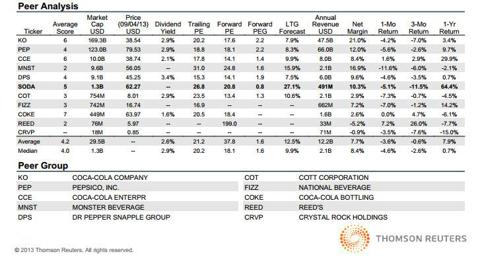 The Eurozone Implodes
The Eurozone sovereign debt debacle could finally implode causing another credit crunch large enough to disrupt the global economy and markets. Things are quiet now, but many are citing the upcoming September German election as a catalyst for more trouble.
Geopolitical Risk
SodaStream's stock may go lower as investors await the resolution of the current tension over Syria. SodaStream is an Israeli company. Who knows what issues may arise if the country is dragged into the Syrian conflict. At any rate, I would see this as a buying opportunity.
Year over Year Comparisons
As time goes on and the company continues to perform well, year over year comparisons become harder to beat. The company will need to keep firing on all cylinders to maintain its upward momentum.
Execution Risk
The company has a great plan and has laid out a solid path to increased profits. The concern is whether or not it can stay on target. There are many unknowns going forward in the beverage industry. It is by no means a sure thing SodaStream will successfully execute its plans.
Conclusion
SodaStream's profit streams are stable and growing. Several important fundamentals prove this out. For instance, revenue growth is up 46.6% year-over-year. Furthermore, the gross margin, net margin and return on equity are up 54.5%, 10.3% and 18.3% over the last four quarters, respectively. All these factors taken as a whole bode well for SodaStream's future earnings potential. Moreover, the company is offering an environmentally friendly, convenient, fun and cost saving product that should pay for itself over time. One anecdotal note I want to express is the fact my mom loves her SodaStream machine. When I asked her about it she stated that it saves her from having to tote cases of soda into the house and she feels good about not having to throw a bunch of used bottles and cans into the trash. Sounds good to me. Bottom line, I see the stock as a buy here with plenty of room to run, especially heading into Fall and holiday gift giving season. If you chose to start a position I would layer in over time to reduce risk.
Disclosure: I have no positions in any stocks mentioned, but may initiate a long position in SODA over the next 72 hours. I wrote this article myself, and it expresses my own opinions. I am not receiving compensation for it (other than from Seeking Alpha). I have no business relationship with any company whose stock is mentioned in this article.
Additional disclosure: This is not an endorsement to buy or sell securities. Investing in securities carries with it very high risks. The information contained within this article is for informational purposes only and is subject to change at any time. Do your own due diligence and consult with a licensed professional before making any investment.