Industry Leader
We like industry leading companies. You don't become the top company in a competitive sector by accident or luck. It takes skill, ability, and a commitment to customers to get to the top, and even more so to stay there. Nike (NYSE:
NKE
) clearly dominates the athletic footwear market worldwide. Their successful athletic equipment and apparel businesses further validate their business acumen and dedication to operational excellence.
Proven Record
We also like companies with proven track records of business success. Consistent, above average earnings growth is a rare achievement. In Figure 1 below we plot Nike's earnings growth since calendar year 2000. The average company as measured by the S&P 500 only grew earnings at a compounded rate of 3%. Nike in contrast grew almost 4-1/2 times faster than average at 13.3% (See red circle, Figure 1). (click each figure to expand for readability)
Fig. 1. NKE 11yr Earnings Growth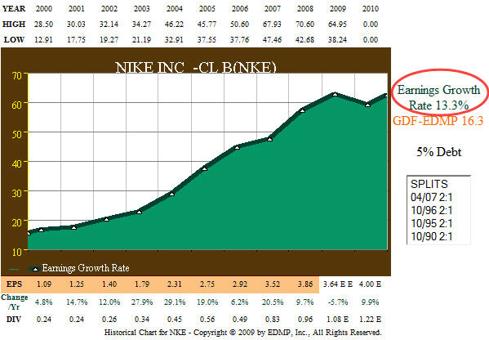 Click to enlarge
Earnings increased from a $1.09/share in fiscal 2000 to $3.86 per share in fiscal 2009 (See orange shaded area, Figure 1). Although fiscal 2010 earnings are forecast to be slightly lower, it will still represent the company's second most profitable year ever. Quite a feat when you consider the depth of the worldwide recession. It shows that people love sports and so does Nike.
In Figure 2 we overlay monthly closing stock prices (black line) and show dividends paid out of earnings (light blue area). The stock price clearly fluctuates above and below the normal PE ratio line of 18 (blue line with *), as it tracks earnings over time.
Fig. 2. NKE 11yr Earnings History Correlated to Stock Price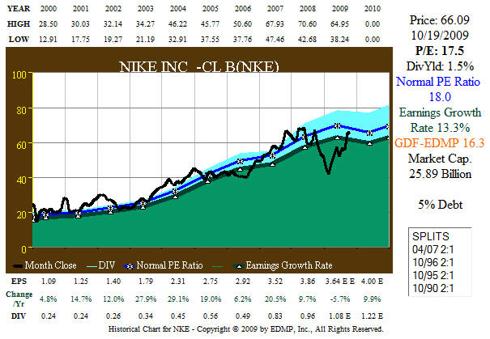 Click to enlarge
When evaluating a company for potential investment we find it useful to calculate performance over whatever time frame we measure. We can also evaluate the effects of valuation, over or under, on long-term performance.
Figure 3 below reports the performance of Nike that correlates to the time frame depicted in Figure 2. Note that Nike started the period slightly overvalued and ended slightly undervalued. Therefore, the 10.5% compounded return from 12/31/1999 to 10/19/2009 is clearly driven by the rate of change of Nike's earnings growth adjusted for valuation. Also, note that the S&P 500 generated a minus 2.9% compounded loss over the same period. Clearly, the stock market (S&P 500) had little to do with Nike's returns to its shareholders. The dividend table in Figure 3 shows that Nike also has a history of increasing its dividend as its earnings grow.
Forecast Growth
We believe that Nike can continue to grow earnings at between 10-15% per annum for years to come. This is in line with the 12.5% consensus estimate for five-year earnings growth by 19 leading analysts reporting to First Call as depicted in Figure 4. Also note that this implies that Nike is fairly valued at 17.5 times blended earnings, which is in line with its historical PE ratio of 18. The current dividend yield of 1.5%, and growing, is attractive considering today's low interest rate environment. Most importantly, the dividend is well protected by a strong balance sheet and cash and short-term investments of $3.6 billion, and debt of only $545 million at quarter's end. Their debt to capital ratio is only slightly north of 5%. (See purple circle, Figure 4).
Thesis for Growth
Nike recently restructured their businesses in order to achieve a goal of $23 billion of sales by 2011 versus approximately $19 billion of sales today. They slashed a cumbersome management infrastructure and sharpened their focus over six geographic divisions listed in descending order:
North America = 42% Total Revenue
Western Europe = 26% Total Revenue
Emerging Markets = 10% Total Revenue
Greater China = 10% Total Revenue
Central & Eastern Europe = 7% Total Revenue
Japan = 5% Total Revenue
We believe the biggest drivers of future growth will be China and the Emerging Markets. Although all six geographic regions should contribute to growth, as people all over the world love sports.
Nike enjoys dominant branding as the Nike "swoosh" logo and the "Just Do It" tag line are recognized icons in over 170 countries worldwide. Nike, Inc.'s brand portfolio consists of wholly-owned subsidiaries – Cole Haan, Converse, Inc., Hurley International LLC, Nike Golf and Umbro Ltd.
In addition to a strong portfolio of brands, Nike differentiates itself as one of the most innovative companies in its industry. The company's in-house research and development division employs experts in many areas. Nike's people understand biomechanics, exercise physiology, chemistry, industrial design and engineering, which is demonstrated through its innovative product lines.
Also, many of the most recognized athletes on earth, like Michael Jordan and Tiger Woods, to name a few, serve on Nike's advisory boards. Therefore, Nike connects with their customers at an extraordinary level.
Conclusion
Nike reduced inventories more than 10% in the first quarter of fiscal 2010. Therefore, lean inventories, and a consolidated supply chain makes them lean and mean. Add improving currency exchange against easy sales comparisons and the future earnings picture appears bright. Therefore, we believe Nike is a solid buy at a fair price for long-term oriented investors seeking a quality holding with a potentially growing dividend and attractive growth of capital. We would also add to positions given any market weakness as Nike would only become inexpensive at prices (or values) below today's levels.
Disclosure: Long NKE at the time of writing.