China Ritar Power Corp., through its subsidiaries, designs, develops, manufactures, and sells lead-acid batteries under the Ritar brand in China and internationally.
Its nice too actually see some forward growth estimates after a long period of companies' futures at the brink of failure; it was difficult to find any positives or value in small cap companies other than through technical analysis which is my expertise at ttt.net.
China Ritar Power (CRTP.OB) is another battery company making moves in the smallcap arena alongside others which have been performing very well recently: A123 Systems (AONE), China BAK Batteries (CBAK), China Sun Group High Tech (CSGH.OB), Axion Power International (AXPW), and C&D Technologies (CHP) to name a few. CRTP is the most attractive one of the group to me from a fundamental and a technical perspective.
Lets take a gander at some numbers on CRTP:
EPS:
Current year estimates: .48
Next Year estimates 2010 : .68
+33% Earnings growth
Revenue:
Current Year estimates: 123.6m
Next Year estimates: 170.49
+38.2% Revenue growth
Current Ratio: 2 – over the industries avg 1.9 – Currently healthy company
Forward P/E: 9.54x
Industry average P/E: 16.83x
Fous Fair Value: 11.44
Todays Share Price: 6.50
Upside Potential: +76%
Technical Analysis: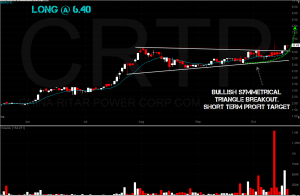 I bought a 1/2 position for the Black Service portfolio in at 6.40. I will take any dips to the 13-day ema as a buying opportunity as my short term profit target is near $8/share.