Healthcare has been the leading sector over the past 12 months, 6 months and year to date. However, there are sub-industries within the healthcare sector which are currently oversold, and healthcare REITs are one of these, due to investor concerns about the future impact of Medicare reimbursements, as Obamacare rolls out and the effect of rising interest rates on these stocks.
However, some Healthcare REITs should be able to weather these two headwinds. We believe that, Medical Properties Trust, (NYSE:MPW), which is listed in our High Dividend Stocks By Sector Tables, is one of them. After hitting a high of over $17.00 in May, MPW has fallen to below $12.00, and is very oversold: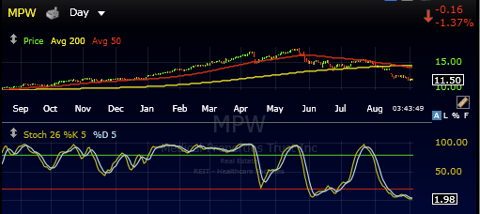 Performance: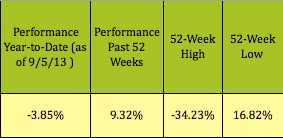 Earnings: Unlike its peers, MPW specializes in "acute-care, community and rehabilitation hospitals, providing operators access to capital for facility improvements, technology upgrades, staff additions and new construction through long-term net leases of real estate assets."
Over 90% of MPW's Lessee revenues come from profitable Medicare and Commercial Payors, in urban and suburban densely populous areas, for whom lease expense is typically a small portion of net revenue. No lessee accounts for more than 5% of MPW's portfolio.
MPW's long-term net leases, which include rent escalation clauses, should help provide stable cash flow and shield MPW from inflationary pressures. The difficulty in moving an entire hospital also often leads lessees to extend their leases with MPW.
In addition, MPW's current debt load, although higher than industry averages, is long-term debt, at a fixed rate, so rising interest rates shouldn't be a factor.
Although this industry isn't known for major growth, the current average analysts' growth estimates for MPW in 2013 and 2014 are 49% and 16% respectively, which makes MPW look undervalued on a PEG basis. A lot of this has to do with MPW's aggressive and savvy acquisitions record.
Indeed, the company recently announced an agreement for the acquisition and 15-year leaseback of the real estate assets of three general acute care hospitals for an aggregate purchase price of $283.3 million, along with approximately $125.0 million in other acquisitions. This deal should close in the third quarter, and is expected to be accretive to earnings. The deal is being financed by a new debt offering of $150 million, in 6.375% senior notes due 2022, and a new equity offering of 10,000,000 shares of common stock at a public offering price of $12.75 per share, which closed on August 20th. These shares equal about 6.7% of MPW's total shares outstanding:

In addition to its strong 2012 growth, MPW had strong EPS and revenue growth in the 2nd quarter of 2013:

Dividends: MPW has kept its quarterly dividend steady at $.20 since December 2008. Its dividend coverage improved from 1.00 in Jan-June 2012 to 1.20 in Jan -June 2013, thanks to strong Funds From Operations - FFO - growth. MPW goes ex-dividend on 9/10/13:

Options: MPW's current price creates an interesting opportunity for selling covered calls. This January $12.50 call, from our Covered Calls Table, pays $.35, nearly the same as MPW's next 2 dividends.

Moreover, its $12.50 strike price is $1.00 above MPW's share price, so, if your shares get assigned, you'd receive over twice the amount of the two $.20 dividends. Here are the payouts for the 3 main scenarios for this trade:

Given MPW's falling price, alternatively, maybe you'd want to consider selling puts below its share price. This January 2014 $10.00 put doesn't have nearly as big of a payout, but it does offer a much lower breakeven, of $9.65, which is over 6% below MPW's 52-week low.
You can find more details on this and over 30 other put trades, in our daily Cash Secured Puts Table:

More Valuations: Excepting Price/Sales, MPW looks cheaper than its Industry's average valuations:

Financials: MPW's Efficiency ratios trail industry averages, and it carries more debt. However, it does have a much higher Operating Margin and an Interest Coverage ratio of 1.60.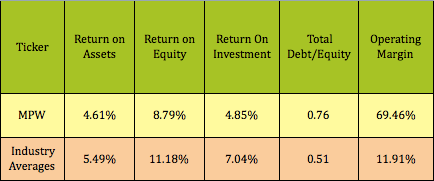 Disclaimer: This article was written for informational purposes only. Author not responsible for actions taken by third parties as a result of reading this article.
Disclosure: I have no positions in any stocks mentioned, but may initiate a long position in MPW over the next 72 hours. I wrote this article myself, and it expresses my own opinions. I am not receiving compensation for it (other than from Seeking Alpha). I have no business relationship with any company whose stock is mentioned in this article.