Good things come to those to wait, so we are told. When it comes to Apple (NASDAQ:AAPL), both investors and consumers have been waiting for some new products to be launched. There was no iPad refresh in March this year, which led to an iPad sales dropoff when Apple released fiscal third quarter results. When you combine the lack of an iPad refresh with a weak PC industry, Apple's revenue growth has completely stalled for the time being. However, that may be about to change. Next week, Apple is expected to start launching new products, and the wait will be over. Today, I'll break down the latest rumors and reports, discuss some Apple numbers going forward, and analyze what this may mean for some names involved with Apple.
We knew this was a transitional period:
For some time now, I have been telling Apple investors to be patient and not have ridiculous expectations. Those thoughts became most prevalent after Apple did not refresh the iPad in March. The effect was mostly seen in the third quarter financial breakdown. Apple reported a 14% year over year drop in iPad unit sales, a decline of more than 2.4 million units. As large as that seems, it doesn't even take into account the fact that there was no iPad mini in last year's Q3 period. Thanks to the unit sales drop, along with the cheaper priced mini, Apple reported a 27% decline in iPad revenue dollars for the quarter. That's a decline of more than $2.4 billion, $72 million dollars more than the increase we saw in iPhone revenues. You can certainly understand now why total revenues were up just $300 million from the year ago period. It's hard to show a lot of growth when your second leading revenue product has a $2.4 billion dollar decline. Throw in another $367 million in declines from the iPod and Mac lines, and Apple was set up for a sluggish quarter.
The current Q4 is also forecasted to be very sluggish, with current estimates calling a slight decline in year over year revenues. Again, this is something I've been discussing, and it is not that much of a surprise. Apple sold over 14.03 million iPads in Q4 last year, and those were all higher priced regular models of the device. The company only sold 14.62 million in this year's Q3, and that included a fair amount of iPad minis. If Apple does not launch a new iPad in the next week or two, we could see another revenue dropoff in the billions. Throw in the fact that last year's Q4 saw Mac unit sales of more than 4.92 million, and that will be another chunk of revenues gone. The obvious question is can the iPhone save this quarter, and that will depend on what happens next week.
The latest news and rumors:
So that gets us to next week. By now, everyone has probably heard that Apple sent out invitations for a September 10th (Tuesday) event. The expectation is that Apple will launch a new iPhone, called the 5S, along with a cheaper version to be named the 5C. These phones may even come in a variety of colors. None of this should be shocking, as we've heard a continuation of these rumors for months now. It would be expected that these phones would go on sale 10 days later, probably Friday, September 20th. The second to last Friday of the month was when Apple launched the iPhone 5 last year, so this year's timing would mirror that launch. The launch also seems to be confirmed by vacation blackouts at carriers such as AT&T (NYSE:T). When phone carriers are not letting employees go on vacation for a weekend or part of a month, it usually means something big is coming. The launch of a new iPhone (and potentially multiples) would certainly be significant.
On Wednesday, we heard that Apple scheduled an event in China for the following day, September 11th. This has fueled a number of rumors that Apple will be partnering up with China Mobile (NYSE:CHL), which would be a tremendous opportunity for Apple. ISI analyst Brian Marshall believes that the China Mobile opportunity would almost equal the size of Apple's unit sales from AT&T and Verizon (NYSE:VZ) combined. News like this could send Apple shares spiking much higher. However, it appears that Apple will just launch the new models of its phones at the event, while potentially reducing the long lag time that Chinese consumers usually have to wait for new devices. The latest reports on Thursday state that Apple could even start selling their new phones in China on the same day as in the US. Last year, it was more than two months after the US launch when they went on sale in China.
We also heard from Nikkei that Apple could announce a partnership with NTT DoCoMo next week at its Tokyo satellite event. DoCoMo, Japan's largest carrier, has roughly 60 million subs, of which 1/4 are using 4G phones. DoCoMo has been losing market share to Softbank because of DoCoMo's failure to carry the iPhone. This news could bring another few million iPhone sales per year to Apple. While a potential deal between Apple and DoCoMo wouldn't be as large as a China Mobile one, a larger portion of DoCoMo's sub base can afford a more expensive phone.
What else could be in the cards? Well, there have been some rumors of a potential Apple TV set-top device to be launched next week as well. MacRumors pointed out that nearly 550 days have passed since the Apple TV received its latest refresh, almost 50% more than the historical average of 377. Apple consumers and investors have been looking for something more than just iPhone and iPad refreshes (along with a cheaper phone), so this might just do the trick.
The last rumor I'll discuss is more of a longer-term one. The Wall Street Journal is reporting that Apple has begun to evalute a plan to offer iPhones with screens from 4.8 to 6 inches, as opposed to the 4 inch displays expected to be shown off next week. Apple has been very unwilling to go to a larger screen in recent years, but now they appear headed down that track. There have been calls for Apple to go to a large screen for some time now, and the ball now seems to be rolling.
The impact of seasonality:
One of the biggest changes to Apple in the past few years has been the shift in revenue generation. This new large fall product launch cycle, including the biggest launch in Apple history in the fall of 2012, has really changed when Apple generates its revenues. The following chart shows Apple's percentage of yearly revenues generated per fiscal quarter, going back to the fiscal 2010 year.

*Q1 of 2012 spanned an extra week. I have not adjusted the numbers to account for the 14th week of a 53 week fiscal year.
**Q4 of 2013 numbers based on current analyst estimates.
In fiscal 2010, Apple generated less than 45% of its revenues during the first half of its fiscal year, which runs from October through March. In the current fiscal year, Apple is projected to generate almost 58% of its revenues from the first half. Additionally, this year's Q1 number would be the highest quarter in terms of percentage in the past four years. Apple has certainly shifted its revenues around, making seasonality a bit more important. This seasonality, along with the lack of iPad refresh in March, was one of the biggest reasons why, in my opinion, Apple's stock did so poorly during the first half of 2013. Apple's Q1 revenues were up 17.65% this year, or 26.70% if you exclude the extra week in the prior fiscal year. Q3 revenues showed just 0.86% growth, and Q4 is expected to be flat. That uneven growth did not help Apple's stock.
This is a fiscal 2014 story:
These new products are very important for Apple, but investors need to remember that Apple's year ends in September. Even if the company releases two new phones for sale on the 20th and maybe something else, they will contribute a very small percentage of revenues to this fiscal year. These products will form the basis for the story of Apple's fiscal 2014, which starts in less than one month.
Right now, analysts are looking for $180.52 billion in revenues in the 2014 fiscal year. That would represent growth of 6.5% from the currently expected $169.44 billion for fiscal 2013, an increase of $11.28 billion. However, estimates have come down tremendously over time. Going into Apple's fiscal Q1 report (late January 2013), Apple analysts were looking for $189.69 billion and $218.24 billion over the two years, respectively. At that time, Apple shares were only about 3-4% higher than where they are currently, which means Apple's valuation has expanded since estimates have come way down.
Apple's earnings estimates have also come way down as well. Since that January report, 2013 estimates have come down from $48.03 to $39.10, but they have come off their recent low. 2014 numbers have come down from $56.59 to $42.35 over that same time period. Obviously, reduced revenues are one item, but gross margins have dropped as well. The iPad mini is certainly a much lower margin product, and Apple has lost some pricing power in recent quarters. The table below shows a history of Apple's fiscal 2014 estimates, with the lines in yellow representing days when Apple reported earnings.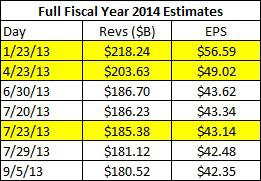 Gross margins will only be a part of Apple's fiscal 2014 earnings number. Apple's large buyback program will also have an impact, perhaps on the scale of dollars and not cents like this year. If Apple were able to make that $180 billion in revenues, maybe show a 100 basis point improvement in gross margins, and buyback a decent number of shares, $45 in earnings per share could be possible. Sure, that figure doesn't look great against fiscal 2012's $44.15 (adjusted to $43.16 for extra week), but this is a very competitive industry. Google's (NASDAQ:GOOG) margins have tumbled recently, especially after their Motorola Mobility purchase. Oh, and I'm not even going to discuss the dividend in this article. That is another positive for shareholders.
Don't forget the carriers / suppliers!
Everyone knows that AT&T has been the number one carrier in terms of iPhones in the US, and that advantage is not likely to go completely away anytime soon. AT&T was the first to get the iPhone, which gave the company a huge advantage. But there also has been some interesting activity in other carriers that could make this race even more fun to watch. Verizon recently purchased its Verizon Wireless stake from Vodafone (NASDAQ:VOD). Now that Verizon owns the entire business, it will be interesting to see how they run the wireless segment going forward. Also, Softbank's recent capital infusion into Sprint (NYSE:S), combined with the Sprint purchase of Clearwire, makes Sprint an interesting player here. Sprint has continued to improve its wireless network, along with offering the best unlimited plan. With the Softbank capital helping Sprint upgrade the network and hopefully reduce some debt, Sprint could be in a better position to make a run. Sprint will remain a distant third for a while, but the company is in a much better position now than it was a year or two ago.
When it comes to Apple, you also cannot ignore the suppliers. One of the suppliers that is most impacted by Apple's business is Cirrus Logic (NASDAQ:CRUS). Recently, fellow SA contributor Ashraf Eassa published a tremendous article on the potential upside in this integrated circuit maker. Cirrus shares are up more than 10% since his article was published. Ashraf states that in the most recent quarter, more than 80% of Cirrus' revenues were derived from Apple's iPhone and iPad. While that does mean this name has a tremendous amount of long-term risk, it also means that there is huge potential for a rally if Apple does well and keeps Cirrus' products in Apple devices. Other than the obvious impact on Apple shares, the announcement of new iPhones and iPads could have a serious impact on Cirrus. This is one name to certainly watch, although I'm not necessarily recommending that you buy it today after the recent rally from $17 to $24. I had some for a quick trade, but sold a couple of dollars lower than where we are now.
Short interest is coming down / volume up:
When I provided my latest update on significant short interest declines, Apple made the list. The mid-August figure for Apple had just 20.44 million shares short, the lowest point we have seen since the post-Q2 earnings report spike to 41.59 million. If the end of August report shows a short interest count of less than 20 million, Apple short interest will be at its lowest point since the end of February, as you can see in the chart below.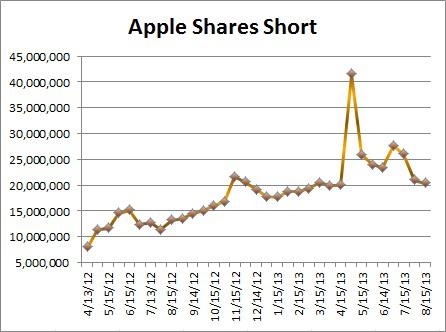 Additionally, my article mentioned how Apple's volume has picked up recently. For the month of August, Apple's daily trading volume was up 1.79% over the August period in 2012. That was the first monthly year over year increase since January. Also, the average year over year decline for the monthly periods from February to July was 22.65%, ranging from 6.19% to 36.11%. Apple had been seeing huge volume declines, but that trend is starting to reverse. It will be interesting to see how next week's product launches impact Apple's trading volumes in September, as you are comparing this month against the launch of the iPhone 5. September has averaged a lot more volume than August, which is not surprising given product launches plus the end of most summer vacations. We'll see if Apple can have two months of daily volume increases, or at least have September not be as bad as some of the other months this year.
Final thoughts:
For Apple, we are now less than a week away from the expected launch of the new iPhone. This will be the start of a multi-product launch cycle over the next few months that will form the basis of Apple's sales line for fiscal 2014. Apple investors have been waiting a while for new products, and they are only days away. Once these products are launched, revenues will start to pick back up, and we could actually see some growth numbers not in the low single digits, percentage wise. Apple's earnings per share figures should start to turn as gross margins stabilize, revenues rise, and Apple buys back more stock. Don't forget, Carl Icahn will meet with Tim Cook again, which could lead to an even bigger buyback. While Apple shares could sell off right when products are announced (as they have at times in the past), this is a time that Apple shareholders should look forward to. Those that bought at $400 a few months ago were handsomely rewarded, and those now buying at $500 will hope for similar results thanks to these new products coming shortly.
Disclosure: I have no positions in any stocks mentioned, and no plans to initiate any positions within the next 72 hours. I wrote this article myself, and it expresses my own opinions. I am not receiving compensation for it (other than from Seeking Alpha). I have no business relationship with any company whose stock is mentioned in this article.
Additional disclosure: Investors are always reminded that before making any investment, you should do your own proper due diligence on any name directly or indirectly mentioned in this article. Investors should also consider seeking advice from a broker or financial adviser before making any investment decisions. Any material in this article should be considered general information, and not relied on as a formal investment recommendation.