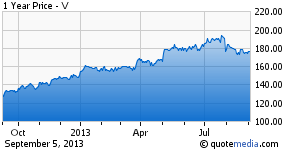 In a previous article of mine, I wrote about Visa (NYSE:V) as a future dividend gem. I would like to elaborate on this further. Visa shares were trading at about $70 at the end of 2010, and had been in a consistent upswing before hitting mid-$190s. Shares have since cooled off into the mid-$170s, and its notable that this is the first share price decline of more than 10% in nearly 3 years for Visa shares. This has to do to some events that while are costly, are inconsequential to the business as a whole. This is most evident when looking at analysts estimates; Visa is projected to grow earnings at nearly 18% annually over the next five years, which translates into EPS of $15+ in fiscal year ending September 2017. If the payout ratio were to remain around 20-25%, you should reasonably expect to receive roughly $4/year per share, up nearly 200% from today's quarterly.
Reasons To Be A Shareholder
As mentioned above, earnings are expected to double within the next four years, and the dividend is expected to be even more explosive. While earnings growth estimates are the norm, I like to go further and extrapolate a dividend growth estimate as well. Even if the dividend were to grow at the pace of the last two increases (roughly 50% each) for the next 5 years, Visa would still have a payout ratio of about 65%! I don't think Visa will go that route, but I do expect them to have about the same type of dividend growth McDonald's (NYSE:MCD) has experienced over the last 10+ years.
I expect to see dividend raises continue to be higher than the earnings are growing for the foreseeable future. I'm aware this is unsustainable, but this is the path Visa is currently taking, and will be welcomed until the payout ratio becomes too high.
They spend a paltry $350M in capex, and payout less than $900M in dividends, on $11B in revenue and $5B+ in profits.
They are a toll-collector, which is relatively "risk-free" because they do not issue credit, and get paid every time a Visa card is swiped.
Operating margin, FCF, revenue, and profits are all increasing each year,
Share buybacks are being executed efficiently. Share count has been reduced by more than half since 2008! Higher earnings being divided up among smaller pieces of the pie.
Reasons To Not Be A Shareholder
I currently don't see any drawback to being an owner, even what is perceived as a high current share price. The company is solid fundamentally, and operates in a vital oligopoly.
Already have a overweight position in Visa, or overweight the sector with other holdings such as MasterCard (NYSE:MA) or American Express (NYSE:AXP). These are outstanding companies as well.
Expecting significant short-term decline in price, and are waiting to buy at a lower price.
My goal for Visa by year end is to make enough per quarter in dividends that I am able to AT LEAST buy an additional share each quarter. I plan on being a Visa shareholder for life, primarily for the dividend and expected dividend growth. Capital gains are of little importance to me. Those dividends will be reinvested back into Visa for the next 30 years of my life, until I am able to take penalty-free withdrawals from my Roth IRA.
Disclosure: I am long V. I wrote this article myself, and it expresses my own opinions. I am not receiving compensation for it (other than from Seeking Alpha). I have no business relationship with any company whose stock is mentioned in this article.