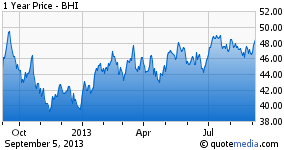 In a previous article, we looked at the oil services industry - specifically, drilling chemical specialist, Canadian Energy (OTCQX:CESDF). Today, I'd like to look at a much larger, more diversified oilfield services company - Baker Hughes (NYSE:BHI).
You see, the service sector is a natural place to search for moneymaking opportunities. Oil wells don't drill themselves. And nothing comes out of the ground without the right equipment. With oil prices averaging around $100 per barrel this year, explorers and producers continue to ramp up operations to take advantage of these higher prices. And as long as oilfield activity keeps expanding, so will the demand for service providers.
A History of Excellence
Baker Hughes was formed in 1987, from two companies with over 100 years in oilfield experience - Baker International and Hughes Tool Company. Since the merger, BHI has grown itself into a $21-billion company, partly through organic growth and product innovation - and largely by acquisitions and takeovers.
These takeovers have allowed BHI to build itself into a universal one-stop shop for oil technology services. BHI is there for the lifetime of a well field, from drilling and production, through delivery and storage, to well-capping and abandonment.
Today, BHI's services reach around the globe, with dedicated local teams in some of the most active energy-producing regions of the world, including the Gulf of Mexico, Brazil, the North Sea, Asia Pacific, Africa, the Middle East, Russia and the Caspian Sea.
Though it's one of the oldest and most respected names in the business, BHI has stumbled a bit lately, disappointing analysts. But there's reason to believe the company will turn things around in short order…
About to Break Out?
BHI last posted quarterly earnings results on July 19, reporting $0.54 earnings per share for the quarter. That's not bad, but it missed analysts' consensus estimates by $0.11. However, it did beat analysts' consensus on revenue, $5.49 billion for the quarter, versus the $5.26 billion estimate - up a modest 3% year-over-year.
Though the earnings miss sent shares down, prices soon rebounded. Of course, that seems to be the story with this stock.
The sector as a whole is notoriously volatile, and BHI is no exception. Shares of BHI have a beta of nearly 2, meaning they tend to be nearly twice as volatile as the overall market.
That can be both a blessing and a curse - when the market is up, shares will be way up; but when the market is down, shares will be down even further. However, that kind of price movement is a given for the sector. And if you have the stomach for it, BHI could prove to be quite lucrative.
Because its services are in high demand right now, BHI should continue to reap the rewards. And sometimes, that's all you need to produce a winner. Shares of BHI are currently up about 17.5% year-to-date - and there's likely to be more room to run. Some analysts have a price target as high as $69 for BHI - a 50% premium to where the stock is currently trading.
With a P/E of around 21, shares aren't expensive compared to others in the industry. In addition, BHI offers a modest dividend payment of $0.15 per quarter, for a current yield of about 1.27%. So if you can handle some volatility, BHI could be a nice addition to your portfolio.
Disclosure: I have no positions in any stocks mentioned, and no plans to initiate any positions within the next 72 hours. I wrote this article myself, and it expresses my own opinions. I am not receiving compensation for it. I have no business relationship with any company whose stock is mentioned in this article.