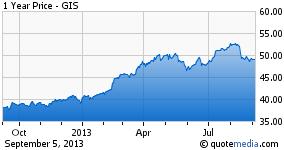 Cereals, bakery products, dairy food, and meat accounted for 50% of the overall packaged food industry in 2012. The packaged food products market is expected to reach $2.5 trillion by 2017. Revenue for the leading packaged food manufacturing company General Mills (GIS) is expected to rise because of the launch of new products, the company's strong international footprint, and increasing consumer demand in emerging countries.
Lucrative yogurt market
General Mills' Greek yogurt was a great success. Its market share surged significantly from 2% to 40% in the last six years. 80% of U.S. households purchase yogurt products, and the overall market size is currently $6.5 billion.
On the contrary side, competition hit the company's successful Yoplait yogurt brand dramatically, causing a sales decline of 4.6% in fiscal year 2013. Yoplait accounts for sales of around $1.4 billion in the U.S. In response, General Mills recently launched Greek 100 yogurt. Greek 100 is a low calorie and low fat yogurt focused on health conscious consumers. As a result of advertising, multi-pack sizes, and the traditional strained method, General Mills expects it to achieve sales growth of 1.8% next year.
General Mills bet on the growing Chinese market, where it has successfully positioned itself with $600 million in annual sales. Its super-premium ice cream Haagen-Dazs, or HD, succeeded in China. The company launched 68 HD themed cafes in the country, and it will roll out 70 additional cafes in the next fiscal year. General Mills designed and developed these themed cafes to provide customers with a premium experience.
With the success of this product, General Mills will enter China's yogurt market. This market is expected to remain fragmented, and the top five companies are expected to capture around 50% of the market share. With the roll out of yogurt products in China, General Mills expects yogurt sales in China to reach $1 billion by 2017.
Growth despite fierce competition
Under its wide umbrella of products, General Mills offers consumer products like ready to eat cereals for breakfast. In the U.S., people prefer cereal for breakfast because of its ease and convenience. In order to gain cereal market share, General Mills and Kellogg (K) constantly compete by launching new products. Kellogg plans to launch Breakfast To Go, a milk based product that contains fiber and protein for a healthy breakfast. Kellogg will price this product around $6 for four bottles, targeting this product toward consumers who skip breakfast due to lack of time. General Mills is testing a liquid breakfast product, Bfast, which has similar qualities.
Breakfast beverages are expected to become a $2 billion business in the next few years. Since both companies will roll out their own product in this sub segment, competition between Kellogg and General Mills will be fierce.
Another competitor, ConAgra (CAG), completed the acquisition of Ralcorp (RAH) for $90 per share this year. By acquiring Ralcorp, which had annual sales around $18 billion, ConAgra became a leading packaged food company in North America. This acquisition has helped ConAgra strengthen its consumer product segment, which generates the most revenue for the company. ConAgra will compete with General Mills because both companies offer similar products in North America. By leveraging the acquisition of Ralcorp, ConAgra is expected to experience a rise in EPS of 15% to $2.48 in the next year, along with cost synergy of $300 million in 2017 because of combined production and sales operations.
Meanwhile, General Mills' U.S. revenue is also expected to increase in 2014 due to its strong brand recognition and new product launches. The company's U.S. revenue is expected to grow by 1% in fiscal year 2014, compared to a decline of 2% in fiscal year 2013.
Conclusion
General Mills' revenue is poised to increase with the launch of new yogurt products in the U.S. The company will also increase its footprint in China by entering into the country's yogurt market. Moreover, new products in the breakfast beverage market will strengthen General Mills' U.S. sales. With these supporting factors, the company's growth looks promising. I recommend a buy for this stock.
Disclosure: I have no positions in any stocks mentioned, and no plans to initiate any positions within the next 72 hours. I wrote this article myself, and it expresses my own opinions. I am not receiving compensation for it (other than from Seeking Alpha). I have no business relationship with any company whose stock is mentioned in this article.