Back in July I wrote an article titled "Don't Buy The Gold Dead Cat Bounce." Unfortunately by that time I had written so many bearish articles on gold, SPDR Gold Trust (NYSEARCA:GLD), silver and iShares Silver Trust (NYSEARCA:SLV) that it was relegated to the netherworld of the Instablog. Unfortunately it wasn't well read, but it turned out to be pretty prophetic. In the article I pointed out that gold's dead cat bounce headed for major resistance at $1,420.
The down trendline sits around $1,335, so gold may have another $10 on the upside before reality sets in, and the gold returns to its fall. Even if gold breaks through $1,335, the major resistance sits up around $1,420 as the graphic identifies as 'congestive resistance," and then again around $1,450 to $1,480 where it would run into the longer term downtrend line.
At the time the gold bulls were crowing because gold was rebounding from below $1,200, and was headed north for the first time in about 4 months. That rally didn't impress me because stocks, bonds and commodities typically don't move in straight lines, they move in waves, and a retracement wave in gold was to be expected, but I wrote that it was most likely nothing more than a dead cat bounce.
Here is the graphic used in the original article highlighting how gold looked to be starting a dead cat bounce, as well as the technical levels identified in the above quote.
As you can see, $1,420 is even labeled on the chart as a major resistance level. That is in fact the peak level reached.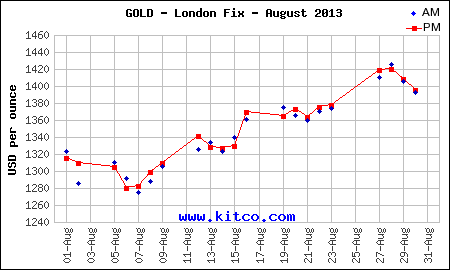 Gold has since fallen from $1,420 to around where it is today, $1,371 on 09/05/2013.
What makes this pullback in gold even the more remarkable is that it is occurring when the U.S. is contemplating war with Syria, over the opposition of China and Russia. Under normal circumstances, gold should be benefiting from safe haven and fear buying, but it isn't. Holders of gold need to ask themselves, if possible war in the Middle-East, $114 oil and all the uncertainly that brings doesn't drive gold higher, what will?
What will drive gold higher is a big mystery. I don't see many factors that can reverse the downtrend in gold. In my opinion gold is yesterday's news, and we are on the backside of a bubble that was inflated by fears and expectations that were not justified and never materialized.
What will bring down gold however is obvious to me, higher interest rates. I've written about that many times, but this recent move in gold provides solid evidence of that theory. Even with all the fear and uncertainty, gold sold off, but at the same time interest rates headed higher. The 10 year Treasury is threatening to break 3%, so rebounding economic strength, higher interest rates and the likely Fed tapering appear to trump all other factors. If they don't? Why else isn't gold going to the moon?
In conclusion; ignoring the occasional dead cat bounces that are bound to occur, gold appears to be on the back side of a bubble, and headed lower. If threat of war doesn't drive gold higher, what will? Looking forward, rates are likely to go higher, and as they go higher, the bond market will act like a cash siphon to the gold market, as people sell their non-yielding gold to buy the higher yielding bonds. Because we are in the early stages on an economic recovery, and the taper technically hasn't even begun, gold investors may be headed for a very long period of disappointing returns, interrupted by the occasional dead cat bounce. In my opinion, there are simply better investments than gold going forward, and even if you do expect economic Armageddon, there are still better investments.
Disclaimer: This article is not an investment recommendation. Any analysis presented in this article is illustrative in nature, is based on an incomplete set of information and has limitations to its accuracy, and is not meant to be relied upon for investment decisions. Please consult a qualified investment advisor. The information upon which this material is based was obtained from sources believed to be reliable, but has not been independently verified. Therefore, the author cannot guarantee its accuracy. Any opinions or estimates constitute the author's best judgment as of the date of publication, and are subject to change without notice.
Disclosure: I have no positions in any stocks mentioned, and no plans to initiate any positions within the next 72 hours. I wrote this article myself, and it expresses my own opinions. I am not receiving compensation for it (other than from Seeking Alpha). I have no business relationship with any company whose stock is mentioned in this article.