As I have shown in previous posts on the economy, the data when you look "beneath the hood" of the headlines is not nearly as supportive of the view that economy is improving as are the headlines. Yesterday's auto sales report for August proves to be no different, as the annualized sales rate for August was reported to be 16.1 million vs. the expected 15.8 million. Ironically, the headline for GM's sales was that it was "the best month since September 2008." I don't think I need to explain the irony in that.
The truth is that the number of auto sales reported for August are not necessarily the actual number of cars purchased by the end-user. Furthermore because of the extreme amount of credit that is being used by the end-user to actually drive off the dealer lot with a new car, I would argue that the current level of reported sales is not only unsustainable, but that easy availability of low-interest financing, sub-prime financing and lease deals has actually "pulled forward" a lot of future sales into August. Because of this, I expect auto sales going forward to begin to drop off quite a bit and to compound the drag on the economy that I see happening from a collapse in the housing market (link to my last analysis on housing).
To start - and to explain why the reported number for August is not the true number of sales (seasonally adjusted annualization notwithstanding) - recall that an automobile sale is accounted for when the car leaves the manufacturer and heads for the dealer destination. In other words, automobile sales reflect the number of cars shipped for dealer inventory as opposed to an actual end-user driving off of the lot in a new car. While the number of vehicles reported as August sales may well end up in a household garage, the headline number itself is, by definition, incorrect and inflated.
Regardless of whether the reported August sales number translates into consumer purchases, the current heavy use of dealer and bank financing is "pulling sales forward" from the future and will likely lead to a severe decline in sales later this year or early next year. Experian Automotive data shows that 27.5% of all new cars were leased in Q2 this year vs. the 17.7% average three years ago: Auto Leasing Surges To Record High. As that article points out, manufacturers are extending incentives to make leasing an affordable option and thus, in effect, subsidizing the cost of the "purchase." Besides the fact that this will hit car-maker profit margins down the road, I would argue that it's also enticing buyers who might not otherwise be able to afford a new car. The truth is, a lease is not really "sale" as much as it is a "rental." That latter fact makes the headline sales number even less credible as it blurs the distinction between a true sale and a credit-risk transaction which facilitates the shorter term "rented" use of a car.
Secondarily, as mentioned in that linked article, plus this one from Bloomberg News, new car buyers are using the increasingly available sub-prime auto loans to make their purchases. So far in 2013, money raised to fund sub-prime auto loans has spiked up 24.4% from 2012. Not only that, but borrowers are stretching out the length of the loan in order to make the monthly payment more affordable. Furthermore, and even more troubling in terms of stability of future auto sales and the stability of the auto financing market, borrower FICO scores are declining. In other words, auto lenders are more willing to extend risk in both the duration of their loan and the ability of the borrower to repay the loan. Both aspects reduce the "quality" and "sustainability" of reported auto sales. I don't know about anyone else, but this sounds a lot like 2008 redux. In fact, you can see from the chart that I linked from Zerohedge that auto loan delinquencies spiked up 24% in Q1 2013 from a year ago.
While the heavy use of lease financing and sub-prime borrowing in and of itself significantly detracts from the quality and sustainability of future automobile sales, and thus will lead to a significant decline in sales going forward, ultimately it is the consumer's ability to earn an income that will support the use of financing in order to buy a new car that will completely undermine future auto sales. Here is a chart that captures real median household income in September 2008 - when General Motor's (NYSE:GM) monthly sales last peaked - vs. real median income for July 2013 (chart sourced from John Williams' Shadow Statistics, edits in red are mine):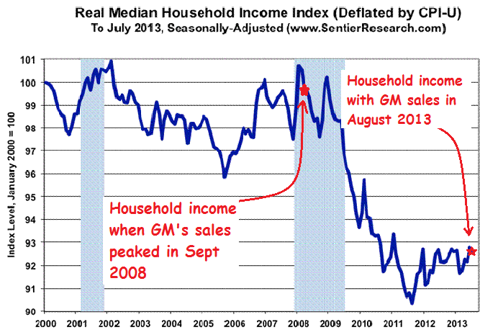 (click to enlarge)
As you can see, inflation-adjusted household income has plunged 7% since September 2008. Please note that the current reported trend in household income is in a decline. Clearly household income does not support the current sustainability of monthly automobile sales. Moreover, it explains the big spike up in the use of auto manufacturer subsidized leases and the expansion in sub-prime auto loans. It also explains the big spike up auto loan delinquencies. The latter is obviously a very troubling sign for both future car sales and the credit markets.
As I have laid out, I fully expect that we will see a considerable drop-off in the pace of auto sales in fourth quarter this year or early next year. This, combined with the decline in the housing market that I see coming, will cause a serious contraction in the U.S. economy which will likely lead to a big decline in the stock market. To take advantage of this from a trading perspective, I recommend shorting the SPDR S&P 500 ETF (NYSEARCA:SPY) or buying long-dated put options on it. I also like the ProShares UltraPro Short S&P 500 ETF (NYSEARCA:SPXU). Or if you really want leverage up the trade you can buy call options on SPXU. To take advantage specifically of deterioration in auto sales, you can short GM stock, which recently surpassed the price that is was reissued to the public back on November 17, 2010 at $33. I also like a longer term fundamental short position in Ford (NYSE:F), which is trading at $17.29. F bottomed at $1.43 on November 17, 2008 and I think it could eventually see that level again.
The one caveat that could reduce the degree of the immediate decline in reported auto sales is the fact that auto sales are recorded once a vehicle leaves the manufacturer and we could see some "inventory stuffing" of the dealer network that might offset the fundamental underlying decline in end-user purchases and would push a bigger decline in reported sales into Q1 of 2014. I bring this up only because it might affect the timing your trading strategies.
Disclosure: I have no positions in any stocks mentioned, and no plans to initiate any positions within the next 72 hours. I wrote this article myself, and it expresses my own opinions. I am not receiving compensation for it (other than from Seeking Alpha). I have no business relationship with any company whose stock is mentioned in this article.