One of the things you'll notice if you visit realtyincome.com is that the entire web site is basically a marketing campaign for investment in the company. Scattered throughout its pages is ample, sometimes sophomoric discussion of company basics as well dividend fundamentals. Unlike most REITs which scatter their web sites with pretty pictures of buildings they own, Realty Income (NYSE:O), a company owning more than 3600 pieces of rent generating property, curiously shows only a small glimpse of its HQ in Escondido, California.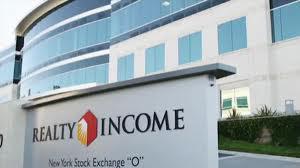 While the company does a tremendous job of selling itself and attempting to convince retail investors to buy shares in the company, one should not be swayed by marketing pieces alone. However, if you think that the current 5.5% dividend yield is reason enough to buy stock in the company, I'm not going to stand in your way. For those of you interested in a more detailed take on the company, read on.
O No!
Despite the fact Realty Income's share price is now down around 30% from its highs early this year, this is still not a table banging buy opportunity in my view. Though I opined earlier in the year that $40 might present a decent buy point for total return investors, I have to admit I did not anticipate the scale of the sentiment shift that would take place over the past few months. Unequivocally, investors do not want to own REITs of any shape or form right now. And given the swift run up in the 10 and 30 year bond, coupled with taper talk and tightening on the short end, you have the perfect negative storm for this ultra-interest-rate sensitive group.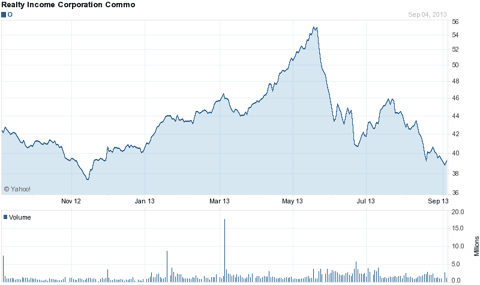 Click to enlarge
Though operationally not much has changed at Realty Income over the near-term, save for the announcement that long-time CEO Tom Lewis will be retiring this year, the stock continues to ease to the downside. The company did announce a record quarter of acquisition activity, buying 190 properties for an aggregate $790 million at an implied 6.8% cap rate. CEO Tom Lewis said on the latest conference call that deal flow was stunningly robust, with an incredible $15 billion worth of opportunities looked at by the company this past quarter alone.
From a valuation perspective, Realty Income continues to command a hefty premium relative to other triple nets and REIT constituents. I have long suspected that the premium spread would narrow, however that has not transpired near-term, with the entire group moving in tandem to the downside. O currently trades at roughly 16X this year's FFO, while direct peers like American Realty (ARCP), and Lexington (NYSE:LXP) trade for low-teens multiples based on forward expectations. Other REITs outside the triple net space similarly trade for much more reasonable valuations.
While we have yet to hear from the company as to what to expect next year, consensus estimates show FFO at about 2.55, which equates to about 6% YOY improvement. Given the record deal flow this year coupled with operational efficiencies that may have been achieved through the ARCT acquisition, I still think the company might be able to do a tad better than $2.55. Assuming O can do $2.60, which implies 8% growth, it would still trade at a substantial premium to others in the group.
O Yes?
A purchase of O shares at $39 certainly seems much more rational than at $55, yet for a number of reasons I don't anticipate pulling the trigger near-term. The horrendous sentiment overhang and rate situation is certainly a major reason to be cautious, yet the company's comparative valuation to other REIT entities is the real sticking point for me. Despite my near-term reluctance, I think it can be very sanely argued that Realty Income is trading at or near fair value. However, I think the market probably wants a higher margin of safety before jumping in, given its general forward fears regarding the REIT business model.
Recommendation
If we were to have closed our eyes at the beginning of the year and reopened them today, really not much has changed with Realty Income's business, nor with its stock price. If you have been awake however, the 40% rise then 30% decline has probably been somewhat unnerving. My advice is simply to ignore what has happened and focus on the future. I don't see O's revenue stream drying up anytime soon, so if you are content with your monthly dividends, you should stand pat.
Total return investors with at least some preoccupation with capital preservation should play it close to the vest here in my opinion. While I'd like to give you the go ahead because I truly like Realty Income's business model, I think I'd be rather remiss to not point out the valuation disconnect, lackluster outlook, as well as macroeconomic and sentiment issues that I see overhanging this company somewhat indefinitely. It's one of the reasons I've been recommending investors underweight the space for some time now.
If you want to be the consummate contrarian and are intent on taking a position at these levels, I would ease in perhaps with a quarter position or at most half. While its probably safe to say that the worst is over, I'm not comfortable saying it's all over.
Disclosure: I am long ARCP. I wrote this article myself, and it expresses my own opinions. I am not receiving compensation for it (other than from Seeking Alpha). I have no business relationship with any company whose stock is mentioned in this article.
Additional disclosure: Disclaimer: The above should not be considered or construed as individualized or specific investment advice. Do your own research and consult a professional, if necessary, before making investment decisions.