Aspen Insurance Holdings (NYSE:AHL) is a highly undervalued insurance company with huge potential on an international level in a business with solid growth prospects. Below is the introduction into the company's business model, its strengths, and the new buying opportunity that exists for Aspen after the recent pullback off of highs. Investors will continue to realize strong value in this company as it has beat analyst expectations 7 of the last 10 quarters. The company has now completely moved past the repercussions of Superstorm Sandy and is in a position to thrive going forward. Aspen has a market cap of $2.5 billion and reports the next quarter on October 23, 2013. With this in mind, we value AHL at $40.00 by year-end of 2013 and $46.00 by August 1, 2014, an increase of 28% from current levels. Obviously no one can predict the future of weather and other potentially catastrophic events, but along with the highly skilled underwriters at AHL, we believe that this company will strongly outperform in the future. We will later highlight:
1) Better understanding the AHL business model
2) New opportunities and investments for AHL
3) The economics of the AHL business and company overview
4) Growth drivers in the future
5) Cash/Valuation to peers.
What makes Aspen different from its peers? Well first it has an interesting portfolio of insurance that ranges from satellite insurance to ransom and kidnapping to catastrophic weather events. This requires a certain amount of skill and expertise when it comes to underwriting and evaluating risk. The company's high quality of underwriting and unique depth of market intelligence makes it an interesting play in the insurance business with a great deal of upside. The intelligence and strong management team of AHL is crucial to the business of underwriting large, complex risks. These are the capabilities that have become Aspen's hallmarks. It utilizes resources to the max including risk management strategies, proprietary catastrophe models, and expertise in collecting and analyzing facts and data.
These achievements yielded improvements in most of its primary metrics. AHL grew Book Value Per Share (BVPS) by 6% to $40.65, or more than 8% including dividends, and delivered 8.5% operating ROE. Gross written premiums (essentially sales in the insurance business) increased 17% to $2.6 billion, driven mainly by the U.S. insurance business. A key metric in the insurance business deals with the combined ratio. This is a measure of profitability used by an insurance company to indicate how well it is performing in operations. A ratio below 100% indicates that the company is making underwriting profit while a ratio above 100% means that it is paying out more money in claims that it is receiving from premiums. The combined ratio for Aspen was 94.3% in 2012, compared with 115.9% in 2011, and this metric will continue to improve in 2013 with the estimate being 89.4%. The company is in a great position of strength with $10.35 billion in total assets, $4.8 billion in reserves and $3.5 billion in total shareholders' equity.

Click to enlarge
What is Reinsurance? A Better Understanding of the AHL Business Model
Reinsurance is insurance that is purchased by an insurance company as a means of risk management. The original insuring company and the reinsurer enter into an agreement which details the conditions which the reinsurer would pay a share of the claims incurred. The reinsurer (AHL for instance) is paid a "reinsurance premium" by the ceding company, which issues insurance policies to policyholders. The ultimate goal of reinsurance is to reduce exposure to loss by passing part of the risk of loss to a reinsurer.
With reinsurance, the insurer can issue policies with higher limits than would normally be allowed. This allows them to take on more risk because some of that risk is now transferred to the reinsurer. Reinsurance has become a science rather than an art and reinsurers have become much more reliant on actuarial models. Reinsurance can make an insurance company's results more predictable by absorbing larger losses and reducing the amount of capital needed to provide coverage. The risks are diversified, with the reinsurer bearing some of the loss incurred by the insurance company. It is important to understand these facts because almost half of AHL's business comes from the reinsurance side.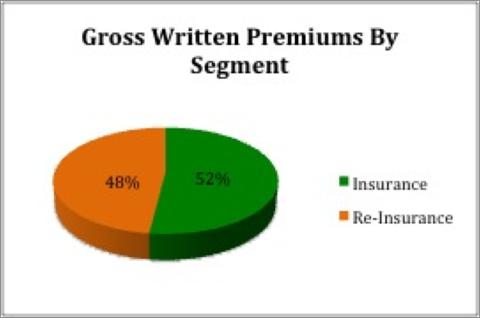 Click to enlarge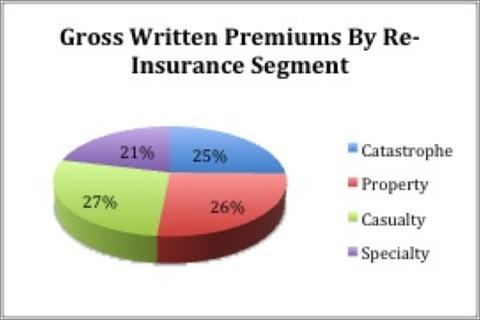 Click to enlarge
Aspen Insurance Holding Continues to Create Shareholder Value
The company has deep underwriting expertise and an understanding of client needs and risks. Some of the many reasons to consider buying AHL now include:
Executing a plan to achieve 10% Operating ROE in 2014 through: optimization of business portfolio, improving risk-adjusted returns and reducing volatility through significant reduction of wind and quake exposure in U.S. property insurance
Capital efficiency - estimated $200 million of excess capital at October 31, 2013
$500 million share repurchase authorization, with expected repurchases of at least $300 million in 2013 and first half of 2014 (10% of the company)
Longer term, the company will continue to use most of its earnings to repurchase shares after dividends and amount needed for organic growth (raised the dividend by 13% in the last year)
It has continued enhancing investment return within acceptable risk parameters
Investors should pay attention to the recent insurance environment and the different factors that have played a key role in the insurance and reinsurance business over the past couple of years. Look for AHL to outperform in the future as the company continues to diversify its product offerings.
Annual Growth

Click to enlarge
AHL is a huge international growth story as it has continued to lock in major insurance contracts with major customers and insurance companies. As we can see with the EPS Change and Sales Growth over the recent history, the company is blowing away its peers, even the large companies like ACE Group. This trend will continue in the future as Aspen continues to add customers (Allstate, State Farm, etc.) and new product lines to the relatively new growing business. Look for the other category to expand even more as AHL further diversifies its customer base and continues to take market share in the United States.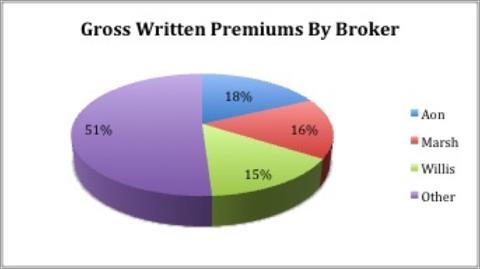 Click to enlarge
Per Share Data

Click to enlarge
When looking at AHL compared to its peers, it trades at a significant discount when looking at the metrics Cash/Share, Book Value/Share and Tangible Book Value/Share. We believe that it has a significant, unrealized value in this company and that the stock has a great deal of upside over the long-term. Book Value Per Share is an extremely important metric for investors to pay attention to, especially when evaluating insurance companies.
Financial Strength

Click to enlarge
Another area for investors to focus is on the company's dividend payout ratio and overall financial strength. The company currently has a 2.0% Yield and has consistently raised the dividend over the past 5 years, even through difficult events from an insurance standpoint. Investors should look for this trend to continue as the company underwrites profitable policies.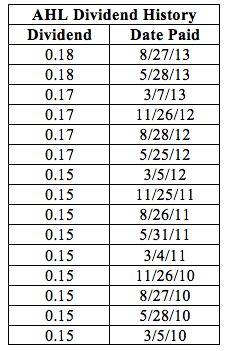 Aspen Insurance Holdings in the Future
There are three core areas of focus for Aspen Insurance Holdings in order to create higher ROE in the future. The company has consistently delivered in the areas of optimizing its business portfolio, solid capital efficiency and enhancing investment return. We will focus on these three core areas as the future for how AHL will continue to create shareholder value. This is a company that does not have much analyst coverage (8 analysts to be exact).
Optimization of Business Portfolio

Focus on new and profitable growth markets and lines delivering attractive risk-adjusted returns
Continue evaluating strategy and business line return, risk and volatility
Reduce volatility and risk by reduction of catastrophe exposure in U.S. property insurance

Capital Efficiency

Continue to underwrite highly profitable business
Return excess capital to shareholders
Execute on repurchase authorization of $500 million

Enhancing Investment Return

Constantly evaluate ways to increase ROA within risk tolerance
Invested $200 million in equities markets in Q1 of 2013
Tactically adding to BB Bank Loans and High Yield Portfolio
Based on its investment holdings, Aspen can make ~$60 million quarterly over the course of the year and in a rising rate environment, this number could easily increase to ~$100 million quarterly in the future - the company's increased investments in equities markets continue to pay off and we will see a significant amount of value added to the firm through investments alone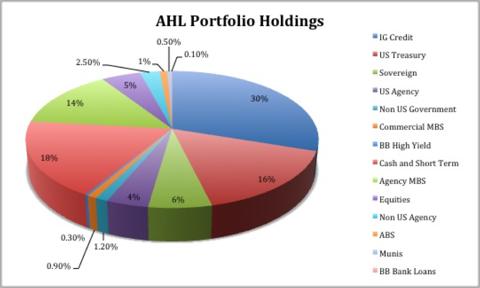 Click to enlarge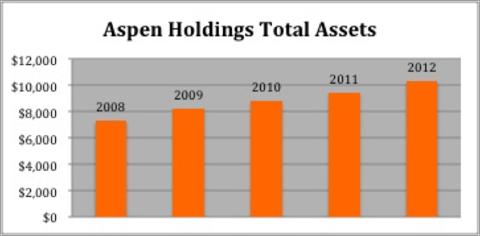 Click to enlarge
Business Summary and Growth Drivers for the Future - Reasons Why Aspen Will Thrive
The company has continued to evolve the business and moved into highly profitable areas with consistent reviews of its product portfolio and offerings. In the last couple of years AHL has reduced risk and scaled back underwriting in several business lines including structured re-insurance, UK motor re-insurance, new or contracted liability insurance, and pharmaceuticals product liability insurance.
The company's underwriting expertise supported strong loss ratios across most of the reinsurance and insurance lines, excluding the effect of Superstorm Sandy on certain lines. Aspen's insurance segment is showing steady operating progress in 2013, with solid results in marine, energy, transportation and global casualty lines. Superstorm Sandy impacted full-year results in the U.S. Property and Programs business lines last year, so expect major improvements in this area through 2013 and beyond. Aspen performed extremely well in 2012, a significant accomplishment in light of the fact that Sandy was the second costliest natural catastrophe in U.S. history. Gross written premiums rose 33% during the last year and a half in this area to $1.4 billion, primarily as a result of growth in the U.S. insurance business.
In the U.K., it has expanded the regional presence by opening a new office in Manchester, and drove solid performance in the London-based specialty Kidnap and Ransom and Aviation lines. In the U.S., the company had strong growth specifically in U.S. Property and Programs. Long-term investment in the U.S. is starting to pay off. By year-end 2012, the company had built a world-class U.S. underwriting operation that is advancing toward scale and profitability. The Reinsurance segment experienced a very good year, particularly in Property "Other" and U.S. Casualty. Aspen reported a combined ratio of 85.4%, a marked improvement against 125.6% in 2011, and a year with many large catastrophe events.
Clearly, AHL has worked hard to maximize ROE and this will continue to be the focus in the future. The company announced in the 2012 year-end conference call a target ROE of 10% in 2014, which assumes the current interest rate and pricing environment, normal loss experience and a catastrophe load of $190 million per year. Based on how 2013 is playing out, there is a great chance that the target will be reached by the end of the calendar year. It continues to allocate capital efficiently to profitable underwriting opportunities, for example by scaling back certain lines where performance has not been consistent with the targeted risk profile. The company continues to return excess capital to shareholders through expanded share repurchase authorizations. AHL has also continued to generate increased returns from its investment portfolio, while keeping a very low risk tolerance and conservative investment strategy. AHL continues to invest for the future by ensuring that its operating platform remains both highly efficient and scalable to growing needs and customer expectations. Aspen has always had a risk-averse strategy regarding asset allocation. The company actively evaluates and pursues investment opportunities that will help the company generate increased returns, while remaining well within risk parameters.
"The reinsurers who will thrive in the future will be especially innovative, will offer more products, and will remain relevant to customers by providing thoughtful engagement and fresh intelligence in research and development, audits and claims management." - James Few, CEO Aspen Reinsurance
Another way that Aspen ensures strong underwriting results is through a regionalization strategy. Since 2004, it has expanded a global footprint, establishing offices in major markets around the world. This strategy has positioned Aspen's people closer to customers, producing a deeper understanding of client needs. AHL expects this new structure to enable the company to measure regional performance and accurately allocate capital to the most profitable areas. This approach should also generate new business opportunities by positioning them to build stronger relationships, heighten brand awareness, facilitate fact-finding and improve underwriting capabilities.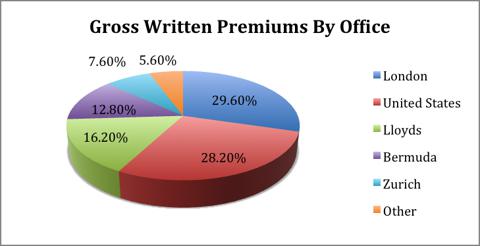 Click to enlarge
Following the "Smart Money"
Another important fact that investors should pay attention to is that large hedge fund managers have also bought into AHL. Of the major funds, Greenlight Capital, managed by David Einhorn, holds the biggest position in Aspen Insurance Holdings. Greenlight Capital has a $158 million position in the stock, comprising 2.5% of its 13F portfolio. Second is Royce & Associates, managed by Chuck Royce, which held an $82 million position. Some other funds with similar optimism include Anthony Bozza's Lakewood Capital Management, David Dreman's Dreman Value Management and Richard S. Pzena's Pzena Investment Management which all hold significant positions in this name. Here is a recent Form 13F from David Einhorn's Greenlight Capital:
David Einhorn Holdings - Greenlight Capital
Outlook and Trends
For the first half of 2013, AHL achieved an average rate increase of 4% on renewals across both segments with an overall average that was flat in reinsurance and a 7% increase on average in insurance. As the year goes on, AHL sees positives for reinsurance lines of business and better pricing. The company is seeing some positive signs in the insurance lines as a result of increasing insurance rates and economic improvement.
The property catastrophe reinsurance account had no change in rating levels. For the market, the pricing environment has improved in different business lines and geography. The U.S. property reinsurance account has achieved average rate increases of 2% in the first half of the year. The total U.S. account achieved a 5% rate increase on average through the first half of the year reflecting improved market conditions in the U.S. primary business. In casualty reinsurance, AHL achieved an average rate increase of 1% in the first half of the year. In parts of casualty reinsurance, the company is seeing improving markets, especially U.S. excess and surplus lines, general liability and non-medical professional lines.
In property insurance across the U.S. and the U.K., AHL achieved an average rate increase of approximately 2%. In business insurance, it achieved rate increases of approximately 3% for the first six months of 2013 as the market responded to Superstorm Sandy losses, which should have no further effect in the future. In the U.K. property business, the market remains competitive but the rating environment appears to have stabilized.
In casualty insurance, AHL achieved average rate increases of approximately 5% on renewals in the first half of 2013. There continues to be positive pricing momentum in the U.S. primary casualty insurance market, where the company achieved approximately 11% increases for the first half of 2013, and the outlook continues to be favorable. The global casualty market is also showing signs of improvement with continued rate growth in new markets that Aspen expands in to.
Click to enlarge
In the end, we value AHL at $40.00 by year-end of 2013 and $46.00 by June 1, 2014, an increase of almost 28% from current levels with much more upside beyond that.
Based on the 5 catalysts introduced at the beginning of this article and discussed throughout our forecast for calendar year 2013 earnings is $3.60, only 6.8% higher than the previous year. The average multiple in this industry for any company with top-line growth as AHL has is approximately 12x. Our expectation discounts AHL's multiple to 11x based on its specialty niche.
For calendar year 2014 we expect the increase in share price to $46.00 attributed to a combination of multiple expansion and a 7% increase in earnings.
Disclosure: I have no positions in any stocks mentioned, and no plans to initiate any positions within the next 72 hours. I wrote this article myself, and it expresses my own opinions. I am not receiving compensation for it (other than from Seeking Alpha). I have no business relationship with any company whose stock is mentioned in this article.
Additional disclosure: AlphaStreetResearch is a team of Investment Research Analysts. This article was written by Mr. Hunter Orr, Director of Research, with research assistance from Mr. Aaron Zander, Junior Research Analyst.