It has been awhile since I covered one of the more unusual yield plays within my income portfolio, offshore driller Transocean (NYSE:RIG). However, the company has garnered some positive catalysts of late, pays a 5% yield and is cheap on a valuation basis.
Recent Positives:
Credit Suisse upgraded the shares on Thursday. The investment bank went to "Outperform" from "Neutral" citing Carl Icahn's ~6% ownership stake and possible dividend increases, buybacks or a move to a MLP structure as positives. It has a $60 price target on the stock. This move comes after several downgrades from other analyst firms that hurt the shares.
Speaking of Mr. Icahn, it was divulged that the noted activist and one-time "corporate raider" has upped his stake in this oil services firm to a significant 6% stake in mid-August.
In early August the company announced it has added $2B to its enormous backlog that now stands at $28B by extending a couple of offshore drilling contracts.
Oil prices are strong with WTI approaching $110/barrel.
Finally, Mexico is pushing through energy reforms that BAML believes will result in an annual increase of $2.5B in spending on oil services, most of which will move to major players like Transocean.
Valuation:
RIG is cheap at just over 8x next year's projected earnings and less than 10% above book value. Revenue growth is expected to accelerate to over 10% in 2014 from gains of around 4% this fiscal year. The stock has a minuscule five-year projected PEG (.5) and is selling for approximately 7.5x operating cash flow.
Even with the recent downgrades, the median price target of the 32 analysts on RIG is $55 a share, some 20% above its current price. On top of the five percent dividend yield, this is an attractive capital appreciation play. I would look for Mr. Icahn to ratchet up pressure for increasing the company dividend payout and/or other shareholder friendly moves.
Finally, the stock is right above solid technical support levels (see chart).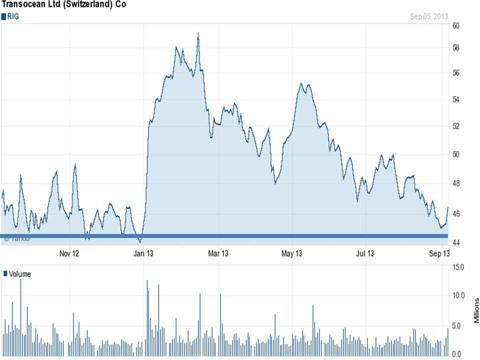 Disclosure: I am long RIG. I wrote this article myself, and it expresses my own opinions. I am not receiving compensation for it (other than from Seeking Alpha). I have no business relationship with any company whose stock is mentioned in this article.