As the world continues to embrace technological advances, there will be winners and losers that emerge from the drastically changing landscape of payment processing. eBay, Inc. (NASDAQ:EBAY) stands to gain market share and revenue growth through its PayPal segment as more consumers and businesses embrace electronic payment methods. The dramatic shift from traditional payment methods (i.e. checks, debit/credit cards, cash) to electronic payment forms has been rapid and wide-reaching. The upward trend began in the early 2000s with Person-to-Person and Consumer-to-Business payments transitioning to less traditional methods and later shifted to major growth in Business-to-Business payments. eBay benefits from all three of these transaction groups through PayPal.
eBay Inc.
Though eBay began as a wildly successful online marketplace, the purchase of PayPal in 2002 launched the company into an entirely new world of growth potential through online payment services. Since then, the revenue growth rates in the Payments segment have been exponentially greater than that of the growth in the Marketplaces segment. The Marketplaces segment on its own is a successful business for eBay with revenue growth averaging nearly 7% over the last 5 years and total revenue exceeding $7 billion in 2012. The Payments segment, however, has experienced an average annual revenue growth of more than 23% over the same time period.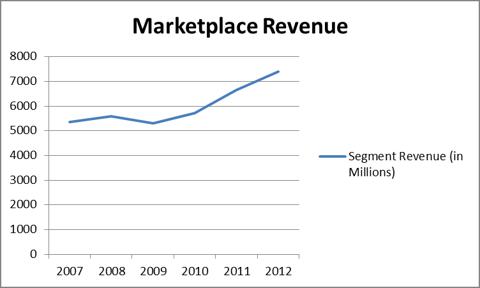 *Data Sourced from Morningstar.com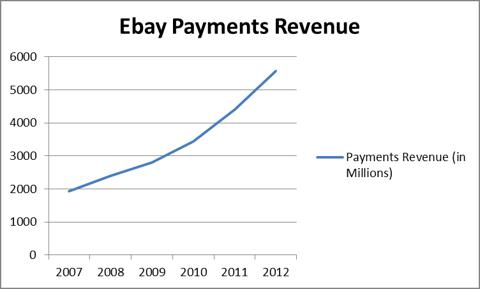 *Data Sourced from Morningstar.com
While it is evident that both segments have grown significantly over the last five years, the Payments segment may soon overtake the Markets segment as a percentage of total company revenue. In 2007, Payments revenue accounted for just 25% of total revenue, whereas Marketplace revenue accounted for 70%. By the end of 2012, Payments revenue accounted for 46% of total revenues and Marketplace revenues accounted for 52.5% of the total. Further, PayPal has grown its active user base from 5 million accounts in 2001 to 128 million accounts at the end of 2012.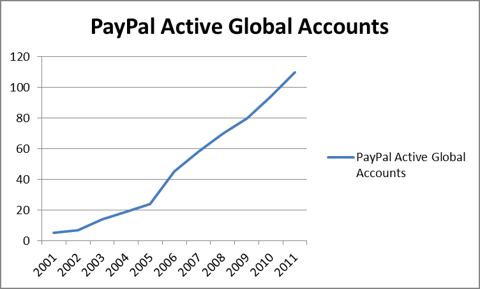 *Data from eBay, Inc.
Much of this growth in the Payments segment can be attributed to the increased adoption of electronic payment methods by businesses and consumers, a trend that will likely continue. eBay's future growth will surely come from the Payments segment, and recent research reports estimate strong future growth rates in the adoption of electronic payment methods.
Changing Payment Methods Leading to Opportunity for eBay
As more consumers and businesses have adopted electronic payment methods over the last 15 years, payment processing and other payment facilitation companies have benefited. Recent research covering these changes in payment trends also suggests that the upside for continued growth potential in electronic payments is incredible. And eBay will benefit. There are three major transaction segments that use payment services like PayPal; Person-to-Person (P2P), Business-to-Business (B2B), and Consumer-to Business. Prior to the late 90s, P2P payments were almost entirely by cash and check. With the advent of online shopping and e-retailers, that quickly began to change. A recent report put out by Dovetail in conjunction with Radix Consulting Corporation estimates that there are still over 25 billion checks written annually in the U.S. today. That number will continue to decline as more people move from checks to electronic payment forms. From 2006-2009, checks dropped from 30.5 billion to 24.5 billion. Some of those transactions spread into debit card and other card purchases while others flooded other e-payment services like PayPal. Over the same period from 2006-2009, a Federal Reserve study showed that ACH payments (including online payment systems and other electronic payments) increased at a 9.4% compounded annual growth rate. By the end of 2009, electronic payments exceeded three quarters of all noncash payment transactions.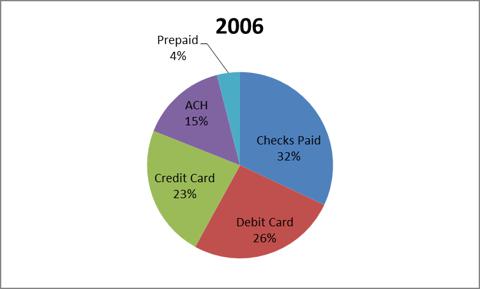 *Source: 2010 Federal Reserve Payments Study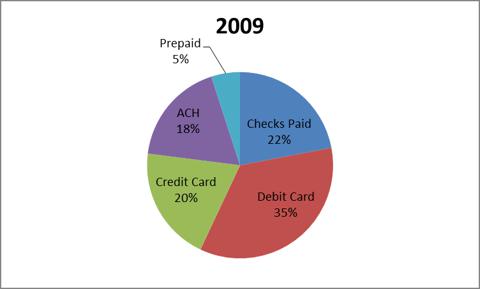 *Source: 2010 Federal Reserve Payments Study
The two charts above show the distribution of each payment method as a percentage of total noncash payment transactions from 2006 to 2009. ACH is the most important method to note, as this includes online and other payment services like PayPal. A more impressive chart below shows the growth of the dollar value of ACH payments from 2009. While ACH payment made up only 18% of the total transactions in 2009 as indicated in the pie chart above, those payments accounted for 51% of the total dollar value of noncash payments.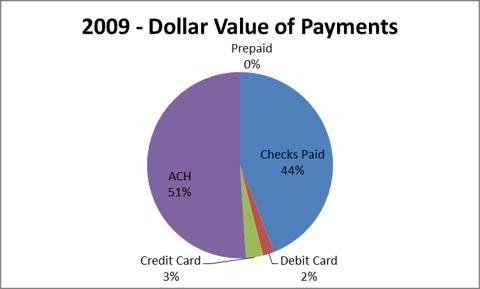 *Source: 2010 Federal Reserve Payments Study
Clearly, as ACH transactions continue to grow, consumers and businesses are also willing to complete significantly larger transactions through ACH methods than in the past. This is good news for PayPal. A second Kansas City Federal Reserve report also evaluated P2P payment methods and concluded that, due to the unique characteristics of electronic payment methods (i.e. speed, payer control, security, and universality) will likely lead to continued growth in this space. While all of this speaks to the macro backdrop leading to a long-term benefit for PayPal and other payment services, it is just as important to note eBay's strengths as a company.
eBay's Financials Indicate a Solid Opportunity
Aside from the favorable revenue growth numbers already discussed, eBay, Inc. has a number of other financial aspects worth delving into. As the company has grown revenues, it has also maintained a strong return on equity, great profit margins, and notable free cash flow. Further, at the current P/E, it seems to be a good value considering the continued growth of the Marketplaces segment and potential exponential growth of the Payments segment.
With a solid 18.5% net profit margin in 2012, eBay has proven itself as a well-run and profitable company. While the net margin tends to range between 18% and 27% across different years, it has maintained a healthy average net margin of 22.8% over the last five years.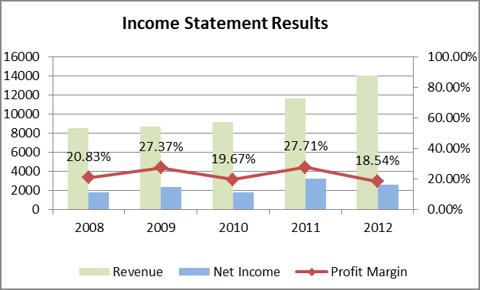 Amazon.com, Inc. (NASDAQ:AMZN) is perhaps eBay's closest competitor in the online marketplaces space. A quick look at some key stats on eBay vs. Amazon shows eBay as the more solid company.

In addition to management effectiveness and the company's profitability, eBay's free cash flow is indicative of its ability to carry out the company's approved stock repurchase plans, which will offset dilution from equity compensation programs. This will add additional value to shareholders over the long run. In 2010, the board approved a $2 billion stock repurchase program, and by the end of 2012, the company had repurchased the full amount permitted under the program. Again June 2012, the board approved an additional $2 billion with no expiration date. At the end of 2012, $1.98 billion remained for ongoing repurchases. Of course, a stock repurchase program doesn't mean anything if the company cannot afford to repurchase shares. With eBay, that isn't the case.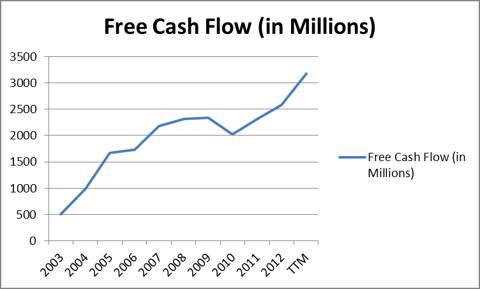 Not only does the company have very strong current free cash flow, but it has grown its free cash flow numbers tremendously over the last ten years. With annual free cash flow of $2.5 billion, the company has ample funds to service debt, invest in growth opportunities and repurchase shares.
With a current trailing twelve month P/E of 25.5 times earnings vs. its five-year average of 16.4x, the current price seems somewhat high on the surface. However, taking into account the growth potential inherent in the payment services and the industry average P/E of 47.4x, the current price looks better on a relative basis.
Current Valuation
EBAY

Industry Avg

S&P 500

EBAY 5Y Avg*

Price/Earnings

25.4

47.4

16.6

16.3

Price/Cash Flow

15.1

18.3

10.0

14.4
*Source: Morningstar.com
Further, the recent 9.6% drop in the stock price from its high of $57.38 in July due to an earning miss presents a great buying opportunity.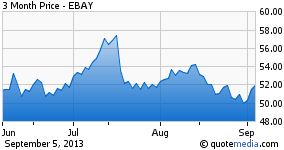 While the company did miss earnings estimates, it still posted very strong results with second quarter revenue growth of 14% vs. the same quarter in 2012. PayPal alone showed a 20% growth in revenue over the same quarter in 2012 as well as an addition of 4.7 million active registered accounts during the quarter. PayPal's net payment volume also increased 24% to $43 billion.
Risks
As with any publicly traded company there are always risks that must be evaluated, however, eBay has specific risks that not all companies face. As an online merchandiser, eBay's revenue would be negatively impacted by adverse economic conditions which would drive transaction volumes and payment volumes lower. Evidence of this appeared in 2008-2009 when eBay's Marketplace segment revenues declined due to poor economic conditions and a decline in consumer spending. Secondly, the nature of eBay's technologically driven business means the company will have to continue to innovate to keep up with advances in other e-commerce methods as well as rapid changes in B2B and P2P payment processes. Banks and other financial institutions will continue attempting to develop more user friendly ACH and other electronic payment methods that could compete with PayPal and gain market share. Even with the usual risks, eBay seems to be in a position to deliver continued growth.
Delivering Return to Shareholders
All in all, eBay has shown stellar growth and should continue to perform well under the current circumstances. The company itself is a well-run organization with a good business model and a strong financial foundation. In addition, the tailwinds approaching from the shifting payment trends should give PayPal continued opportunity to post strong results as more businesses and consumers abandon traditional payment methods in favor of easier, faster, and more convenient electronic payments.
Disclosure: I have no positions in any stocks mentioned, and no plans to initiate any positions within the next 72 hours. I wrote this article myself, and it expresses my own opinions. I am not receiving compensation for it (other than from Seeking Alpha). I have no business relationship with any company whose stock is mentioned in this article.