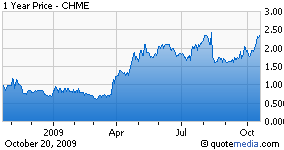 China Medicine Corporation (OTCPK:CHME) announced that Levocarnitine Dried Powder Injection has been registered in Pakistan. Levocarnitine is used to treat coronary heart disease and acute myocardial infarction. Pakistan has no drugs similar to Levocarnitine currently, and China Medicine estimates the market to be 2 million vials annually. For China Medicine, the event is significant because it is the company's first sales foray outside the PRC.
Guangzhou Konzern Pharma, a subsidiary of China Medicine that distributes the drug in the PRC, has signed a two-year distribution and supply agreement for Levocarnitine with RG Pharmaceutica (Pvt.) Ltd., a Pakistani pharmaceutical distributor. Under the terms of the agreement, RGP is responsible for the product registration, importation and marketing of the drug in Pakistan. Terms were not disclosed.
China Medicine plans to launch Levocarnitine in Pakistan in January 2010, and it expects first year Pakistan sales will be about 100,000 vials. Gross margin will be at least 65%.
China Medicine recorded almost $1.5 million in revenues for Levocarnitine last year, with gross profit of $570,000. In the first six months of 2009, China Medicine reported total revenues of $25 million and net income of $438,000.
See our other articles on China Medicine.
Disclosure: none.