Homebuilders have claimed immunity from higher interest rates, and they are acting like it. Today (September 4th), Meritage Homes (NYSE:MTH) and M.D.C. Holdings (NYSE:MDC) announced their continuing expansion and investment in the housing market.
MDC closed on four purchases of land in the Tucson, Arizona area. Two purchases are in Marana, one of them an extension of an existing home community. The other will open first quarter of 2014. One purchase is in Vail, and it will also open the first quarter of 2014. The other purchase is in the city of Tucson; it will open next quarter.
MTH acquired Phillips Builders, a private company in Nashville, Tennessee. This acquisition expands MTH's presence into Nashville with 500 lots. MTH anticipates 150-200 homes will close next year with prices ranging from $175,000 to $425,000. The median home price in Nashville is about $146,000 while the (real) median household income as of 2011 was about $50,000; so MTH is targeting a higher-end of the market.
Of course, these companies set these expansion plans in motion well before mortgage rates surged. These are plans that would get executed under almost any but the most disastrous circumstances. Analysts will certainly target these plans for questioning to determine absorption rates and assess whether the housing recovery remains intact. These will be important questions as in both cases, the housing recovery as truly only just started.
The year-over-year price change data from the Federal Housing Finance Authority (FHFA) shows that both the Tucson and Nashville housing markets have only just recently returned to more normal levels of annual price appreciation. Nashville returned to positive territory in the second quarter of 2012; Tucson just in the fourth quarter of last year. Tucson has since been on a tear (relative to the collapse that preceded it).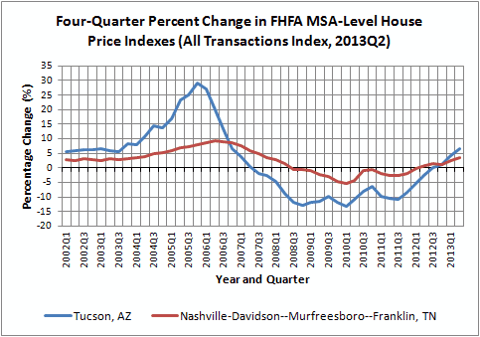 Four-Quarter Percent Change in FHFA MSA-Level House Price Indexes (All Transactions Index, 2013Q2)
Source: FHFA
(Note: MSA = Metropolitan Statistical Area; the House Price Index (NYSE:HPI) is "a broad measure of the movement of single-family house prices. The HPI is a weighted, repeat-sales index, meaning that it measures average price changes in repeat sales or refinancings on the same properties. This information is obtained by reviewing repeat mortgage transactions on single-family properties whose mortgages have been purchased or securitized by Fannie Mae or Freddie Mac since January 1975.")
Job market dynamics may help explain the differences in the recoveries as well as describe the relative upside opportunities for each homebuilder with their respective acquisitions. In the Nashville area, the unemployment rate has steadily improved while the workforce has also experienced healthy growth that barely paused through the recession.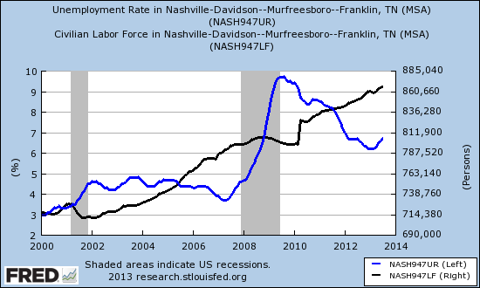 Unemployment rate versus the civilian labor force in the Nashville, TN area
Source: St. Louis Federal Reserve
(The blue line is in the unemployment rate. Its scale is on the left axis. The black line is the size of the civilian labor force. Its scale is on the right side. Both numbers are seasonally adjusted).
Meanwhile in the Tucson area, the unemployment rate has also recovered, but it is higher than Nashville's. Moreover, the civilian labor force has shrunk in the post-recovery period even as it grew through the recession.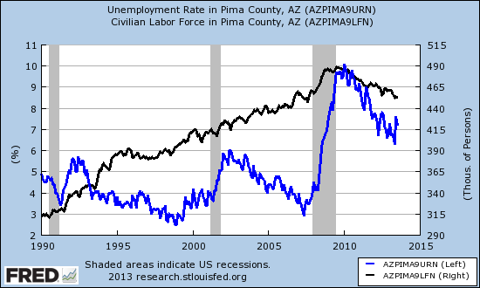 Unemployment rate versus the civilian labor force in Pima County, AZ area
Source: St. Louis Federal Reserve
(Seasonally adjusted data are not available. Tucson is the seat of Pima County).
For comparison, here is the same chart for Santa Clara County where many tech companies are booming and housing prices in many areas have already recovered post-bubble losses and then some.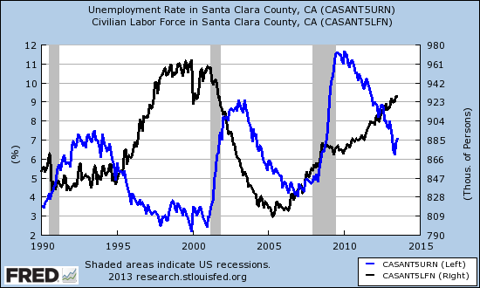 Unemployment rate versus the civilian labor force in Santa Clara County, California area
Source: St. Louis Federal Reserve
(Seasonally adjusted data not available)
Taking into account the relative job markets as well as the current price recoveries, I like Meritage's expansion a lot better than MDC's. I think Meritage will do well given the apparent health of the economy in Nashville and the move-up market it is likely targeting. I continue to keep MTH on my buy list of homebuilders. The stock is almost flat for the year, but I still do not think there is a rush to buy as long as increasing mortgage rates continue to generate an overhang in sentiment on homebuilder stocks.
I am neutral on MDC's acquisition and prefer to wait for more details on the kinds of price points the company will target in Tucson. The price recovery in the Tucson market is very sharp off the bottom but may soon lose steam without more positive changes in employment. Notably, MDC is down 26% for the year and is now trading at levels seen last summer. My neutral opinion is consistent with my lukewarm assessment of MDC's earnings results in May. I still think MDC's prospects are highly dependent on a healthy broadening of the economy recovery, and the expansion in the Tucson market further underlines my assessment. However, MDC's valuation is getting quite attractive with a price/book ratio close to 1 (1.16). I am a buyer on a further extension of the current sell-off, for example, at book value.
Be careful out there!
Disclosure: I have no positions in any stocks mentioned, but may initiate a long position in MTH, MDC over the next 72 hours. I wrote this article myself, and it expresses my own opinions. I am not receiving compensation for it (other than from Seeking Alpha). I have no business relationship with any company whose stock is mentioned in this article.