About this Article
Micron (NASDAQ:MU) recently participated in a Q&A session at the 2013 Citi Global Technology Conference. I find many of these events contain little gems - insights into how things are going, and comments that indicate whether everything is still on track - as such, I read every transcript and listen to most conference calls. (schedule permitting)
This transcript was no different, offering numerous insights into their progress transitioning to new nodes, new technology, and some rough FCF estimates. For anyone that does not have the time or desire to dig through it, I offer my analysis and insights, and have quoted anything that seemed interesting.
For an overview of what Micron is and does, read my quite well timed first article on SA. (Well timed because of yesterday's news that competitor SK Hynix (OTC:HXSCF) has suffered from a fire at one of their fabs or packaging plants. This is poor timing for them, as DRAM/NAND supply was already expected to be constricted going into the holiday season, and should serve as yet another catalyst to stop contract DRAM/NAND pricing from declining. More info in the comment here.)
MU just breached its upper bollinger band (it is currently trading at $15.15), which makes it very tempting to lighten up a bit - but the nature of the catalyst has me suspecting that aside from any temporary minor dips, there is far more upside in the months to come. Now, on to the analysis.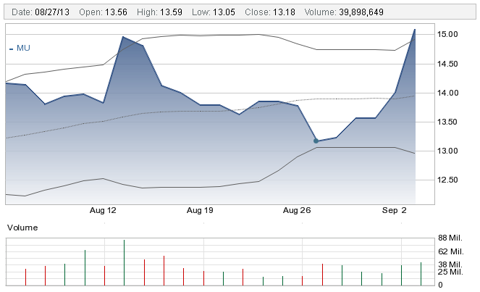 Micron Q&A at 2013 Citi Global Technology Conference
If you're reading this, I assume you want a concise overview of what I perceive to be the most important statements in the Q&A session. Unfortunately I wasn't as concise as I probably should've been, but hopefully some of my insights prove useful. Let's dive right into it.
We have confirmation that 30% of the Singapore fab has moved from DRAM to NAND. It could be closer to 50% by year end, and 100% by the end of next fiscal year. (FY2013 ends now; earnings release in late September.)
Kipp Bedard - Vice President, Investor Relations

"We will as a backdrop, of course, be moving some of our own Micron held capacity from DRAM to NAND. We began that last spring and we will continue to move that tech facility in Singapore, which was running about 65,000 DRAM wafers a month over to NAND. We are running about 20K wafer outs a month today and over the next year we'll go ahead and complete the rest of that transition."
MU will ramp NAND bit supply 40 to 50% next year, which when paired with the 16nm transition should definitely improve margins and profit growth.
Glen Yeung - Citi

"We hesitate to say that as analyst, but is it different this time?"

Kipp Bedard - Vice President, Investor Relations

"Now NAND, I think, is a little bit different. I think we all recognized that the NAND, the growth rate is exceeding what we can do in terms of shrinks. So we will need to add wafer capacity. In fact, you probably have a question on that because we have had some announcements already.

We are looking at maybe 100 to 120,000 new wafer starts coming in somewhere in calendar 2014. That's around 10%, 11% of the worldwide capacity. So we've got to have a demand environment that can absorb that plus the shrinks which I'll talk about we'll probably increase supply next year somewhere between 40% and 50 %."
This is also why I'm less bullish on SanDisk (SNDK)/Toshiba (OTCPK:TOSBF) in particular. Although MU's 16nm planar HKMG NAND should have quite healthy margins, I expect some pricing pressure on NAND manufacturers stuck at higher process nodes. Unlike Micron, their process transitions will be more costly, so they will have to weigh whether it is worth it, or whether to hold off for the 3D NAND transition. I suspect most will stay at 19/20nm and hold off for the 3D NAND transition. This could give Micron several quarters of margin superiority.
Also keep in mind that sometime in mid to early 2014 Samsung's (OTC:SSNLF) huge Xi'an fab in China will be operational (with shipments starting in Q3 2014), adding an unknown amount of supply to the market. This could be why Samsung is pushing ahead with 3D NAND - if they can master that early, they'll have density on their side. (and eventually pricing)
As the world's largest smartphone vendor, and as a company that is gunning for the tablet market and many others, Samsung having a solid supply of high density NAND can only benefit them and open up new competitive advantages for new products. As such, they are willing to commit the CapEx for such a transition "early". As of right now, analysts are not convinced that 3D NAND will dent the NAND market until at least mid to late 2015. (the expected timeframe for when Samsung's 3D NAND moves to a HKMG process) But that will not stop Samsung from using it internally to add value to new products, or selling it at low volume at a premium to competitors.
SSD Uptake and NAND Consumption
Kipp made some reassuring comments about SSD uptake and NAND consumption:
Kipp Bedard - Vice President, Investor Relations
[Note: I fixed up this quote because the transcript butchered it.]

"There is definitely a sea of change in terms of SSD consumption. We would tell you even today, notwithstanding spot pricing this summer in pockets of NAND, SSD-quality NAND is on allocation. It has been all year and the growth rate there is something that we are having a difficult time in the industry keeping up with."
He is saying that there has been some weakness in TLC pricing (destined mostly for flashdrives, memory cards, etc.), but that MLC is holding quite strong. (Destined for SSDs primarily, and perhaps tablets/smartphones.)
That said, I have seen conflicting charts like these, which can be worrying when you see a downtrend emerging over a several month period. But given the abnormally high pricing that we've seen in recent months, it was expected for contract pricing to give back some of its gains.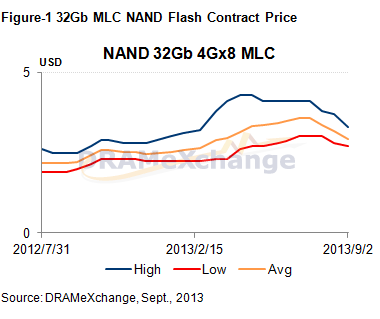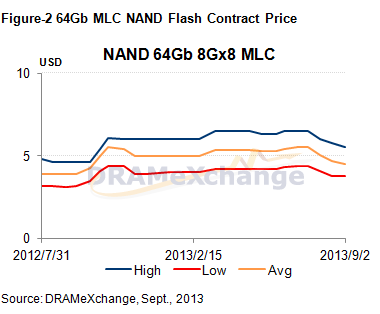 Kipp's statements do not necessarily contradict these charts, as DRAMeXchange is analysing contract pricing for more than just one memory manufacturer.
I recall that there was some confusion last earnings release over Micron's DRAM revenue, margins, and ASPs. It was blamed on shifting capacity away from SLC to MLC - but I also suspect that one of their larger customers (such as Apple (NASDAQ:AAPL)) may have been negotiating prices aggressively. Apple has been known to do this to improve their own profit margins. With the holiday season and new product refreshes looming, in a market with constricted supply, they are less likely to want to put pressure on their suppliers in regards to pricing. (But they may still put pressure on them in regards to volume/quantity). I feel all this points to contract price declines primarily being Micron's competitors. (Possibly SK Hynix, which reported a blowout quarter, and made comments suggesting that their pricing had peaked).
On a totally different track - also keep in mind that it's natural for NAND pricing per bit to decline perpetually over time - in fits and spurts - usually around the time that node shrinks occur. (Such as MU's upcoming 16nm transition.) I would not be worried seeing further spot and contract price declines into 2014 - I actually expect it.
Further confirmation that only TLC is under pressure and MLC contract pricing is holding steady:
Glen Yeung - Citi

"So, we see the spot price of NAND which has been under some pressure over the course of the summer. How is that reflecting the SSD trend or is it lot doing that?"

Kipp Bedard - Vice President, Investor Relations

"Completely disconnected from it, in fact the only place we've seen pricing weakness in NAND has been in that TLC media grade quality product. We haven't seen any price pressure throughout the rest of the chain. So you got about 10% of the market that's feeling some pressure, again, that's related to media quality grade or TLC type product."
Music to my ears, obviously!
Kipp said the spot market is thinly traded, and is hardly affecting contract pricing right now:
Glen Yeung - Citi

"And the proportionate of NAND that's on the spot relatively small?

Kipp Bedard - Vice President, Investor Relations

"Yeah. It's a much more thinly traded in both NAND and DRAM today than we've ever seen in the past, which is why it's becoming less and less prevalent, when we go and negotiate pricing every month. It just doesn't come up and have as big as swing with it is as it used to have."
This is likely because the spot market can no longer be depended upon to contain enough supply except for very small manufacturers - and also because the wide swings we've seen can be decimating to a manufacturer's margins. It's safer to lock everything in with contracts.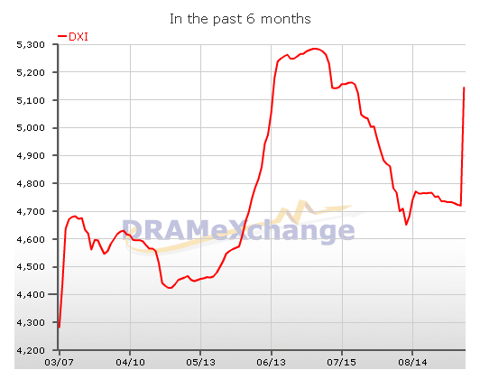 Comments elsewhere also suggest that the spot market is beginning to be used more as a dumping ground of poor quality product and temporary oversupply, rather than an actual healthy market, which again makes contracts safer.
Samsung / Micron 3D NAND Plans
Kipp had some interesting comments on Samsung's 3D NAND plans and also Micron's own:
Kipp Bedard - Vice President, Investor Relations

"We think it's definitely going to be the replacement for planar. We think it will probably take longer to become the majority of the bits consumed than people think. So it will be a fairly slow transition to it. If you think about NAND in general, it requires quite an infrastructure and you got to have a product that wants to use it. You got to have controller technology built around it. You got to have a firmware built around it as well and whole design and cycle."

So it's going to take a while. Micron itself will be sampling some 3D product first quarter, calendar quarter of 2014. Some sort of low volume ramp probably in the second half of the year and then I think commercialization probably in 2015.

Glen Yeung - Citi

"Does 3D NAND need something different in terms of manufacturing capacity?"

Kipp Bedard - Vice President, Investor Relations

"Yeah. The equipment mix is going to be pretty different, much bigger emphasis on dry etch….…deposition, inspection tools and I'd say mask quality. So guys like Photronics is our JV partner in producing mask; a big challenge for them and rest of the photomasks guys to produce kind of quality mask that we need to produce 3D."
I don't understand half of what that equipment does - the two parts of the quote that interest me the most are the timeline (which is fairly close to Samsung's expected timeline; maybe 1-2 quarters behind them max, and by choice), and the name of the JV partner mentioned - Photronics (NASDAQ:PLAB). This is a microcap company which may have catalysts as the 3D NAND transition progresses in late 2014 to 2016+. Microcaps tend to fly once they start to move (just look at Himax! (NASDAQ:HIMX)), but they never move on schedule. I need to dig into this name further, and add it to all my watch lists, as keeping tabs on this company could provide insights into how Micron's 3D NAND transition is going, and whether it's still on track for 1-2 quarters behind Samsung's.
The next few paragraphs in the transcript support and state exactly this:
Kipp Bedard - Vice President, Investor Relations

...It's going to be difficult product to yield and ramp to but also the products that are out there today being sampled are [not] economically competitive yet with a one Y planar technology. We need to be at least 32 to 34 levels of 3D. All we can produce today is around 24.

So economically it doesn't quite make sense but we'll get that fixed over time. We think the right intersection some time around summer of next year.
Apple is playing nice
Good news regarding one of their largest customers, Apple - they are acting more responsibly towards their supply chain:
Kipp Bedard - Vice President, Investor Relations

So big change in how the dynamics work. Apple is a very good customer of ours; it used to be able to come in and they would move the market themselves. And I think their buying pattern now has changed to where they are pretty consistently throughout the year whether they are in the product launch or not, they are in the memory market buying our product. So less of an opportunistic approach by them and much more consistent which is helpful for us.
Apple was accused of manipulating the spot market to gain favourable contract pricing several times in the past, so this change is nice to see.
PC Sales may have flattened out
Kipp indicates that PC sales may have finally flattened out:
Glen Yeung - Citi

Okay. Let's move on to the DRAM part of the business and sort of address the elephant in the room which is PCs really stink right now. And so one is there any hope this year in light of Haswell and Bay Trail, Windows 8.1, does that create any stimulus and can you see that in your business there?

Kipp Bedard - Vice President, Investor Relations

We really haven't seen PC demand getting worse or better. By the way, I think the PC customers that we interfaced with beginning of the year had expected a pretty tough year. And so they didn't really, they are not -- their expectations are not getting worse right now.

In fact, if anything the sales guys have mentioned to me, they've seen a little bit of an enterprise refresh, nothing to get up on the table and shout about but a little bit of a corporate refresh there. So maybe on the margin, it's a little bit better but generally speaking pretty flat in the PC space.

Glen Yeung - Citi

It's hard for anyone to guess but if you were to prognosticate on a 2014 PC growth rate, is it a negative number?

Kipp Bedard - Vice President, Investor Relations

Probably flattish, I think.
Flattish is good. Flat is stable. With server memory sales still increasing - not to mention automotive sales and the ever booming smartphone, tablet, and SSD markets - demand should increase for DRAM and NAND products in 2014, hopefully absorbing the 20-25% DRAM and 40-50% NAND bit supply increases that they expect.
Note that traditionally bit supply has grown faster than in recent years. This is because process shrinks have been slowing as they become more costly, and because (excluding Samsung's Xi'an fab in China) no new fabs are planned to come online among memory manufacturers.
It is likely that only the move to 3D NAND has the potential to oversupply the market, but with most companies taking the cautious approach to rollout and intending to price it at a premium to get a favourable ROI, I think this is a fairly minimal risk.
As always, time will tell. If there was no risk, Micron would already be priced higher based on favourable 2014+ earnings estimates.
The Arms Race is Over - Profits First!
Kipp feels that the "arms race" is finally over - the 3-4 remaining memory manufacturers (3 DRAM, 4 overlapping NAND) are content with their market share and are all prioritizing profits instead.
Glen Yeung - Citi

I have been looking at Micron for 15 years I realized and I'm going to ask you a question I probably never asked you in those 15 years. Let's talk beyond just the next three months about DRAM and think a bit longer term? And just get your sense of the -- is it real, I mean, we will talk to every major DRAM player in the world today. And we get a very consistent answer that none of them, at least verbally want to upset the balance?

Kipp Bedard - Vice President, Investor Relations

Yeah.

Glen Yeung - Citi

Could there be somebody with some secret fab that's being built somewhere in the world or is this really what's going on?

Kipp Bedard - Vice President, Investor Relations

This is really what's going on. We -- in my opinion, for those of you, I apologize, if you are suffering to hearing the story again, but for the first time, the arms race is over. We don't have that new country aligned and aimed at the memory space that has to build scale in order to survive long term, it's over.

And we could have been talking about this consolidation move a decade ago, had we not had Qimonda and Elpida in a tough financial situation whereby they basically traded their technology, the DRAM technology to the Taiwanese, led them in the space and in return they got cheap wafers. We just don't have it in that mechanism today.

The three folks that are in the DRAM business, all are financially sound. There is no need to go trade that technology for something new. You know that's us, and Hynix and Samsung. So we have a coller if you will on any new entrant into the DRAM space. So I think you're looking at the three of us in terms of how healthy we are going to let this business and the kind of decisions we'll make in order to add capacity and for us it's a pretty tall number.
Kipp indicates below that further process shrinks require more technology and clean room space, which means that as they (and competitors) transition, it will drop wafer starts over the next few years. This partially offsets density increases and is one of the reasons that it is unlikely the market will have too much supply.
A driver of rapid process shrinks was PCs, which were stuck in the 'more is better' mindset of requiring ever more memory. Numerous times I have seen consumers walk out of stores with PCs containing 8-16GB of RAM - and they are happy, because the PCs run Firefox well. Phones (and most other markets) do not seem to share this, and will likely plateau.
Phones and tablets are designed for a certain amount of memory, and stick with that throughout the entire product's lifecycle. There is no variation until a new generation is designed. The tasks that most of these devices perform do not require more than 1-4GB of RAM at the upper end, so until the other hardware in such devices catches up (graphics performance, for example), I suspect most tablets and smartphones will plateau at around 2GB/unit. (Featurephone sales will pull the average down from that.) Also keep in mind that the tablet and smartphone form factor does not lend itself terribly well to multitasking, further capping RAM requirements, at least until new user interfaces are rolled out and new uses are dreamed up.
NAND and storage however will have no such limitation - and with cameraphones becoming ever more popular, onboard flash is sure to continue to increase in the majority of phones and tablets.
SSDs - they are interesting because of their immaturity. Many SSDs from 3 years ago had ~512MB of DRAM cache. Today they have approximately the same, while sporting at least 2-4x as much NAND flash. Smarter controllers and better firmware are offsetting the DRAM requirements of such devices. This is yet another reason that Micron's decision to transition some DRAM supply to NAND is a wise one, as SSD growth primarily raises NAND demand. Despite transitioning as much as 65,000 wafer starts per month by the end of next FY (ER - Sept 2014), they predict industry bit supply of DRAM to grow by 20-25%. There is no need to risk oversupplying the DRAM market, which has lost money for Micron more years than not.
Glen Yeung - Citi

Interesting. All Right. So, let me ask you about one other element of DRAM, which is the ability or inability to continue the shrink pattern that we have been on and what's creating the problems?

Kipp Bedard - Vice President, Investor Relations

That is part of the reason why supply growth is slow, and we used to be able to complete a shrink about once a year. That's changing now. We are running shrink about every 18 months to two years now, and some of that is technology getting up against the technology barrier. Some of it is increased process steps required to do it, which means we need more floor space.

There isn't a lot of excess clean room floor space in DRAM fabs today. So, by default, we either have to find some more clean room space or your wafer output goes down, which this year as an industry it will be down and next year as an industry it will be down. Part of the other slowing, both in NAND and DRAM in terms of process shrinks, has been customers quite frankly.

When PC is dominated, the consumption of DRAM, they would shrink as fast as we could move because their package that they put in their end product didn't change with when we shrank the product. If all electrical characteristics of a new shrink met the old one, they were happy to shrink with you. They are the only category out there that consumes memory that will do that.

A mobile phone has to be matched up to the electrical characteristics of a DRAM, for example just like it does in NAND. We shrink and all of the sudden that doesn't work any more. So, the phone guys don't want to requalify a shrink until they are ready to refresh that particular phone run. It's completely different today than PCs were. Again, they would shrink with you as fast as you want them to go, no other markets will do that with us. So, they pick and chose when they want to come down to shrink.
NOR Flash
I found Kipp's comments on NOR utilizing otherwise useless capacity quite interesting:
Glen Yeung - Citi

What about the Holy Grail of the memory, the NOR market? Do we need to make that as well?

Kipp Bedard - Vice President, Investor Relations

Less and less of an issue, I think for NOR. Perhaps, we see it as a huge cash cow, and it uses trailing edge memory capacity that otherwise would be useless or us. So, NOR has been a nice addition, but certainly it is going away in mobile, but it's very healthy growth rate and margin and cash flow in embedded applications like automotive. So, here to stay there, but mobile is going away pretty quickly.
I suspect Glen's question was a bit tongue in cheek - but it does have merit. I have seen it mentioned that NOR flash is generally manufactured at a 45nm process - quite a bit higher than DRAM (25nm or 30nm), and NAND (19/20/25nm - soon add 16nm to the list)
Although my understanding of the actual fabrication process is poor (I am not a semiconductor engineer, and I may have this paragraph completely wrong), I strongly suspect that keeping all of these products on separate processes is strategic, and allows memory manufacturers such as Micron to transition old fabs to other products in a cost effective way, while simultaneously upgrading certain fabs to cutting edge technology. As new 16nm NAND technology is brought online, Micron can migrate old 20nm or 25nm NAND capacity to DRAM, and 30nm DRAM capacity over to NOR. I suspect this cuts down on CapEx massively, and could be why Micron's slides in their conference calls and presentations indicate a lower spend rate than in most other recent years. (Excluding the relatively costly upcoming 3D NAND transition, of course - but that is an entirely new technology.)
Semiconductor engineers, if I have that wrong, please correct me. (Maybe it's not so easy to transition the technology from (for example) DRAM to NOR?)
Growing Phone Memory Demands
Kipp predicts about 50% bit growth in memory consumption (NASDAQ:DRAM) of phones (smartphones and featurephones - averaged) for next year, with the current average being about 450MB/phone, and next year estimated at almost 750MB/phone:
Glen Yeung - Citi

I will come back to NOR, but I did want to ask a couple of other things about DRAM. So one is, we at Citi think that high-end smartphone growth is starting to slow, but the implications for mobile memory is still positive even if we have low end smartphone growth, but can you talk about the bit for box assumptions in low-end smartphones?

Kipp Bedard - Vice President, Investor Relations

And you are absolutely right to take a look at the entire portfolio of phones because that's what's driving really the memory consumption part. So, factor all phones in, in 2012, we averaged about 250 megabytes per phone largely by the top two guys' smartphones. [Apple + Samsung]

This year, much broader portfolio that is running about -- kind of coming around 450 megabytes per phone on an average, that is all phones shipped with the high-end being 3 gigabytes now. And then next year based on the designs that we are seeing being promoted today, we are getting qualified into, it is going to jump to somewhere between 700 and 750 megabytes a phone.

The key there is watching that $100 to $150 phone, and a lot of those that are being introduced and have been introduced over the last couple of months are coming in at the gigabyte of DRAM memory.
He recommends watching the $100 to $150 phone category. I have been tracking Nokia's (NYSE:NOK) Lumia sales, and their growth seems to predominently be in the $100 to $150 mid-range. (Lumia 5xx to 6xx models) Most of them are currently at 512MB of RAM, but some of the new refreshes will be coming in at 1GB of RAM.
Game Consoles
Micron has partial (but growing) exposure to the game console market, which just had a whopping 16x increase in memory consumption (512MB -> 8GB), which will be stable for the next half-decade:
Glen Yeung - Citi

...I want to ask about one other growth opportunity, which is the gaming market, right, which is really seeing a noticeable shift in DRAM per box with these new consoles that are coming in, and again, Citi's opinion is that that's going to actually consume a lot of DRAM. What's your view and where do you play within that, particularly given the types of DRAM are little different between each box?

Kipp Bedard - Vice President, Investor Relations

Yeah. You bet. There are three main box suppliers [Sony, Microsoft, Nintendo?], and they have now -- their new boxes are all averaging 8 gigabytes of DRAM, so it's a pretty nice move from the 512 megabytes they had in the last round. They are expected to ship around 30 million units, maybe plus or minus over the next 12 months.

We have definitely seen the holiday build for two of those guys, which is primarily consuming high -- high speed DDR3-type products. With Sony PlayStation, we didn't do much with, because we didn't have a graphics designed part that Elpida does. So, Elpida brought that to us, and so we are now more exposed into the Sony PlayStation than we have been before, so --.
CapEx FY2013, CapEx FY2014
CapEx numbers for this year and next - good things to jot down somewhere for future reference:
Kipp Bedard - Vice President, Investor Relations

Yeah. We are just wrapping up our fiscal 2013 year. We had guided to have CapEx in about the 1.6 to 1.9 [billion USD] range, roughly split evenly between DRAM and NAND. We are going to be a little bit short of that. We are going to be probably 1.4, 1.5 in CapEx this year. We will catch it up in the next year.

So, next year, we have guided to be somewhere in that $2.6 billion to low $3 billion range, and that also it's going to end up being more heavily DRAM dependent because we are picking up so much of Elpida.

Glen Yeung - Citi

And I should know this, but what would Elpida's CapEx be?

Kipp Bedard - Vice President, Investor Relations

Around $800 million. [of that ~3b USD]
Process Transition Plans
Micron/Elpida DRAM process transition plans - Micron may skip 25nm and jump directly to 20nm along with Elpida:
Kipp Bedard - Vice President, Investor Relations

...They [Elpida] turned cash flow positive last -- at the end of last calendar year. So they have been spending at the rate they needed to make a real -- as you mentioned earlier, pretty quick transition out of 25-nanometer. They will actually lead us down the process curve.

I think what we will do since they are so primed and ready to go on the 25-nanometer, we will probably not deploy 25 throughout the rest of Micron, and we will move and try and pull in the 20-nanometer quicker, and then we will catch them up at 20 at the point in time where we consolidate process development.
This again supports my theory of reusing equipment where possible. As NAND transitions to 16nm, Micron will transition DRAM directly to 20nm to be more efficient with their capital expenditures. (Semiconductor engineers: Any holes in this assumption?)
EPS Estimates
Elpida's EPS contribution to Micron looks good, at around $1/share or higher:
Glen Yeung - Citi

The street seems to have come over with accretion that's call it $0.90 to $1.10, roughly speaking. What's your comfort level with that kind of accretion?

Kipp Bedard - Vice President, Investor Relations

Well, let me answer it this way. If you looked at the numbers we gave you on the -- at the Analyst Day, their cash flowing pre-CapEx at that $500 million to $550 million per quarter range, so that gets you up into that area pretty easily.
FCF looks very good, at somewhere around $800m/qtr after CapEx:
Glen Yeung - Citi

...your general thoughts on your new free cash flow profile and how you think that will play over time?

Kipp Bedard - Vice President, Investor Relations

Yeah. If you just look at our fiscal Q3 that we reported in June, we were free cash flow over $400 million, and we have talked about Elpida pre-capital about $500 million to $550 million. They are running at about $800 million in CapEx a year. So take that down by a couple of hundred million, so they are looking at 300 to 350 plus our 450, so I will say nearing that 700 to 800 range pretty easily with no market improvement needed to stay there.

So, it's a pretty healthy cash flow environment which as you talked about earlier, we first used to reduce debt, take shares out of the market, and then take a look at giving it back to shareholders.
Next year will bring margin-enhancing process transitions, so even though CapEx will increase to approximately $3b USD +/- 400m, FCF should still be very high, and may actually improve significantly.
This explains why analysts are beginning to bump up 2014 EPS estimates into the $3+ range, possibly only to be revised higher from there.
These numbers are not a complete pro forma, but they are enough to conclude that fellow SA authors (Russ Fischer, Jaret Wilson, and Electric Phred) have been right on the money all along. (pun intended) They provided accurate estimates many quarters before "professional" analysts. I tip my hat to them!
(And I suppose by proxy to myself, since I bought into MU in Nov 2012 based on the extreme EPS and revenue growth that I saw.)
Electric Phred just released an article running some numbers and extrapolating EPS - it's worth a read.
Process Transitions On Track
Micron's NAND and DRAM process shrinks appear to be on-track - early 2014 for NAND, mid 2014 for DRAM:
Kipp Bedard - Vice President, Investor Relations

...16-nanometer NAND is -- we are sampling that today. We will have production quality product by the end of the year, and we'll have our first SSD using around 16-nanometer in probably calendar Q1 of 2014. On 20-nanometer DRAM, we'll be sampling by the end of the year, and I expect some sort of production ramp probably later spring for us...
As is the move to DDR4 - Samsung will probably be the first to DDR4, with other companies following in the quarter(s) immediately after.
Kipp Bedard - Vice President, Investor Relations

DDR4, looks like we are going to be right on par, that's pretty much a Jetix, it's last Jetix standard. So schedule I think is going to map out to kind of where the whole market is going to be on DDR4. So, I don't expect a big lag or a big head start, it's pretty well defined, I think we are all going to be there about the same time.
(I'm pretty sure it's Jedec.)
Samsung's Growing Supply - Not Concerning:
More confirmation that Samsung will likely consume a larger and larger percentage of their growing supply:
Unidentified Analyst

I guess, Samsung, their strategy to have kind of more components, producing more components in house like smartphones, et cetera, does that affect how they behave selling memory to their smartphone competitors?

Kipp Bedard - Vice President, Investor Relations

I don't expect any big change in their behavior. You are right, they tend to want to consume about, if their mobile division, for example handset division, they like to in-source about 70% of what they need and that's been drive -- I think that is starting to drive more of this semiconductor capital approach by Samsung than some of these other factors we talked about in terms of defending share or getting scale or something.

I think they have an interesting -- they are in an interesting position where it benefits the entire company to have memory prices go up and have content per unit go up. And I think you're going to see -- in terms of the strategy, I think you will see them continue to put pressure on both of those in a good way. Pressure meaning increased content and pressure meaning allowing memory prices to run.
Share Repurchasing Plans
Kipp Bedard - Vice President, Investor Relations

Yeah. Okay. Probably going to repeat myself in terms of our uses of cash. Again we want to get that debt to equity back down into that 20%, 25% range and then start taking shares out, which initially is aimed at the converts, but longer term just straight shares themselves.
Micron's Float and required Liquidity
I found these final comments very interesting - Micron does not appear to need a very large float. (Just ~$0.5b USD) I remain curious about what they will do with their excess cash from Elpida, if it is indeed locked overseas.
Unidentified Analyst

So that we can sort of back of the envelope calculate that, how much cash do you feel comfortable running Micron with in terms of unencumbered cash, it's not at any of the JVs, things like that?

Kipp Bedard - Vice President, Investor Relations

Yeah. We could probably run our entire business including Elpida today on, let's say, $500 million to $600 million. [USD] We don't foresee getting anywhere close to that. And then to follow up on one of your other questions, you're right, we'll probably generate some pretty good cash in Japan. And Mark and Ronald have a decision to make on the use of that. If we can't bring it out without some sort of penalty, it probably means we pay down the remaining Elpida debt quicker.

And there are some benefits to doing that. There are also some benefits to have 0% coupon debt also long term. So, there is a little bit of a decision to make there if the cash does get trapped there.
Wrap Up
That concludes my analysis of all the interesting bits. Hopefully I added unique insights to some of it.
I am afraid that this article may actually be longer than the transcript itself due to all the quoting. Oh well... 'concise' was worth a shot.
-Mike
Disclosure: I am long MU, HIMX, INTC, AMD, MRVL, LSI. I wrote this article myself, and it expresses my own opinions. I am not receiving compensation for it (other than from Seeking Alpha). I have no business relationship with any company whose stock is mentioned in this article.