Express Inc. (NYSE:EXPR) is a highly undervalued retail company with huge potential on an international level in a business with solid growth prospects. Below is an introduction into its business model, strengths, and the buying opportunity that exists for Express after the recent solid quarter. Investors will continue to realize strong value in this company as it has beat analyst expectations 12 of the last 13 quarters. The company is in a position to thrive going forward with the back-to-school shopping season finishing and the holiday season fast approaching. Express has a market cap of $1.71 Billion and reports its next quarter on November 28, 2013. With this in mind, we value EXPR at $25.00 by year-end of 2013 and $32.00 by September 1, 2014, an increase of 54% from current levels. We will later highlight:
1) Better understanding of the EXPR retail business model
2) The economics of the EXPR business and industry overview
3) Growth drivers in the future and competitive advantages
4) Cash/Valuation to peers
Express operates as a specialty apparel and accessory retailer primarily in the United States. Its stores provide apparel and accessories for women and men between 20 and 30 years old across various aspects of the lifestyles comprising work, casual, formal, jeans wear, and going-out occasions. Express is one of the largest specialty apparel retailers in North America with sales above $2 billion. The company currently operates 625 company-owned stores in 47 states and Canada. The company has also been expanding and has an international presence with Middle East & Latin American franchises. Express provides unique offerings with a distinctive point of view: sexy, sophisticated, and social while focusing on style and quality and offering an attractive value.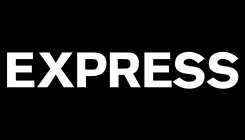 EXPR Competitive Strengths and Growth Drivers - Focus for the Future
Established Lifestyle Brand
After 30 years in business, the Express brand represents a distinctive point of view that is sophisticated and social. The customers view Express as a fashion authority and look to the company to provide them with the latest fashions. The Express brand differentiates itself by offering (1) a balanced assortment of core styles and the latest fashions (2) products that address fashion needs across multiple wearing occasions, including work, casual, jeanswear and going-out occasions and (3) quality products at a great value. This style has started to have an influence around the world and Express is beginning to take advantage of new markets through its international expansion strategy. We believe the company will have great success in Asia as it appeals to the young demographic and young professionals as the company fine tunes its pricing strategy.
Go-To-Market Strategy
Express designs the majority of its product assortment in the New York City design studio based on an extensive review of fashion trends, styles, fabrics, colors, fits, and prices for the seasons. The company's product testing processes allows it to test approximately 75% of merchandise in select stores before placing orders for the broader store base. This allows Express to assess sales data and new product development on a weekly basis in order to make inventory adjustments. This model allows it to better meet customer demand, reduce inventory risk, and improve product margins through fewer markdowns.
Optimized Real Estate Portfolio
Express has done a great job placing stores that are located in high-traffic shopping malls, lifestyle centers, and street locations in 47 states, the District of Columbia, Puerto Rico, and two provinces in Canada. A large majority of stores (88%) were profitable in 2012.
Boost Existing Store Productivity and Expand Margins
Deeper selection of fashion essentials for existing customers and to broaden the customer base
Improved pricing clarity
Introduction of new categories drives add on sales
Continue to Grow E-Commerce Platform
Website launched July 2008 - continuing to expand social media outreach and mobile app
12.6% of FY 2012 sales and 14% of 1Q 2013 sales - expected to go higher over time

Grew 32% in 2012
Grew 48% in 1Q of 2013

Multi-channel shoppers generate higher per person sales
Focused on:

Expanding and refining the offering
Improving analytics and operations
Optimizing digital marketing driving sales through new capabilities

Express has now expanded its e-commerce platform on a global scale where the website operates in over 60 countries that the company now ships to - this is a huge international growth opportunity as the company is just in the beginning stages of this expansion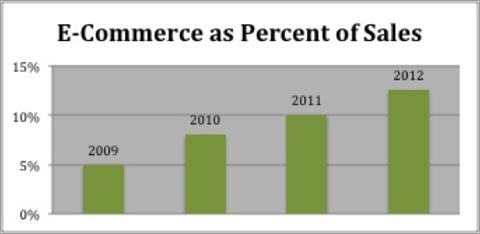 North American Store Growth
New store format (launched June 2012) elevates the brand and better profiles key categories
Expanding visibility in select "hub" locations
Opportunities for growth in new malls and lifestyle centers

Concept viable and profitable in all mall stores
Continuing work on NYC and San Francisco flagships

U. S. outlet strategy being refined
Who is Shopping at Express?
Retailers love two things in a customer base: Youth and Money. Shoppers at Express are both young and willing to spend. Nearly 66% the people shopping at Express' 620 or so stores are younger than 35. Less than 20% of the Express customers are over the age of 45, but typically these shoppers have more money and are shopping for their children or grandchildren that are interested in the Express fashion.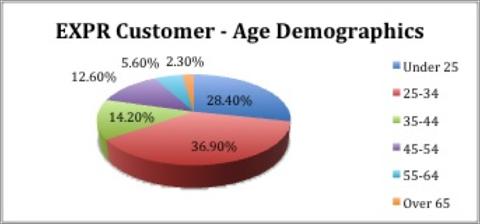 When looking at the spending habits and income levels of EXPR customers, there are some interesting facts on this front as well. The consistent customer is more the country-club type. Nearly 57% of the company's shoppers have an annual household income of between $25,000 and $75,000. Although there is a good deal of customers at the lower end of household income, these are typically young, single professionals or college students that are willing and able to spend a higher percentage of their income on their fashion wants. Express provides a great value for these younger generation shoppers.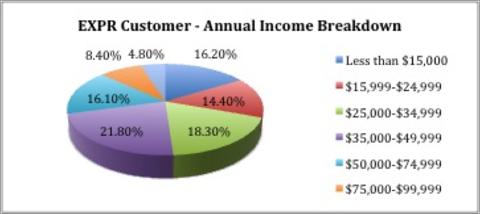 Valuation

In the case for Express, considering the future prospects and improved pricing environment in retail, it appears to be undervalued compared with its peers in almost every metric. As the economy continues to improve and consumers have more discretionary income to spend, expect to see a lot of that money spent at Express. The recent pullback should be used as a buying opportunity as EXPR continues to expand operations internationally. Investor's should focus on the company's extremely low Price/Sales ratio. When it comes to this valuation metric, paying less than a dollar for a dollar's worth of something is always a good bargain.
Profitability

To determine EXPR earnings quality, investors can look at cash flow. The quality of the most recent EXPR earnings was very strong overall. The strong cash flow among the best in the industry also indicates that there is fundamental operating success: inventory is selling or receivables are getting collected. "Cash is king" on Wall Street, and EXPR continues to be successful on this front.
Management Effectiveness

Obviously when looking at these measures, EXPR is succeeding on all fronts. When specifically focusing on the ROA of 15.53%, the company is performing well when it comes to the operating efficiency based on the firm's generated profits from total assets. The ROE of 35.31% shows the solid performance in terms of the shareholders' rate of return on investment in the company. The ROI of 18.77% shows the firm's efficiency in utilizing invested capital. As a retail company in an overall tough environment, EXPR has outperformed its peers and with big shopping seasons currently going on and approaching in the near future, expect this outperformance to continue.
Improving Business as the International Expansion Story Continues
Net sales for Express increased by approximately $74.7 million, or 4% over the course of last year. Part of increased sales of $35.8 million was driven by new store openings and remodels of current high performing stores.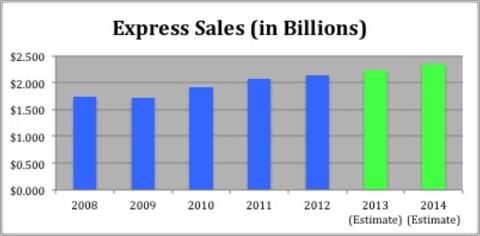 Cash from operating activities was $269.4 million in 2012 compared to $212.6 million in 2011, an increase of $56.8 million. This is a positive trend that has continued into the first half of 2013, as discussed next.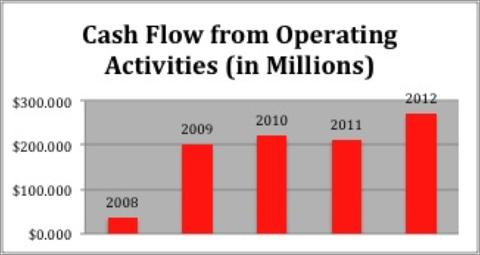 The Year Thus Far
Net sales in the first quarter increased approximately $12.6 million, or 3% for Express. The company saw continued growth in e-commerce and an increase in store transactions. Express has performed extremely well in the first half of 2013, considering that this is a slower inventory moving period. The company continues to add cash from operating activities as the year goes on, and this is incredibly important for business going forward.
Moving into the second quarter, growth was nicely balanced with women's apparel, the men's business continued to deliver higher sales. From a financial perspective, sales were up, comps were strong and the company again grew EPS by a double-digit percentage. The strong sales can be attributed to the strong performance and execution of the Go-to-Market strategy. E-commerce is continuing to grow rapidly. During the second quarter, it grew by 27%, an increase over the 24% growth in last year's second quarter. For the full year, e-commerce sales should approach 15% of total sales. Investors should expect the rest of the year to be even better for sales and margins will improve as the large shopping seasons are about to start.
The Niche Market that Express Has Found
One of the major stories for investors to pay attention to in Express going forward is the niche market that it has carved itself in to. The company has managed to take a significant market share in the 20- to 30-year-old age demographic, who are willing to spend more of their money on fashion and retail products. The average ticket in Express is $62.30 and this is great news for the company as time goes on. The importance of the niche that Express has found is that consumers feel like they are getting higher quality and more stylish products than they might at a Kohl's or J.C. Penney, but they are spending less money than they might at a Banana Republic or J. Crew. Essentially, Express has found the perfect balance between pricing and the consumer perception of the value that they are getting. Investors will see this success extend through the end of the year.
Share Buyback
During the second quarter, Express purchased approximately 600,000 shares at a cost of approximately $14 million. The company ended the second quarter with $21 million of the $100 million repurchase authorization still outstanding.
What Investors Need to Know
Express Inc. is a highly undervalued retail company with huge potential on an international level in a business with solid growth prospects. The stock has pulled back off of recent highs as concerns about the retail sector have impacted companies across the board. We believe that the re-vamped Express business model and international focus will provide huge growth opportunities for the company going forward. The most recent earnings release gave investors insight into how the 2013 fiscal year has been going so far. Expect this company to continue to outperform in the retail space as it has one of the industry's best business models. The first half of the year proved that the company has adapted and can weather tougher retail environments, while positioning itself for the second half of the year. With this in mind, we value EXPR at $25.00 by year-end of 2013 and $32.00 by September 1, 2014, an increase of 54% from current levels.
We arrive at our $25 estimate based on earnings growth and multiple expansion. Our estimates, based on the catalysts described above for calendar year 2013, is $1.70 per share in earnings. Based on the market multiple for companies in this space, and after analyzing peers with similar top line sales growth, we believe a 15x multiple is warranted; $25 for 2013. Similar analysis and our $1.90 estimate for 2014, mainly driven by e-commerce gains, arrives at $32 at some point next year.
Disclosure: I have no positions in any stocks mentioned, and no plans to initiate any positions within the next 72 hours. I wrote this article myself, and it expresses my own opinions. I am not receiving compensation for it (other than from Seeking Alpha). I have no business relationship with any company whose stock is mentioned in this article.
Additional disclosure: AlphaStreetResearch is a team of Investment Research Analysts. This article was written by Mr. Hunter Orr, Director of Research, with research assistance from Mr. Aaron Zander, Junior Research Analyst.