I went to lunch on May 22nd a little bit nauseous at the dizzyingly high prices of REIT equities. As it turns out, my symptoms weren't psychosomatic; at that very hour the REIT rollercoaster reached its apex and, with the new talk of Fed tapering, began a freefall that didn't stop until the RMZ hit 886 on June 24th (a harrowing 17.9% drop). After rising to nearly again touch 1000 on July 23rd, the descent resumed and the RMZ recently hit a 2013 closing low of 873.
Throughout June, July, and August, one hour's CNBC broadcast did not pass without Bob Pisani or some other financial pundit declaring the demise of the dividend darling equities (REITs, Utilities, and Telecoms). They said these "bond alternatives" were doomed if the cost of capital continued to escalate.
While some REITs in many ways resemble bonds, many REITs function like businesses and can opportunistically respond to changing economic environments. Improving GDP, which might foster fears of inflation, which might cause interest rates to rise, also might create thousands of new jobs, which might spur new household formation, which creates new demand for apartments, which accommodates higher occupancy with rising rents. The multifamily residential REIT sector can function like a business and it is oversold in the current market.
The very busy chart below details the share price experience of 13 companies that SNL Financial groups in the Residential Equity REIT sector. The broad trend is clearly negative, but Associated Estates (NYSE:AEC) is the obvious outlier. While the SNL US REIT Equity Index declined 16.4% in the period outlined above, AEC delivered a total return of -27.1%.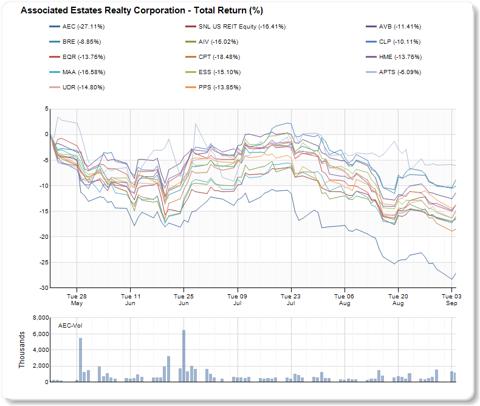 Click to enlarge
A decline so extreme might be warranted if the issue was priced at significant premium to its peers, but AEC has chronically traded at a discount to the sector. In the selloff the discount has deepened and Associated Estates now trades at a price to estimated FFO of 10.8x (67.5% of median) versus the sector average 16.0x FFO.
By measures of dividend yield AEC is also a superior choice. While the median yield for equity REIT shares is 4.24% and residential REITs average 4.12%, Associated Estates' $0.76/share payment equates to a 5.58% yield. More importantly, that dividend is less than a 60% payout of FFO; sustainable with room for improvement.
Over the last 12 months AEC has typically traded at a 22% discount to peer price/FFO metrics. If it can return to that still discounted level, we'll see a $16 share price versus $1.25/share FFO estimates. That pricing result, coupled with the $0.76 dividend would create a 23.2% return over the next 12 months.
Additional Disclosure: 2nd Market Capital and its affiliated accounts are long AEC. I am personally long AEC. This article is for informational purposes only. It is not a recommendation to buy or sell any security and is strictly the opinion of the writer.
Disclosure: I am long AEC. I wrote this article myself, and it expresses my own opinions. I am not receiving compensation for it (other than from Seeking Alpha). I have no business relationship with any company whose stock is mentioned in this article.