Vanguard Natural Resources LLC (NYSE:VNR) is an oil and gas E and P company that focuses on the development of mature, long lived oil and natural gas properties. VNR attempts to generate stable cash flows that it can distribute to its shareholders/unit holders. It attempts to grow its distribution over time. It has grown the dividend roughly 46% since its IPO (about 5 years ago). The dividend/distribution is currently $2.49 per year (9.1%). It is a limited liability company that behaves as an LP for distributions/dividends and tax purposes. It has no general partner and no IDRs. This last is very good for investors. It pays its distribution/dividend monthly, and investors will need to file a K-1 form for this stock.
When I say it has something Linn Energy (LINE) and hence LinnCo (LNCO) don't, I mean it has hedges on a part of its NGL production for 2013 and 2014. The table below shows the NGLs hedges.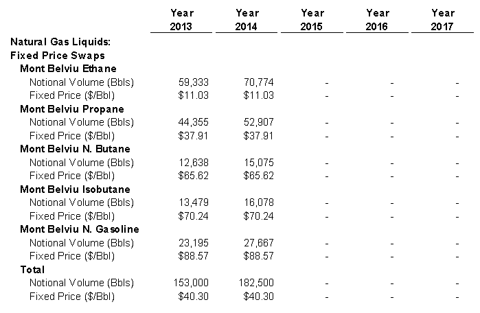 Why is this important? It means there is less risk of things like ethane rejection, which LINE has blamed for poorer than expected revenue and earnings results recently. LINE has no NGLs hedges. Since VNR's Q2 2013 results saw 10% of production as NGLs production, this is a non-negligible part of production. Of course the hedge portion represents only about 10%-15% of NGLs production. However, the fact that VNR is making progress in this direction shows how committed it is to producing steady income. It does have 94% of natural gas hedged at $4.59/MMBtu and 100% of all oil hedged at $92.51/barrel for 2013. It has most of 2014 hedged for both products also.
The NGLs hedges are not the only thing that VNR has that LINE does not. VNR has a Total Debt/Total Equity (mrq) ratio of about 75 compared to one of almost 150 for LINE. With VNR's much lower level of debt, it is much easier for VNR to be profitable each quarter. This is something that should delight investors. Plus VNR continues to grow strategically through excellent, "bargain" acquisitions. After an IPO in 2007 of about $240 million, it has acquired $2.8B in new oil and gas properties. This has helped it to continue to grow its dividend per unit by 46% since the IPO. It believes it can continue this practice for many years to come. In other words it does not see a problem down the line in the predictable future.
Of course, some might point out LINE might be better off longer term because a much higher percentage of its production is oil. VNR's production was 66% natural gas, 24% oil and 10% NGLs in Q2 2013. By comparison LINE's production was about 54% liquids (oil and NGLs) and 46% natural gas (with the Berry Petroleum acquisition which was about 75% oil). However, this may be questionable logic. The following chart from Risked Revenue Energy Associates shows the expected supply demand picture over the next five years in the US.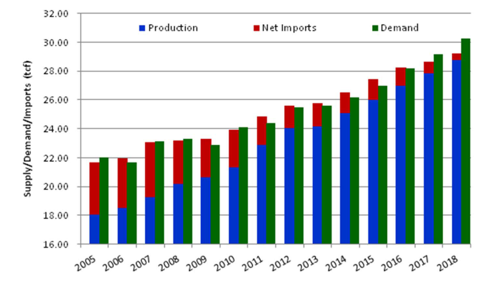 The chart shows that equilibrium between supply and demand is expected to be reached in 2016. In 2017 and 2018 demand is expected to exceed supply. The US will be exporting a significant amount of natural gas via LNG (liquefied natural gas) by then. If these expectations prove accurate, natural gas prices should rise significantly, and VNR should have a very bright future.
Even in today's low natural gas price market, VNR has been doing well. Adjusted EBITDA increased 56% to $152.7 million for the first 6 months of 2013 compared to $97.7 million in the first half of 2012. The distribution coverage ratio was 1.05x for Q2 2013 and 1.03x for 1H 2013. The distributable cash flow available to common unit holders per common unit was $0.65 for Q2 2013 and $1.25 for 1H 2013. This was more than enough to cover the monthly dividend of $0.2075 as of August 20, 2013.
Average daily production for Q2 2013 was 36,477 Boepd. This was up 10% sequentially and almost three times the production level of Q2 2012. Most of this was due to acquisitions, and they have been bargain acquisitions. In the last few years VNR has lived by the sage old adage, "buy when there is blood in the streets." VNR bought oil properties cheaply in 2010 - 2011, after oil prices had been depressed by the recession. It bought natural gas properties in 2012 after US natural gas prices hit a historic low of about $1.90/MMBtu in the spring of 2012. This is why VNR's debt to equity ratio is so much better than LINE's. This is a sign of truly good management; and there is no reason to believe that the good works of this management team will end here. The above chart of natural gas supply and demand clearly shows the expectation of higher natural gas prices as demand in the US exceeds supply in 2017 and 2018 (and likely beyond). VNR not only pays a great dividend, it appears that its stock price should eventually rise based on its recent acquisitions.
In support of this thesis, insiders have increased their holdings by 5.4% in the last six months, and institutions have increased their holdings by 777,892 shares (+6.35%) from the prior quarter to this one. The average analysts' five-year EPS growth rate estimate is +6.50% per annum. This may not seem like much, but remember it is on top of a 9.1% annual dividend. Together these gains amount to approximately 15%+ per year of economic growth. Actually in 2014 analysts expect 25% EPS growth. These data items more than explain the average analyst recommendation of 1.8 (a strongish buy) and the CAPS rating of five stars (a strong buy).
The six year chart of VNR provides some technical direction for the trade.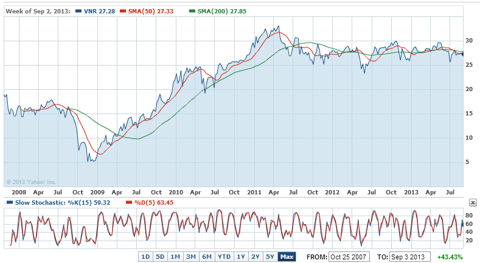 The slow stochastic sub chart shows that VNR is neither overbought nor oversold. The main chart shows that VNR has been in a consolidation pattern for more than two years. It is hard to say when VNR may break out of this pattern, but the recent acquisitions it has made seem likely to move it upward in the near future. This means investors are likely to get the benefit of a great 9.1% dividend and some stock price appreciation. It is hard to argue with that. Of course, the entire stock market could fall dramatically in the next year. There are many worrisome indicators. However, VNR should be able to weather such a storm much better than most other stocks. Its high amount of hedges insure its income. It is a buy. Those worried about an overall market fall may wish to average in.
NOTE: Some of the fundamental financial information above is from Yahoo Finance.
Good Luck Trading.
Disclosure: I have no positions in any stocks mentioned, but may initiate a long position in VNR over the next 72 hours. I wrote this article myself, and it expresses my own opinions. I am not receiving compensation for it (other than from Seeking Alpha). I have no business relationship with any company whose stock is mentioned in this article.