Suncor Energy (NYSE:SU) released its August oil sand production numbers on Thursday and they were a record 433,000 barrels/day. In last month's article Why Buffett And Pickens Are Buying Suncor Energy, your correspondent made the case that increased production and adequate exit capacity would propel SU higher. In addition, the production increase was coincident with higher prices for WCS year-over-year, making for easy Q3 earnings comparisons. These are very bullish catalysts for Suncor and could easily push the stock over $40 by the end of the year -- a 4 month gain of 15.8%
The Production Story
Suncor's August oil sands production numbers were a monthly record and +43,000 bpd higher than the previous month. They were also significantly higher (by 48,000 bpd) than the highest monthly production in 2012.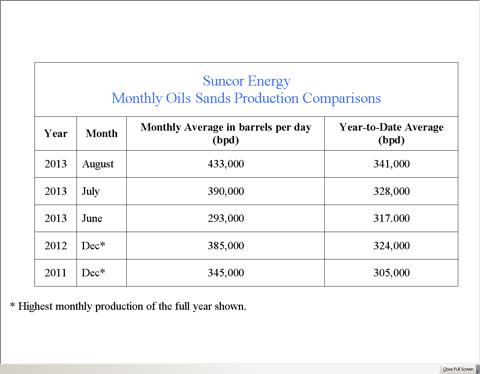 The numbers above include upgraded sweet and sour synthetic crude oil and diesel, as well as non-upgraded bitumen sold directly to the market, from all Suncor-operated facilities. They do not include Suncor's proportionate production share from the Syncrude joint venture.
Western Canadian Select
Western Canadian Select ("WCS") is a Hardisty based blend of conventional and oil sands production managed by Canadian Natural Resources (NYSE:CNQ), Cenovus Energy (NYSE:CVE), Talisman Energy (NYSE:TLM), and Suncor. WCS at 3.5pc and an API of 20 is nearly identical in quality to Mexico's Maya crude. However, the difficulty and expense of transporting WCS to US Gulf Coast refiners typically results in WCS trading at a discount to both Maya and WTI. According to the CME group (click on the October Futures graph), WCS averaged around a $23.75 discount to WTI in the month of August. While that sounds terrible, WTI for the month of August averaged about $106. While I have no insight into SU's trading or realized prices for the month, it is conceivable realized prices for August could be in the $80 range.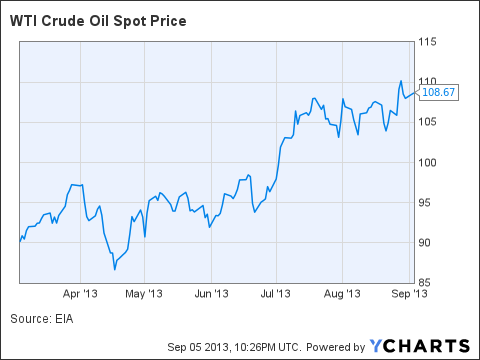 WTI Crude Oil Spot Price data by YCharts
From SU's Q3 2012 earnings report, WTI averaged $92.20 for the quarter, with a WCS average differential of $21.75. This means WCS realized prices averaged ~$70.45 for the company. Versus an $80 estimate for the month of August this year, a strong previous month of July, and September starting off with high WTI prices as a result of Syria, and Suncor is setting up for a great Q3. The increasing production numbers alone are good news, but tack another ~$10/bbl onto those numbers and SU could definitely surprise on the upside in Q3. Granted, there are a lot of other variables - refining margins, international operations, maintenance downtime, condensate prices, etc., etc, but certainly on the big ticket item -- oil sands production -- SU is performing beautifully.
Suncor closed Thursday at $34.54, up 1.11%. Buffett's position of 17,769,457 shares, at an average cost of $29.49, already shows a paper gain of ~$90 million. Considering the bullish 20, 50, and 200-day moving average lines, the stock appears ready to punch through long-term resistance in the $34-35 range and breakout to the upside. The next resistance level is $40 - last reached back in July of 2011. The stock yields 2.3%.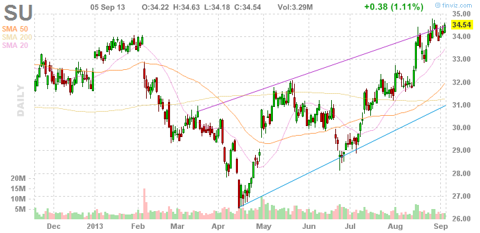 Summary & Conclusions
As I pointed out in my last article, China is quickly transitioning to natural gas transportation to reduce its dependence on oil. The US is not moving near as fast. As a result, the US is still importing lots of oil from places like Saudi Arabia and Venezuela. According to the EIA, about 29% of US imports of crude oil and petroleum products in 2012 came from the Persian Gulf countries of Bahrain, Iraq, Kuwait, Qatar, Saudi Arabia, and United Arab Emirates. The largest sources of crude oil and petroleum products imports were:
Canada (28%)
Saudi Arabia (13%)
Mexico (10%)
Venezuela (9%)
Russia (5%)
While I would like nothing more than for the US to run its cars and trucks on domestic natural gas in order to solve the economic, environmental, and national security issues it faces as a result of its reliance on foreign oil imports, we're just not there yet. So why not import more oil from Canada as opposed to some of the other countries on the list above? Besides, Warren Buffett is onto something here -- think of it: he owns big stakes in Suncor, Burlington Northern, and Phillips 66 (NYSE:PSX) -- the biggest importer of Canadian crude. So Buffett owns a stake in mining the oil sands, transporting the crude, and refining it into gasoline and eventually into your gas tank. He's got the entire round trip from the ground to your car. He's got a good thing going... and so does Suncor. Watch for a big Q3 earnings upside surprise, which is not yet reflected in the stock. Suncor is a BUY with a low-risk 6 month price target of $40.
Disclosure: I am long SU, PSX. I wrote this article myself, and it expresses my own opinions. I am not receiving compensation for it (other than from Seeking Alpha). I have no business relationship with any company whose stock is mentioned in this article.
Additional disclosure: I am an engineer, not a CFA. The information and data presented in this article was obtained from company documents and/or sources believed to be reliable, but has not been independently verified. Therefore, the author cannot guarantee its accuracy. Please do your own research and contact a qualified investment advisor. I am not responsible for investment decisions you make. Thanks for reading and good luck!