Craft beer is taking the U.S. by storm. Many beer drinkers are growing tired of brews from giants like Anheuser-Busch (NYSE:BUD) or Molson Coors (NYSE:TAP) and are instead looking at smaller, so-called "craft brewers," which produce less than six million U.S. beer barrels a year. This trend has led to huge stock price increases for the few craft brewer stocks out there on the market. In fact, the tiny Craft Brew Alliance (NASDAQ:BREW) has seen its price soar by more than 60% so far this year, easily crushing many of its larger counterparts in the process.

Can It Last?

While this Oregon-based brewer may be playing on a strong trend, there is plenty of reason to believe that it cannot last and that trouble is ahead for this stock. This is especially apparent when investors consider the recent earnings history of the firm, and its near-term estimate outlook.

While the company does look to have strong double digit-growth for the current year, analysts have been slashing their estimates for full-year and next-year earnings. Estimates for full-year earnings have fallen by more than 15% in the past month, while a 10% decline has been seen in the same time frame for next year's earnings estimates. If that wasn't enough, the company also has a horrendous track record when it comes to beating earnings estimates. Three of the last four quarters saw misses of at least 25%, while an average surprise of -115% was seen over these last four reports.

The firm isn't exactly a value at these levels either, as the P/E comes in at just under 77, while the PEG is squeaks in below 3.9. These figures suggest that a lot is riding on the company's growth prospects, but with analysts cutting their estimates, it may be tough for BREW to live up to the hype.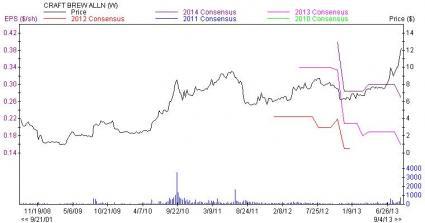 Bottom Line

Thanks to these factors, BREW has a Zacks Rank No. 5 (Strong Sell), and a relatively poor industry rank to boot. This suggests that the stock may fall from its lofty heights, and face some pressure in the months ahead as well. If investors are still looking to stay in the craft brewing space, a look toward some better positioned options in the space may be a good idea. One such company is Boston Beer (NYSE:SAM), the maker of Sam Adams.

This company currently has a Zacks Rank of No. 2 (Buy), and it sees stable double-digit growth for both this year and the next. And most importantly, it has a better track record for beating earnings while the estimate trend for SAM has been moving sharply higher, meaning that SAM could be the better way to go in the craft beer space for investors at this time.
Craft Brew Alliance: Free Stock Analysis Report (email registration required)
Anheuser-Busch: Free Stock Analysis Report (email registration required)
Boston Beer: Free Stock Analysis Report (email registration required)
Molson Coors: Free Stock Analysis Report (email registration required)