With the market facing some choppiness of late, many investors are taking another look at some of the strong sectors that have been leading the market for much of 2013. One such segment is undoubtedly biotechnology, as this key corner of the healthcare world has been a star performer for much of the year. After all, many biotechnology ETFs have added more than 35% so far this year -- compared to a gain of close to 15% for the S&P 500 -- and remain well positioned for further gains to close out 2013 as well.

Yet while a broad sector approach may be one way to target this impressive corner of the market, looking solely at some of the large caps in the space may also be an interesting play. That's because these large biotech firms have actually beaten out their broader ETF counterparts by pretty wide margins as well, suggesting that these large-cap firms are leading the way in the biotechnology world. One such company that fits this bill is Gilead Sciences (NASDAQ:GILD), a massive nearly $100 billion market cap behemoth in the biotech space. The firm has already added more than 60% so far this year, and based on some of GILD's fundamentals, the company could definitely see more gains to close out 2013 as well.

Gilead in Focus

Gilead is a California-based biopharmaceutical company that seeks to develop and commercialize therapies for life threatening diseases. The firm currently has a lineup of products for HIV, liver disease, the flu, respiratory diseases, among others. Furthermore, unlike a number of big pharma companies, Gilead has a solid product pipeline, as a number of drugs are in Phase III, while several more are in Phase II. Combine this with Gilead's track record of buying out promising small caps, and the firm could have a long-term recipe for success.

Earnings Estimates

Analysts are certainly buying into this story, as estimate revisions are moving higher across the board for GILD. Current-quarter and next-quarter figures saw three revisions higher, while current-year and next-year estimates also saw three revisions higher. Not a single estimate went lower in the past 90 days, suggesting total agreement among covering analysts. Thanks to this, GILD is now looking at a double-digit earnings growth rate for the current-year time frame, coming in at 10.8%. Meanwhile, earnings growth is now expected to be at 26.8% for the next five years, eclipsing the strong 15% growth rate in the past five.

With the universal move higher in earnings expectations, which is pushing the consensus estimate higher, the future is still looking good for GILD, even with its recent price surge. That is why we have assigned Gilead Sciences a Zacks Rank No. 1 (Strong Buy). We are looking for additional outperformance from this giant in the months ahead as well.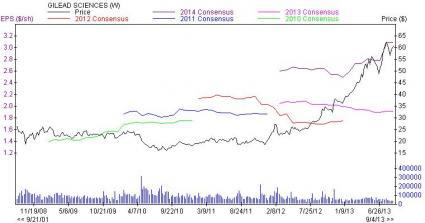 Bottom Line

Gilead also has a solid Zacks Recommendation of "Outperform," and there is positive sentiment swirling around the broader biotechnology space. The industry rank is currently in the top half of the market, while other large caps in the space have top ranks, too. Given the bullish perception of the space, along with the solid drug lineup, and investors may continue to have a winner with GILD to close out the year. The company is loved by analysts and it could make for an interesting addition to a portfolio if these positive trends continue.
Gilead Sciences: Free Stock Analysis Report (email registration required)