Introduction
In this article I'll have a look at Quest for Growth (OTC:QGPLF), a Belgian holding company, to see if its activities and operations are as flashy as its name. I'll start with a short introduction to the company, move over to its portfolio and dividend plans. Thereafter I'll have a look at its balance sheet and NAV, which will result in my investment thesis at the end of this article.
As Quest for Growth's liquidity is very thin on the US exchanges, I'd recommend to trade in QfG through the facilities of Euronext Brussels, where the company is listed with ticker symbol QFG.
As QFG is a Belgian company, it reports its NAV and financial statements in euros. In this article I'll use a fixed conversion rate of 1.32 USD per Euro.
Executive Summary
I will explain why I think Quest for Growth is an excellent investment opportunity for investors who are looking to get exposure to a wide range of European small-cap companies.
Quest for Growth is currently trading at a 31% discount to its NAV, and I expect this discount to shrink when the company reinstates its dividend.
Quest For Growth
Quest For Growth was incorporated in 1997 as an investment vehicle focusing on European small caps in the 'growth' category. The company got its listing in 1998 and has experienced an extremely bumpy road since then coming from a top of 22EUR ($29)/share in 2000 and experiencing a low of approximately 2.80 EUR ($3.70) during the Global Financial Crisis.
The company is an excellent holding company for people who'd like to get exposure to several European small-cap companies with very promising prospects. Quest for Growth used to pay a dividend from 2006 to 2008, but canceled the dividend in light of the Global Financial Crisis. However, a return of the dividend cannot be ruled out, and management seems to be hinting at a reinstatement, which I don't expect to happen before 2015. There's no doubt a dividend-paying undervalued holding company could be an interesting thing to own in your portfolio.
The Investment Portfolio
As said before, the company usually focuses on European small caps, which are expected to grow relatively fast. Quest for Growth specializes in seven sectors; medical equipment, technology hardware, semiconductors, software and services, pharma and biotech, electrical engineering and basic materials. The company has a very methodic investment approach based on fundamental analysis and will only invest up to 5% of its portfolio in one single company, so a shareholder knows QfG won't put all its eggs in just one basket.
What I like about Quest for Growth is the fact the company is very open to its shareholders and thinks transparency is extremely important. As such, QfG provides monthly updates to its portfolio and NAV, so every investor knows exactly how much the intrinsic value is of a share.
Approximately 60% of the portfolio is invested in listed entities with the balance being invested in unlisted companies and debt (8%). As it's extremely difficult to calculate the real value of the unlisted companies, this might be an uncertainty leading to the fact why the company is trading below its current book value per share.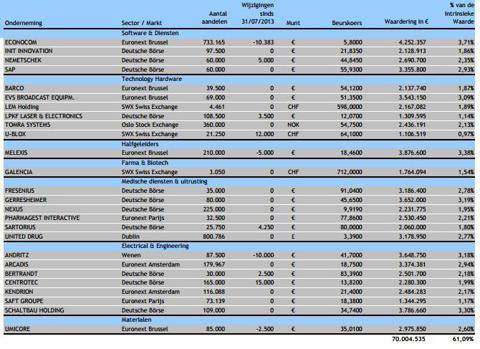 Click to enlarge
The four most important positions are investments in Econocom, Gerresheimer, Melexis and EVS Broadcasting equipment, good for a little bit over 13% of the total portfolio. This is again proof of the excellent mix QfG provides, as Econocom and Gerresheimer can be seen as growth companies, while Melexis and EVS Broadcast Equipment support the cash flow of the company with their dividend yields of 4% and 5% respectively.
The next graphs give a good indication about how well diversified Quest for Growth's participations are.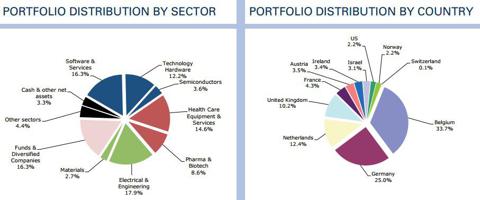 Click to enlarge
The Belgian and German shares are the most important block in the portfolio, followed by the Netherlands and the UK. Approximately 85% of the company's portfolio is invested in EUR-denominated assets, followed by 9% of the portfolio in GBP, with the US Dollar and Swiss Franc sharing the remaining part.
It's very clear now Quest for Growth isn't a one-trick (or even a five-trick) pony, but has diversified its asset base really well.
A closer look at Quest for Growth's largest investments
1. Econocom
Econocom is focused on IT resources for businesses and has consistently increased its profits. Earlier this year, the company announced it will acquire Osiatis, a Paris-listed computer services and engineering company. As Osiatis was trading at just seven times the expected profit for 2014, Econocom acquired the company at a bargain price by issuing shares and stock. I expect Econocom to report a net profit of 75M EUR ($100M) in 2015 or 0.66 EUR ($0.88)/share, which means the company is currently trading at just 9 times its 2015 earnings, so Quest for Growth should be able to enjoy an increasing share price here. Analysts expect the company to double its dividend by 2016, and such a 10 cent increase would have an impact of 75.000 EUR per annum or 0.6ct/share on Quest for Growth.
2. Gerresheimer
Gerresheimer is one of the market leaders in glass and plastic fabrications for the pharmaceutical industry. The company isn't cheap based on a price/earnings ratio of in excess of 20 for this year, but Gerresheimer expects a revenue growth of approximately 6% per year at least until 2017, where after the company's price/earnings ratio should drop to just 10-11.
3. Melexis
Melexis produces semiconductors for electronic systems in cars. The company has increased its revenues four years in a row now and enjoys a relatively high profitability as Melexis has a net margin (net profit/revenue) of approximately 20%. Melexis's share price is underpinned by a steady 4% dividend yield, which is expected to grow marginally over the next few years.
4. EVS Broadcast Equipment
EVS is a Belgian company specialized in broadcasting live events, such as big sporting games and ceremonies. This company is relatively depending on the big events such as the Olympic games and the world championship soccer. This means the even years are usually more profitable than the odd years. EVS is a very shareholder-friendly company as it distributes the vast majority of its profit to its shareholders as a dividend. EVS is trading at 8X its book value (which is quite high), but has a dividend yield of 5% this year, increasing to 6% by 2015 which will obviously be beneficial to Quest for Growth's cash flow.
5. Arcadis and Kendrion
These two Dutch companies are expected to grow substantially over the next years. Both companies expect a 50% net profit increase and dividend increase in the coming three years and should be trading at single-digit price/earnings ratios.
This article would be too long and incomprehensive if I'd analyze all of its holdings, but I think these six companies in QfG's portfolio give a good indication of the diversification and the growth/income prospects as a whole. The aforementioned six companies' dividend increases should generate an additional 225,000 EUR ($300,000) per year from 2016 on, which would underpin the reinstatement of the Quest for Growth-dividend (see a later paragraph).
The NAV
According to the latest statement, Quest for Growth had a Net Asset Value per share of 9.94 EUR at the end of August, compared to 9.97 EUR ($13.16) at the end of July.
This means the company's last closing price of 6.88 EUR ($9.08)/share offers a discount of 31% to its NAV, which is more than usual. I'd think a discount of 20% is normal for an investment holding (and especially for a transparent holding, which doesn't keep its shareholders in the dark), so there's an upside potential of 15.5% to reach my target price of 7.95 EUR ($10.50) (which is 0.8 X NAV).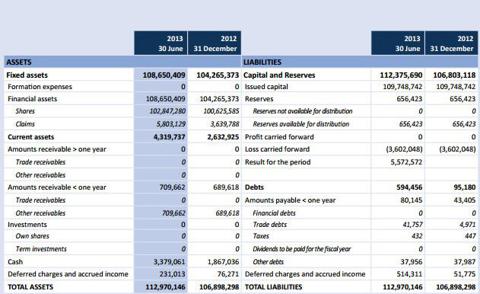 Click to enlarge
The company is almost debt-free, as only 0.5% of its balance sheet is debt, with the remaining 99.5% obviously being equity. This makes this company safe for people with weak nerves, as QfG does not use leverage in its portfolio.
The Dividend
As I said before, Quest for Growth currently doesn't pay a dividend, but its management team has indicated they will look into the matter. However, I don't expect QfG to pay its first dividend before 2015.
In this paragraph I'll investigate what kind of dividend we could expect from the company. I looked back at the financial results in 2012, and the company generated 1.65M EUR ($2.2M) from dividends and interest payments. This amount is expected to increase from here on as most of the companies in its portfolio are expected to increase their dividends. I'm aiming for a 40% increase to 2.3M EUR ($3M) per annum in financial cash flow coming from dividends.
The incoming financial cash flow was partially offset by a relatively large non-recurring financial charge of almost 400,000 EUR ($530,000). If QfG would use a 50% payout ratio (based on its received dividends) and be willing to pay 800,000 EUR ($1.05M) per year in dividend, its dividend yield would be approximately 1%, based on its current share price. This might seem low but I think even a small dividend could attract more investors because everybody always likes to receive something tangible from an investment. This would be an important catalyst, which could narrow the gap with the NAV.
One negative thing
QfG pays approximately 1.5M EUR ($2M) per year as a 'management fee.' This seems to be quite high for a company with a relatively limited portfolio although this fee came down from 2.2M EUR ($2.9M) in 2008. The management fee is 1.4% of the net asset value and I would like to see this being cut towards a maximum of 1% of the NAV, with a bonus for excellent investment returns.
Investment Thesis
Quest for Growth offers an enticing value proposal for investors who'd like to gain exposure to European small caps without incurring the transaction costs and diversification risks one faces if he/she compiles his/her own portfolio. As QfG is trading at a discount of 31% to its last published NAV, it's obvious this company could be a preferred choice for investors.
It's quite clear Quest for Growth respects it shareholders and tries to be as transparent as possible by issuing monthly updates on the status of the portfolio and its NAV. Shareholders can also look forward to the reinstatement of the dividend further down the road, which I believe could narrow down the current discount to its NAV.
I currently don't own Quest for Growth, but might pick up shares in my 'retirement account' on a pullback.
Disclosure: I have no positions in any stocks mentioned, and no plans to initiate any positions within the next 72 hours. I wrote this article myself, and it expresses my own opinions. I am not receiving compensation for it (other than from Seeking Alpha). I have no business relationship with any company whose stock is mentioned in this article.