I have recently reviewed several U.S. and foreign utilities searching for high-yield opportunities, suggesting others beyond National Grid (NYSE:NGG) or Duke Energy (NYSE:DUK). Another interesting opportunity for income investors is Electricite De France (OTCPK:ECIFY), which offers a dividend yield of almost 6% and is trading at only 11.6x forward earnings. This compares quite well with fundamentals at U.S. utilities, such as Southern Company (NYSE:SO) or Exelon (NYSE:EXC). EDF has a market capitalization of about $51 billion, and is traded in the U.S. in the over-the-counter market.
Company Overview
EDF is France's incumbent electricity utility, having been founded in 1946. It operates across the entire electricity value chain, throughout power generation, transmission, and distribution of electricity. At the end of 2012, EDF had about 40 million customers around the world and almost 160,000 employees. The French state is the main shareholder with an equity stake of 84%, and therefore its free-float is quite low. By law, the French state must hold at least 70% of EDF's share capital. The majority of its business is conducted in France, but it has also some significant operations in the U.K. and Italy. In 2012, France accounted for 62% of EDF's EBITDA, the U.K. had a weight of 13%, and Italy 7%. EDF has also smaller operations in North America, Belgium, Eastern Europe, and China.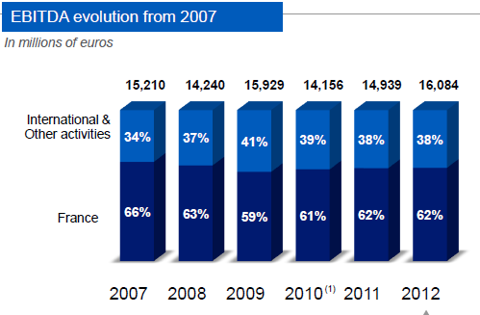 France's nuclear power plants are owned and managed by EDF, making the company the number one nuclear operator in the world. More than half of its installed capacity is nuclear power, but its weight in generation is higher, given that about two-thirds of its electricity generation comes from nuclear power. Due to its high reliance on nuclear, together with its hydro and renewable assets, about 85% of EDF's electricity production is carbon-free, which is much higher than for the majority of its European peers. Its lower exposure to commodity prices compared to its peers, also gives EDF more stability for its margins and earnings. On the other hand, France's nuclear fleet age is about 27 years on average, which is quite high, thus high investments are expected over the next few years to build new capacity and renew the company's nuclear power plants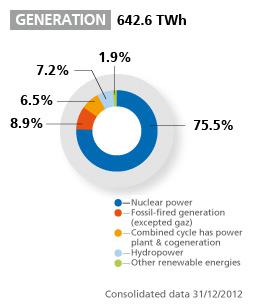 Regarding its financial results, in 2012 EDF achieved more than $96 billion in sales, an increase of 11.4% from the previous year. The company's EBITDA increased by 7.7% to $21.4 billion, meaning an EBITDA margin above 22%. Its net income was above $4.4 billion, an increase of 5.3% from 2011. During the first six months of 2013, EDF achieved strong results with sales increasing by 10.7% to $52.8 billion, due to the full consolidation of its Italian operation. Without taking into account this effect, EDF's organic growth was 4.3%, which is still quite good. The EBITDA stood at $12.8 billion representing an EBITDA margin of 24.2%, a good increase from the EBITDA margin achieved in 2012.
EDF is less affected from low power prices than its European peers, given that in France prices are still largely regulated through administered tariffs. Most of EDF's French generation is sold under regulated tariffs, providing a relatively stable revenue stream over the long term. The electricity tariff hike recently decided by the French government, should drive material earnings growth for the next two years. Electricity prices will rise by 5% for residential customers this year, and by another 5% in summer 2014. For industrial and commercial electricity customers the rise is more moderate, increasing by 2.7% for medium-size costumers and flat for large customers. After the publication of the government decree, EDF revised up its 2013 guidance to a minimum of 3% EBITDA growth. Over the medium term, the government has incentives to continue to increase electricity tariffs, to ensure EDF has sufficient financing capacity to modernize the French electricity system and keep paying a much-needed dividend.
On the other hand, EDF's political risk is high due to possible changes in the French government's long-term energy policy. After Fukushima, the public support for nuclear energy has considerably diminished and the risk of future governments deciding to turn down some or all nuclear plants in the country has increased considerably. However, as the next presidential elections are scheduled for 2017, this risk seems to be low over the next couple of years as the current government has maintained its support for nuclear energy.
Dividends
Regarding dividends, EDF's dividend history is not impressive but is nevertheless interesting. EDF cut its dividend by 10% in 2009 to €1.15 ($1.52) per share, which remained at that level for the next two years. In 2012, the dividend was raised by 8.7% to €1.25 ($1.65) per share. In 2012, EDF paid an interim and a final dividend, instead of just one dividend paid at mid-year during the previous years.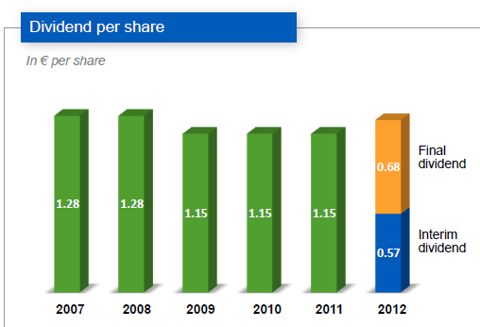 The dividend payout ratio was 55% in the past year, which is below the sector's average and is relatively low given the company's stable earnings. However, the company's payout policy is to distribute between 55% to 65% of its earnings to shareholders over the medium term, so dividend growth should come mainly from improved financial results. The dividend is also supported by the French government ownership. In times of budget constraint, as France currently faces, the government may be unhappy to see a reduction in dividends received from EDF.
In 2012, EDF's operating cash flow was about $13 billion, which was not enough to fully finance its capital expenditures. EDF's capex was $15.7 billion during the past year, an increase of 11.8% from the previous year. Therefore, the company's free cash flow was negative leading to higher balance sheet leverage. However, due to the recent tariff hikes decided by the French government and a cost reduction plan expected to generate about $1.3 billion in savings starting in 2013, EDF should return to positive free cash flow generation over the next couple of years.
The company's indebtedness has increased over the past few years, as tariffs have failed to increase substantially putting pressure on the company's cash flow. EDF's net debt was about $44.8 billion as of June 30, 2013, decreasing by 14% from the end of 2012. However, EDF's balance sheet is still relatively strong given its net-debt-to-EBITDA ratio of 2.04x at the end of the second quarter of 2013, which is relatively low given its highly regulated business and good profitability. Moreover, it is close to the bottom of EDF's range (2-2.5x) objective over the medium to long term, and thanks to its regulated and government-related nature EDF should continue to enjoy strong access to capital markets for refinancing its debt for the foreseeable future supporting its dividend policy.
Conclusion
EDF's regulated nature, its relatively secure dividend and the potential upside from higher-than-expected electricity prices in France make it one good opportunity for income investors within the European utilities sector. The recent tariff hike gives a boost to the company's growth, more visibility for its earnings, and a stronger cash flow generation capacity over the next few years, which is clearly supportive for its dividend. Therefore, despite the long-term political risk, EDF appears to be able to provide a safe income stream over the next few years to its shareholders.
Disclosure: I have no positions in any stocks mentioned, and no plans to initiate any positions within the next 72 hours. I wrote this article myself, and it expresses my own opinions. I am not receiving compensation for it (other than from Seeking Alpha). I have no business relationship with any company whose stock is mentioned in this article.