What a week it's been, one day I was compiling a list of a few hundred numbers for channel checking purposes, the next day Nokia (NYSE:NOK) decided to sell all of its mobile division, ruining hours of monotonous work! Oh well, at least I'm not the unfortunate souls at JPMorgan who, after releasing a huge note on the day of the NSN deal (rendering it much less useful) released another 30 page note on the same day as the D&S deal blitzing even more hard work!
I decided against writing my thoughts on the acquisition of the D&S division by Microsoft (NASDAQ:MSFT) as plenty of authors have already done a fine job but despite losing optionality of a multi-bagger trade, the deal gave Nokia shareholders a nice capital gain way quicker than expected, meaning more money to place elsewhere [now if only I can find another kooky handset-maker on the cusp of a recovery! BlackBerry (NASDAQ:BBRY) anyone?].
Instead, as the title suggests, I wanted to dispel a piece of inductive reasoning that saw Alcatel (ALU) rocket 11% on the MSFT/NOK deal.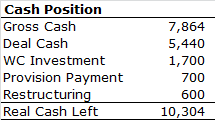 In my estimations, the company's cash position is pretty strong even with the various cash outflows that I envisage over the coming months. Net cash comes in at around EUR5bn or $6.5bn. It is also true that Alcatel's market cap is similarly around EUR5.5bn.
Furthermore, it is also the case that NSN lack footprint in the States, again something which Alcatel has been relatively more successful in.
However, what would happen if the two companies did become one behemoth besides squashing together two companies in restructuring mode.
The LTE Rollout Example
You own a medium sized network operator 'Jog Corporation' and have just signed your first LTE landmark deal with Alcatel. Once this low margin rollout contract is completed, the vendor (Alcatel) begins upgrading cell sites, placing base stations and installing core network solutions which are Alcatel proprietary solutions. Obviously the end product is the same but regardless of Ericsson(NASDAQ:ERIC), NSN, Huawei, ZTE (OTCPK:ZTCOF), Samsung (OTC:SSNLF) or Alcatel conducting the rollout, each solution is incompatible with each other.
The network business mirrors the shaving business in that all the shavers accomplish the same thing, but once you by a Gillette razor, you can only buy the higher margin Gillette blades.
Back to my example. Now the rollout is complete and having spent $1bn on conducting this expensive initial rollout you look forward to a 10 - 15 year relationship after where further capacity can be added by a plethora of more cost efficient solutions such as software upgrades or micro-cell topology. Jog Corporation may just become the state's biggest carrier!
Now sit yourself in the position of Rajeev Suri, the CEO of NSN who has just decided to purchase Alcatel, meaning NSN now has control over an additional number of installed networks including Jog Corporation. You now have a company that has a collection of networks where one half are completely incompatible with the other half.
When your NSN customers want to increase capacity you give them an NSN network card to add to their NSN base station. When jog want to increase capacity, you cannot use NSN cards, you have to use Alcatel cards. Similarly if an NSN customer wants to upgrade and use carrier aggregation software, this upgrade is limited to NSN and you have to use Alcatel software for Alcatel customers.
Yes you own two networks but you cannot cease R&D or attempt to create synergies as you need to keep the same pace of development on two fronts instead of one.
Place yourself back as head of Jog Corporation. How would you feel if Alcatel came to you and told you that because of the takeover, Alcatel would phase in NSN technology? You have just spent a fortune on a network which the vendors do not see as a priority. The 10-15 year working relationship maybe a lot less fruitful than you anticipated. When it comes to any kind of renewal, are you likely to stick with the NSN/ALU conglomerate considering the promises and assurances that sealed the deal in the first place have vanished?
In order to keep Alcatel customer happy, NSN would have to continue running two companies completely separately or else risk a load of customers become legacy and potential jumping ship.
Wrapping this little story up, despite being in the same industry, you cannot simply replace one network with another. Once a rollout is complete, the 15 year continual cycle of capacity upgrades and LTE-A additions must come from the company that installs the network, therefore an acquisition would do more harm than good!
Where do you invest going forward? Despite the low likelihood of acquisition, Alcatel is definitely not one to sell. Neither is Nokia. Both are one of six companies riding a fast growing market as consumers attitudes to wireless data undergoes a dramatic shift.
The one consideration with Nokia is that even though the company may look (and seems) cheap on a valuation basis when compared with Ericsson, you may see a sizeable shareholder turnover as the Device and services lovers exit the stock and those are long the LTE story enter. My advice is to wait until the trading volume dies down a little.

Disclosure: I am long NOK. I wrote this article myself, and it expresses my own opinions. I am not receiving compensation for it (other than from Seeking Alpha). I have no business relationship with any company whose stock is mentioned in this article.