American Woodmark (NASDAQ:AMWD) is a manufacturer and distributor of kitchen cabinets and vanities. The company's revenue comes from two segments- new house construction market where it sells cabinets to home builders for newly constructed houses and the second segment is the remodeling market. The company sells its products in 550 different streams under the following brand names.

Source: Company website
American Woodmark Corporation's products are relatively low priced. Their variety of designs and colors enables the company to compete and gain market share in this highly fragmented industry.
Recovering end markets and market share gain
New construction based revenue
Housing market continues on its growth path and housing starts have grown by 23% year-to-date. Single Family housing starts which are more relevant to the company's customer base have outpaced the market and are up by 25% as compared to 23% for the overall market. The company's new construction based revenue increased 40% year-over -year mainly driven by the rising market and also by the company's market share gains.
Remodeling revenue
Remodeling market has also started growing with accelerating remodeling spends. As per the National Association of Home builders report, the Remodeling Market Index (NASDAQ:RMI) went up by six points to 55% in second quarter 2013.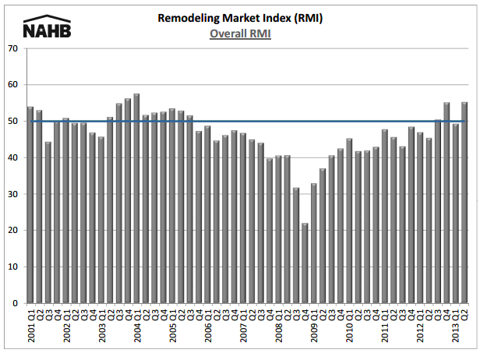 Source: National Association of Home Builders
Demand for remodeling is being driven by the increasing investment in remodeling activity due to rising housing prices and declining unemployment. A major indicator of the improvement in remodeling market is the residential investment as percent of GDP which has increased from 2.7% in fourth quarter 2012 to 3.2% in fourth quarter 2013 (see below chart). The second important indicator is the existing home sales which are up 10% at 5 million units in last few months from 4.5 million units in the same period last year. The company's remodeling revenue is increasing by mid-single digit run-rate.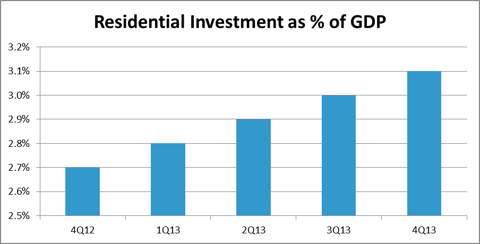 Source: Company Report
But its not just recovey in end markets which is helping the company's topline. The company is outperforming its peers and gaining market share...
AMWD seems to be gaining market share slowly by overtaking its competitors. Masco Corporation (NYSE:MAS) and Fortune Brands Home & securities (NYSE:FBHS), major competitors of American Woodmark Corporation, reported cabinet sales growth of 10% and 11% respectively as compared to 20% sales growth by AMWD. According to the Kitchen Cabinet Manufacturers Association (KCMA), cabinet sales have increased by 11% in fiscal 2013. Clearly, AMWD's performance is way better than its peers.
Positive data points from retailers
More than 50% of the company's sales are coming from Home Depot (NYSE:HD) and Lowe's (NYSE:LOW). In its latest earnings release, Home Depot reported double-digit growth in its kitchen category.
Going forward, the company is expecting its new construction based revenue to go up in line with home starts whereas remodeling sales are expected to outpace the starts.
Cost savings, remodeling growth and incremental gross profit leads to gross margin expansion
The company recently reported its first quarter 2014 results in which gross margin was 18.9% of net sales, up by 400 bps from 14.7% in first quarter 2013. AMWD has achieved tremendous margin growth in last quarter and in the long term management expects gross margin of more than 20% of net sales.
I don't think this goal is difficult. The company had achieved gross margin in excess of 20% earlier in 2004 and 2007 and given it is already at 18.9% gross marin levels, I believe it can achieve 20% plus gross margin goal in an year or two.
| | | | | | |
| --- | --- | --- | --- | --- | --- |
| ($ millions) |   |   |   |   |   |
|   | 2004 | 2005 | 2006 | 2007 | 2008 |
| Revenue | 667.5 | 777 | 837.7 | 760.9 | 602.4 |
| Gross Profit | 137.5 | 152.4 | 149.7 | 155.8 | 103.1 |
| Gross Margin | 20.60% | 19.61% | 17.87% | 20.48% | 17.11% |
In the last quarter, the company's gross margin growth was mainly driven by cost savings, growth in remodeling and incremental gross profit. The improvement in gross margin was also partly driven by the decline in labor and overhead costs and by the operating leverage acquired due to closing down of two plants by the company.
The Company has reported incremental sales of 29.8 million and incremental gross margin of $11.7 million i.e. 36% on those sales in first quarter 2014. After a drastic drop down, annual incremental gross margin started increasing from fiscal 2011 and it has risen up to 32% in 2013 as compared to 22% in 2012 which is a good sign.
Continued growth in remodeling business will also help gross margin expansion. Margins in the remodeling business are more as compared to the new construction business. As discussed earlier, the prospects of remodelling market looks good as the future market indicator of Remodeling Market Index has increased to 55%.
On the negative side, gross margin is likely to be impacted negatively by the increasing raw material prices. But, I believe it will be more than offset by operating leverage, cost savings and remodeling growth. Looking forward, gradually growing remodeling business, cost savings and incremental gross profit will contribute to the company's margin expansion.
Reducing promotional spend
American Woodmark Corporation has been reducing it's spending on promotional activity from last few quarters. Like its competitor, Fortune Brands Home & securities, the company has decided not to spend too much on promotional activity. Major reason of reduction in promotional spend is the reducing returns on investment for promotion, reducing requirement of promotion with increasing cabinetry demand and increasing raw material cost.
Instead of spending huge amounts on big promotional activity collectively for all products, the company is trying to adopt a more focused approach for promotion which is limited to individual products.
Going forward, steadily reducing promotional spend will add to profitability of the company and help it to improve operating margin.
Cash, Earnings potential and Valuation
In addition to good fundamental backdrop, AMWD's cash position is also strong. The company has ~$5 per share in cash on its balance sheet.
(millions)

 
 

Cash

 

$100

Long-term debt

$23.60

Net cash

 

$76.40

No. of shares

15.37

Net cash per share

4.97
The company is trading at a forward PE of 14.9x. If we adjust for its net cash position, the company's forward PE is just 12.8x. Clearly this is very low for a company whose end markets are only in initial stages of recovery. While new home is seeing an upward momentum in the last 18 month, remodeling market has just recently started showing some positive signs. I believe the company's stock price is likely to continue its upward trajectory going forward and the company can achieve ~$4 in EPS going forward (Likely by FY16).
Path to $4 EPS
Revenue Growth of Low Teens for next two years => ~$900 mn revenue for Fiscal (Apr.) 16
Gross Margin of ~ 20% => Gross Profit of ~$180 mn
Operating margins of ~ 10% => Operating Profit of $90 mn
Tax Rate ~ 39%
Net Income ~ 54.9 million
Share Count ~ 13.9 million (assuming 1 million share buy back in next two years)
EPS ~ 3.94
Conclusion
As per data given by Kitchen Cabinet Manufacturers Association (KCMA) and AMWD's major distributors Home Depot and Lowe's, overall cabinetry demand is increasing due to the recovering housing market. This increase is positively impacting income statements of American Woodmark Corporation with increasing new construction based and remodeling revenue. The company has outpaced its competitors and reported double sales growth gaining market share. AMWD has been successful in achieving gross margin increase mainly due to cost savings and growth in the remodeling business. Future gross margin expansion will be driven by the continuously growing remodeling market and incremental gross profit through increasing sales. In addition to that, the company has started reducing spending on promotions which will contribute to the operating profit. All the above factors bodes well for the company in near to medium term. So I recommend buying.
Disclosure: I have no positions in any stocks mentioned, and no plans to initiate any positions within the next 72 hours.
Business relationship disclosure: GS Analytics is a financial research firm providing customized research services to US hedge funds. This article was written by Tanmay Mahale, one of our Research Analysts. We did not receive compensation for this article (other than from Seeking Alpha), and we have no business relationship with any company whose stock is mentioned in this article.