Introduction
As many investors already know, McDonald's (NYSE:MCD) has struggled recently to increase sales, having seen nearly flat growth throughout the first seven months of the year.
This year (YTD as of end of July), the company has seen a .1% overall increase in same-store sales. This is a pretty significant slowdown from its 4.5% increase last year. While U.S. stores are doing slightly better (.2% increase on the year), Europe and APMEA (Asia Pacific/Middle East/Africa region) are showing negative results with losses in sales of .8% and 1.9%.
In this article I will list three recent moves MCD has made or is in the process of making and explain why I don't necessarily believe these are the right moves for the company, at least in terms of turning around its overall sales growth.
Move No. 1: Mighty Wings
While Mighty Wings may sound like the name of a Saturday morning cartoon, they are actually MCD's latest attempt to boost same-store sales across the country. The wings (breaded and fried chicken wings and drumettes) are rolling out September 24, nationwide. On paper, the move seems to make sense as the popularity of chicken wings continue to increase (two of the top-five growing restaurants in the U.S. sell chicken wings).
But I see a couple of problems with this move that reduce the likelihood of the expected success these wings are going to make to MCD's sales growth.
Issue No. 1 - Variety
Buffalo Wild Wings (NASDAQ:BWLD) and Wingstop may be two of the fastest growing restaurants, but they both get the majority of their sales from non-breaded wings. I think the success of Mighty Wings would be greater, if MCD offered both breaded and non-breaded versions.
Issue No. 2 - Pricing
According to news reports I've seen, Mighty Wings will be priced at $2.99 for 3 wings ($1 per wing), $4.79 for 5 wings ($0.96 per wing), and $8.99 for 10 wings ($0.89 per wing).
While paying $1 per wing (or slightly more) at BWLD while enjoying a football game and a beer with friends doesn't seem unreasonable for most, I don't know if people will feel the same way when paying $1 per wing at MCD's drive-thru window, especially when they could get 3 McDoubles for the same price.
I checked prices for wings at various Wingstop locations and was surprised at the considerable difference in prices compared with MCD's. While MCD's prices range from $1 per wing to $0.89 per wing based on size ordered, the Wingstop wings ranged in price from $0.85 per wing to $.69 per wing based on size ordered and location. That's a considerable difference and one I'm not sure people will be willing to pay if they have the option of choosing between the two.
Issue No. 3 - Promotion
Sometimes for an established restaurant, the most difficult thing about launching new items is getting people to actually try them. I think MCD accomplished this task earlier in the year when it offered its McWraps for a limited time at a discounted price of $1.99 and offered other sales around the item such as buy 1, get the second for $0.99. Perhaps MCD will do something similar for Mighty Wings, but I haven't heard any news about an intention to do so.
Issue No. 4 - Sizes
I think that MCD should have more sizes available for the wings instead of just having the 3, 5, and 10 piece offerings. Wings are often associated with parties and get-togethers and it isn't uncommon for people to make very large orders. Wingstop offers sizes up to 100 with increased discounts for the larger sizes. With MCD not offering similar sizes, I feel that it will miss out on potential customers looking to buy large quantities (and perhaps something new) for their next party or football viewing event.
Move No. 2: New Dollar Menu
MCD is currently testing an updated version of its popular dollar menu and has announced that it could possibly be rolled out nationally later in the year. The details of the updates are still unclear as two versions of the updated menu are being tested. One version includes price points of $1, $3 and $5, while the other version includes price points of $1, $1.79 and $4.99.
Some reports have stated that menu items like the McDouble saw price increases during the tests, while other reports claim that the current prices will remain in effect and the only difference will be in the available offerings (mainly the addition of extra patties, bacon, etc.)
Seeing as how the details of this updated menu (other than the name "Dollar Menu & More") are still uncertain, as is the fact of whether or not this updated menu actually gets released this year, I don't really have any issues with it. I just don't see it having much of an impact in terms of increasing MCD's sales as it doesn't appear to offer much of anything new to MCD's customer base. It wasn't that long ago that MCD tried updating this menu and the results were not good. I'm not convinced that anything will change with this new variation.
Move No. 3: Veggie Wrap
MCD recently made available Veggie wraps in Canada. Two variations are available: the Mediterranean Veggie and the Santa Fe Veggie. While strictly available in Canada for now, it wouldn't be surprising if these were eventually rolled out in the U.S. as MCD continues to look for sales growth.
I really only have one issue with this recent move and that is the fact that it appears to automatically lose a good share of the percent of customers who would actually buy a veggie wrap. In my experience, customers order vegetarian options for 1 of 2 reasons. Reason #1 - they don't eat meat. These are customers who don't eat any meat at any time and thus look for vegetarian options when dining. Reason #2 - they are looking for a healthier option. These are customers who aren't vegetarians but like to choose healthier alternatives when dining out.
The new veggie wraps can be described as many things, but healthy is not one of them. Because of this, I think MCD has limited quite severely the number of people who are going to regularly order these items off the menu. I don't think these wraps need to be extremely healthy, but they should at least give the appearance of a healthy dining option.
The Sante Fe Veggie contains 490 calories, 24 grams of fat, 56 grams of carbs, and 980 mg of sodium. That is only 50 calories, 5 grams of fat, 12 grams of carbs, and 40 mg of sodium less than a Big Mac.
Conclusion
I applaud MCD for continuing to address possible ways of increasing sales, I'm just not sure that these recent moves are the best way for the company to go about it. I don't think any of these moves will help the difficulties the company is seeing overseas in Europe and APMEA and I'm not even sure they will significantly help that much here in the U.S. either.
I think MCD would see better sales growth if it focused on the following three possibilities:
Add new menu items based on high margin products. MCD's sales would look much worse if it wasn't for the revenue seen from its McCafe offerings. I think increasing coffee/tea options (like the Pumpkin latte coming soon) as well as looking at menu possibilities using pasta, rice, and egg products could lead to increased sales growth for the company. Taco Bell has seen success with its bowl offerings, and I think MCD could do the same.
Offer multiple side options - This could help MCD in two ways. The first way is by simply offering customers more variety and also by offering healthier alternatives. MCD's combos are very popular and I think having the optin to have a soup, chili, or salad substitute for fries would make them even more popular.
Add Ons - When dining out, I often see options for adding a soup or salad to a dinner for a reduced price. I think a similar strategy could work nicely for McDonald's in terms of its combos. This would be especially true if MCD increased its available sides. But even now, I could see people adding a 5 piece nugget or something similar to a combo for a buck. And seeing as how MCD's dollar menu accounts for almost 15% of its sales, you can see that those extra dollars can add up quickly.
I don't really like the new moves MCD has recently made, but I still believe it is a strong company with a bright future. MCD will sometimes see soft sales growth, but the company has shown a tremendous ability to see long-term increases in stock price, revenue and net income throughout its history.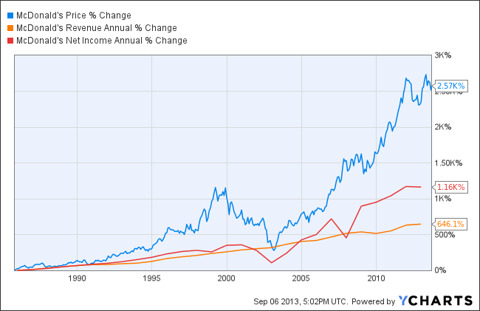 Click to enlarge
I don't think long-term investors can go wrong by adding MCD to their portfolio, but I also believe that short-term gains will be minimal. If MCD continues to see weak sales growth in Q3 and Q4, I think there is a strong possibility that you could pick up shares at or even slightly below $90 either later in the year or early next year. Because of this I would officially recommend MCD as a hold until the company can makes moves that actually result in some increased sales growth; however, I think any dips in MCD's current price could present nice buying opportunities for long-term investors. As always I recommend any investor perform their own research before making any investment decisions.
Disclosure: I have no positions in any stocks mentioned, and no plans to initiate any positions within the next 72 hours. I wrote this article myself, and it expresses my own opinions. I am not receiving compensation for it (other than from Seeking Alpha). I have no business relationship with any company whose stock is mentioned in this article.