Background
Bridgepoint Education (NYSE:BPI) is a leading for-profit provider of postsecondary education for adults 22 years of age or older. The company operates two schools, Ashford University located in Clinton, Iowa, and the University of the Rockies in Colorado Springs. They lease 705,000 s.f. of corporate office space in San Diego, CA, and maintain smaller offices in Washington, D.C., Philadelphia, and Denver for corporate and student support functions. Warburg Pincus has held a majority stake since the IPO, and until recently the CEO and founder Andrew Clark has been a 5% shareholder.
As of year-end 2012, Ashford University accounted for 97.5% of the total student headcount between the two schools. The majority of the students take classes online using 3rd party and proprietary learning platforms. As of 2012, the institutions offered 1,470 courses, 80-degree programs and 125 specializations. Unlike many traditional colleges, the online students enroll in only one class at a time for five to six weeks, then move on to the next. Students obtaining an Associate's degree are required to obtain a minimum of 64 credits to graduate, and Bachelor's students must reach 120. The majority of total enrollments (74%) were Bachelor's students at the end of 2012, and more than half of the enrollments were women.
Title IV Financing
Many of the students that attend a for-profit school such as Ashford University finance their education by borrowing directly from the government (Federal Direct Loan Programs), or from private lenders that obtain a federal guarantee on the loan (Federal Family Education Loan-FFEL). As of June 30th 2010, FFEL loans were halted pursuant to The Health Care and Education Act of 2010. These federal loan programs were authorized by Title IV of the Higher Education Act of 1965, and are commonly referred to as Title IV funds. Other Title IV programs include Pell Grants and Federal Work-Study programs.
For an institution to be eligible to receive title IV funds, the school must meet certain qualifying requirements. One of these requirements states that the annual revenue from Title IV funding collected by the school may be no more than 90% of the total revenue of the school for 2 years in a row. This means that 10% of the revenue obtained must be non-Title IV funds. The important thing to note here is that military enrollments do not fall under the Title IV heading. This rule has led to the aggressive targeting of military personnel by for-profit educational institutions looking to grow rapidly. Bridgepoint is indeed part of this group, with 22.5% of total enrolled students having "some affiliation" with the military. At the end of 2012, Ashford University derived 13.6% of its revenue from non-Title IV funds, meeting its requirement for the "90/10 rule."
Another important requirement the school must meet to be eligible for Title IV funds is accreditation. Each school must be accredited by a federally recognized accrediting body. Until recently Ashford was accredited by the Higher Learning Commission (HLC), which has jurisdiction in the northern central area of the US where the Iowa campus is located. For a number of reasons including changes in HLC accreditation rules as well as a crusade led by democratic Sen. Tom Harkin of Iowa against for-profit schools, Bridgepoint had decided to move accreditation from Iowa to California. Unfortunately for Ashford, the Western Association of Schools & Colleges (WASC), California's accrediting body, appeared to have agreed with Sen. Harkin and denied Ashford's initial accreditation in July of 2012. The original WASC report cited a number of issues related to student retention, academic quality, tracking of key student metrics, lack of independence between Bridgepoint and Ashford's Board of Trustees, etc. At the same time Ashford was put "on notice" by its then accrediting body HLC for not having a substantial amount of its personnel located in Iowa. The options were simple, either move a substantial portion of Bridgepoint operations to Iowa, or do everything WASC demanded. The company chose the latter and made sweeping changes during the next 12 months. WASC took notice at their April 2013 visit and agreed to grant Ashford accreditation in the California region on 7/10/13. The market responded favorably to the news.
Enrollments
Despite BPI's recent accreditation accomplishments, the market environment has been getting tougher for both Bridgepoint and its rivals. This chart shows the enrollment trend starting Q1 2008. The math is straight forward. If there are more new students entering the institution (new enrollments) than students leaving (withdrawals + graduates), then the student body grows. If the opposite is true, then the student base shrinks. As Chart 1 shows, the school did a good job of growing total student enrollments from 19,509 in Q1 2008 to a peak of 94,896 in Q1 2012, with a compounded annual growth rate of 48.5%.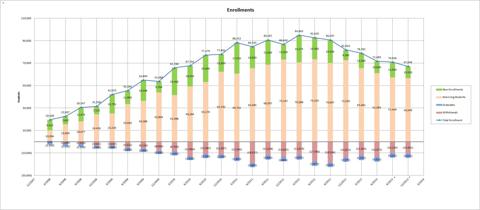 Chart 1 - Bridgepoint Student Enrollments
Source: BPI Annual and Quarterly Reports.
The chart also depicts one of the main criticisms of the for-profit schools; high attrition. You can see that Q1 2011 was the best quarter for starts with 27,550 new enrollments. Tellingly, the following quarter was also the worst ever for withdrawals, with 22,757 (including an estimated 3,800 for graduations). The first half of 2012 shows a similar pattern. In fact the average lifespan of a student in 2011 was less than 2 years.
The strategy at the time was to purchase sales leads from lead aggregators and then hound the prospects into submission, or at least until they changed their phone number and email address. One problem with the approach was that sales leads purchased from aggregators tended to be of a lower quality than ones obtained by other means. The low persistence rates, however, did not appear to be a big problem for Ashford when there was a growing sea of prospective students eager to try out the online university experience. When more students were entering than leaving, enrollments grew. Unfortunately for the company, that sea may be drying up, at least for now.
After the first quarter 2012, total student enrollments at Bridgepoint have been declining, mainly due to a general decrease in starts. BPI has been blaming the declining enrollments on deliberate efforts by management to increase retention rates (the percentage of 1st year students that make it to year 2), and persistence rates (the total proportion of students that enroll in the following semester). Since Q3 2012, the school has instituted a free 2-week orientation program for new students aimed at screening out prospects that might not be ready to persist. In addition any zero-credit student who makes it through the orientation is also eligible for the "Ashford Promise," which allows the student to attend the first three weeks of class with no financial obligation. The idea is that the trial period will allow new students to test-drive the program, thus screening out students that aren't ready to complete it.
Bridgepoint management has also decided to make extensive cuts to their recruitment teams, redeploying personnel to other areas such as academic management and student services. Most importantly, they've started to move away from purchasing sales leads from aggregators and are instead launching their own branding campaigns focused on finding higher quality "organic" leads that result in better prepared students. If you add all of this to the accreditation issues present at the time, management claims, then you should be able to understand why starts have been declining. Deliberate actions, however, do not necessarily mean voluntary, and it's not entirely clear how much of these decisions were really a result of WASC pressure or increased influence from Ashford's Board of Trustees.
Industry Recession
Notwithstanding management changes, the drop in BPI enrollments looks similar to the decline in the industry as a whole. Regardless of what BPI management would like to imply, it's possible that other external macro forces are at play. Gregory Cappelli, the CEO of Bridgepoint's largest competitor Apollo Group, was a bit more forthcoming when he said on a recent earnings call;
"I think the industry is in its own recession right now for various reasons."
It seems that it may have made sense for a 20 something-year-old to go back to school during the first few years of the recession or after returning from their military deployments, but as time goes on and the economy picks up speed, a lull in new enrollment prospects is starting to become apparent.
Entering Students
In the 3rd quarter of 2012, the company spent almost $15 million on a branding campaign targeting new enrollments, and has said it expects to do the same in 2013. When asked about starts on the Q2 2013 earnings call CEO Andrew Clark said;
"I expect a slight to moderate improvement in the third quarter as compared to the second quarter and first quarter. And we certainly anticipate positive new enrollments in the fourth quarter as we've been seeing over the last several quarters. So I guess that if you take that altogether, I would say that we expect the trend line gradually throughout the second half of the year that leads to positive new enrollments in the fourth quarter."
A year-on-year Q4 increase in starts seems to be a reasonable target to hit, mainly because 2012 Q4 starts came in at only 9,260, the lowest since 2008. My estimates for 2013 Q3 and Q4 starts are 13,500 and 10,500, respectively. See Chart 1 for more detail.
Exiting Students
The second part of the total enrollment picture is established by students that leave the institution either by graduating or withdrawing. Chart 1 shows a slightly elevated 2013 graduation rate versus 2012. (The annual graduation rate is split evenly across all quarters.) It's fair to expect annual graduations to continue to show slight growth for a few more years, or until the 2011-2012 cohorts have graduated. Since graduation rates are expected to be a larger portion of total student exits going forward, it may become a more relevant headwind to student body growth. I've estimated the total graduates for 2013 to be 16,100 students, up slightly from 2012.
Estimating withdrawals, however, is a bit tougher and is generally based on retention and persistence calculations. Regression analysis can be used to estimate the future withdrawal rate. The basic idea here is that every withdrawal was once a new enrollment. If you can estimate the new enrollments that are likely to drop out and when, you can generate a predictive model for future periods. WARNING: this approach is inherently uncertain, especially during a time of flux in persistence rates. It may be better than guessing, but take it with a grain of salt.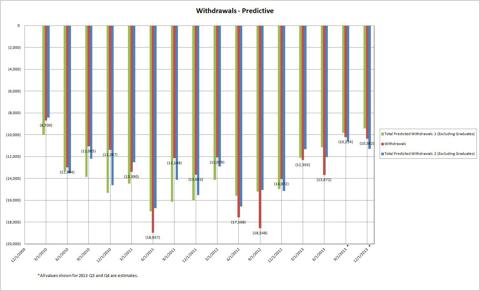 Chart 2-Bridgepoint Student Withdrawals (Excluding Graduation)
Chart 2 shows the withdrawal rate for the last 3.5 years (excluding graduations). It attempts to fit quarterly withdrawals (in red) to two different predictive models (blue and green). The estimated withdrawals for Q3 and Q4 2013 take the average of the two different models, which come in at just over 10,000 students each quarter. The decrease in expected withdrawals is generally due to the decrease in prior recent starts. If the new management initiatives already discussed start to take hold in the back half of 2013, this number may be smaller. Chart 1 incorporates the withdrawal estimates shown in Chart 2 for Q3 and Q4 2013.
Revenue
The majority of company revenue is generated from student tuition. Two smaller sources include books & supplies, and technology fees. Total revenue is offset by scholarships and expected refunds. Chart 3 breaks out the estimated proportions of the three main revenue sources.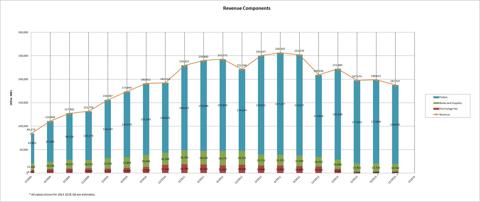 Chart 3-Bridgepoint Revenue
Source: BPI Annual and Quarterly Reports.
Total tuition revenue is based on the amount of students enrolled at the time as well as the average tuition rates. The school has had a history of raising tuition rates each year at the beginning of the second quarter. Notably, there has been a steady decline in the annual tuition increase, from 5% in 2010 and 2011, to 2.75% in 2013, possible evidence of increased pricing pressure from external competition. These conditions are especially troubling when the student body is on the decline, as the same percentage increase in tuition will lead to a smaller increase in incremental revenue.
Other factors adding to revenue pressure include changes made in 2013 related to technology fees. Prior to 2013, most new students paid a one-time fee ($1,290 in 2012) that was recognized over the average expected enrollment life of a student, or about 2 years. (Military and scholarship students are not obligated to pay technology fees.) In the first quarter of 2013, the company decided to change this fee to $50.00 per class, or approximately $500 per year per qualifying student. This resulted in the large drop in recorded technology fee revenue in Q2 2013. The fee revenue is expected to grow gradually as new enrollments are added, but will most likely stay depressed relative to 2012 levels for some time to come. Total revenue for Q3 and Q4 2013 is estimated to be approximately $199 million and $188 million, respectively. Estimates are based on average revenue per student of $2,800 per quarter, times the estimated total enrollments shown in Chart 1.
Costs
The company classifies its costs into the following three categories;
1. Instructional Costs and Services;
Direct compensation in academic management, financial aid support, and student services
Corporate Support Services
Facilities Costs
IT Expense
Bad Debt Expense
Instructor Fees
Financial Aid Processing
2. Admissions Advisory and Marketing;
Branding
Admissions - Direct Compensation
Advertising Costs
Corporate Support Services
IT Expense
Facilities Costs
Professional Fees
Other Advertising and Promotional
3. General and Administrative;
Legal Expense
Professional Fees
Administrative Compensation
Stock-based Compensation
Corporate Support Services
Outside Services
Facilities Costs
Other Administrative Costs
Chart 4 shows the breakdown of costs starting in Q4 2007. Changes were made by management in the fourth quarter of 2012 in the way costs were presented. It appears that certain IT costs were taken from "G&A" and shifted to the "Instructional Costs and Services" and the "Admissions Advisory and Marketing" line item. The change is reflected in Chart 4 from Q4 2011 to the present. Thus, the cost breakdown prior to Q4 2011 is not comparable with the presentation during and after Q4 2011. However, total aggregate costs are still comparable across all years. The management claims that the change in presentation would "better reflect industry practices and will provide more meaningful information, as well as an increased transparency to its operations." As I'll show in a moment, the change did just the opposite.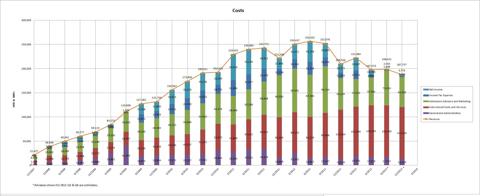 Chart 4 -Bridgepoint Education Costs
Source: BPI Annual and Quarterly Reports.
Aside from the presentation changes made in 2012, the company has been reshuffling their cost structure, resulting in a large decrease in Direct Sales Admissions Compensation ("Admissions Advisory and Marketing"). Some of the cost savings has been redeployed into other areas including Direct Compensation in Academic Management, Financial Aid Support, and Student Services ("Instructional Costs and Services"). The shift appears to be a direct result of the company's strategic initiatives around admissions and recruitment. By adding advisors in the student services area, the company can extend the amount of freshman support from the first 5 weeks of class to the first 12 weeks. After the critical 12-week mark the Title IV funding entitled to the student for that financial period is considered "100% earned" by the student, which immediately decreases the risk that the receivable will become uncollectable by the school.
In 2012 Ashford initiated an annual Q3 branding campaign. The increased branding spend appears to be centered on the purchase of strategic keywords from search providers as well as search engine optimization techniques. The approach is an extension of their recent strategy of finding higher quality sales leads. The management believes that a prospect that performs a Google search for colleges and ends up browsing Ashford's website of their own accord will tend to persist better than ones acquired by a lead aggregator. At this point, the jury's still out. Bridgepoint's branding spend was $14.7 million and $1.9 million in Q3 and Q4 of 2012, respectively. Management has stated that they expect to spend a similar amount in the back half of 2013. This accounts for much of the elevated "Admissions Advisory and Marketing" estimate in Q3 of 2013.
Bad Debt Expense
Over the past few years the company's bad debt expense as a percentage of revenue has trended upward, from a yearly average of about 5% in 2009, to 7.1% in 2012 (as originally stated). In the fourth quarter of 2012, bad debt expense rose to 12% of revenue, or just over $25 million dollars. In response to an analyst's question concerning bad debt on a Q4 2012 earnings call, CFO Dan Devine said the following;
"We discussed in our prepared remarks that we did incur some additional charges in Q4 related to an issue for the existing students and related to the crossover year. It had to do with when a student starts at the institution, their second academic year, they have to go through a certain amount of paperwork. We had some system problems as well in some execution areas there, and some of the students left the institution before they be funded. But going forward, we - 6% is probably fair."
As noted earlier, the management changed their cost presentation in that same quarter. Interestingly though, they decided not to provide quarterly numbers in the press release. Since all numbers in the press release were presented on a yearly basis and the cost presentation had changed from Q3, there was no way for investors to calculate quarterly numbers for that period. An analyst from Barclays called the move "mind boggling" on the earnings call. When the analyst asked where he could find the quarterly numbers, CFO Dan Devine responded that they would be in the 8-K that afternoon. Not surprisingly, they weren't. Nor were they in the 10-K filed for the year. Ironically enough, the one line item that raised the most red flags in the quarter was the one that could still be calculated, bad debt expense. The quarterly numbers were finally revealed in an amended 10-K/A filed more than 2 months later. Not only were all restated 2012 quarterly numbers presented, but the company decided to add an additional $7.25 million in bad debt expense for the year, at the same time spreading bad debt expense more evenly throughout each quarter. The whole debacle required the management to site a "material weakness" in their controls, which apparently hasn't been their first time since the company went public.
Despite management's guidance of 6%, bad debt levels have averaged 8.8% in the first half of 2013. In each quarter of the 2013, Bridgepoint has attributed the heightened bad debt expense to a "deeper analysis" of their AR aging buckets. The problem, it seems, may stem from the interaction between the university's withdrawal policy and the Return of Title IV (R2T4) regulations. In the event that the student drops out of a class after the second week, Ashford charges the student in full for the class. However, if the student leaves prior to the 60% mark of a Title IV pay period (the 12th week of a 20 weeks pay period), the student will only earn the pro-rata portion of the aid that the student was eligible for. When both of these conditions exist, the student may likely owe money to the school that is not covered by loans. A similar situation can also arise resulting from Pell Grant overpayment or when institutional fees are simply higher than the student's Title IV eligibility. Whatever the cause, the student is left holding the bag, and Ashford is left holding lower quality accounts receivable. (This is to say nothing of Ashford's student loan receivables.)
From an outsider's point of view it's next to impossible to distinguish between accounts receivable that are (or will likely be) "backed" by Title IV funds, and accounts receivable that aren't. One might even go as far to say that any revenue recognized with a low probability of being collected in full should really be deferred to some point later in the future. It's tough to say when or if the bad debt levels will come down, so for now I estimate that the average bad debt expense will hover at just over 9% for the year. If the longer 12-week student support initiative takes hold and Ashford is effective at keeping more students in their seats for longer than 12 weeks, those students will be able to earn all of their Title IV funds for the pay period and Ashford's bad debt problems may improve with time.
Estimates
Warning: The closer Bridgepoint's earnings get to breakeven, the harder it is to project earnings estimates into the future with any kind of accuracy. At this stage, a relatively small addition to costs can cause a large percentage change in the earnings estimate, so use all projections as a guidepost, not as a GPS. The increased operating leverage, however, should be taken as a sign of increased risk of earnings volatility. With that said, Chart 4 shows my 2013 Q3 and Q4 earnings estimates of about $2.5 million and $3.8 million, respectively. Bridgepoint's share repurchase authorization plan is currently expired, so I've assumed that the diluted share count stays at approximately 55.6 million. This amounts to an earnings estimate of approximately $0.04 and $0.07 per diluted share for Q3 and Q4, respectively.
I would be happy to hear from anyone with a different view, so please feel free to comment.
Note: All charts shown have been generated by the author using publicly disclosed information, and should not be relied upon as a substitute for the source material provided by the filing company.
Disclosure: I have no positions in any stocks mentioned, and no plans to initiate any positions within the next 72 hours. I wrote this article myself, and it expresses my own opinions. I am not receiving compensation for it. I have no business relationship with any company whose stock is mentioned in this article.