United Technologies Corporation (NYSE:UTX) provides high technology products and services to the building systems and aerospace industries worldwide operating in six segments: Otis, Carrier, UTC Fire & Security, Pratt & Whitney, Hamilton Sundstrand and Sikorsky. On July 23, 2013, the company reported second-quarter earnings of $1.70 per share. In the last year the stock is up 30.55% excluding dividends, and is beating the S&P 500, which has gained 15.97% in the same time frame. With all this in mind I'd like to take a moment to evaluate the stock on a fundamental, financial, and technical basis to see if it's worth buying some stock in the company right now.
Fundamentals
United Technologies currently trades at a trailing 12-month P/E ratio of 18.89, which is fairly priced, but I mainly like to purchase a stock based on where the company is going in the future as opposed to what it has done in the past. On that note, the 1-year forward-looking P/E ratio of 14.88 is currently inexpensively priced as well for the future in terms of the right here, right now. Next year's estimated earnings are $6.97 per share and I would consider the stock cheap until about $104.55. The 1-year PEG ratio (1.43), which measures the ratio of the price you're currently paying for the trailing 12-month earnings on the stock while dividing it by the earnings growth of the company for a specified amount of time (I like looking at a 1-year horizon), tells me that the company is fairly priced based on a 1-year EPS growth rate of 13.25%.
Financials
On a financial basis, the things I look for are the dividend payouts, return on assets, equity and investment. United Technologies boasts a dividend of 2.06% with a payout ratio of 39% of trailing 12-month earnings (or 88% based on free cash flow) while sporting return on assets, equity and investment values of 7%, 24.2% and 12.2%, respectively, which are all respectable values, but nothing to write home about. Because I believe the market may get a bit choppy here and would like a safety play, I believe the 2.06% yield of this company is good enough for me to take shelter in for the time being. The company has been increasing its dividends for the past 19 years with a 5-year dividend growth rate of 12%.
Technicals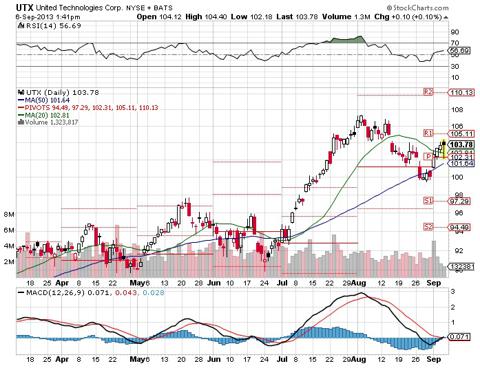 Looking first at the relative strength index chart [RSI] at the top, I see the stock muddling around in middle ground territory with a value of 56.69 with upward trajectory, which is a bullish pattern. To confirm that, I will look at the moving average convergence-divergence [MACD] chart next and see that the black line crossing above the red line with the divergence bars increasing in height to the upside, indicating the stock is about to have upward momentum. As for the stock price itself ($103.78), I'm looking at $105.11 to act as resistance and $102.31 to act as support for a risk/reward ratio, which plays out to be -1.41% to 1.28%.
Recent News
Subsidiary Pratt & Whitney received a deal worth more than $1 billion with the Pentagon to build 39 engines for a batch of F-35 Joint Strike Fighters.
Boeing reached a deal with UTC Aerospace Systems to manufacture landing gear for the new Boeing 737 MAX of which 1,400 have already been ordered.
The company acknowledged that it did supply the defective engine fire extinguishers on the 787 Dreamliners and that there were assembly errors. The company noted that it has corrected the problem and is working with Boeing and the airlines involved to complete all necessary inspections.
Conclusion
United Technologies is inexpensively valued based on future earnings and fairly priced on future growth prospects (one-year outlook). Financially, the dividend payout ratio is low based on trailing 12-month earnings and high on free cash flow but I don't doubt management will be able to continue to increase the dividend going forward; based on future earnings the dividend payout ratio goes down to around 31% (if the dividend is kept steady). The technical situation of how the stock is currently trading is telling me we might be seeing some more upward pressure. The government order, bullish aerospace sentiment and dividend are what I like about the company.
Disclosure: I have no positions in any stocks mentioned, and no plans to initiate any positions within the next 72 hours. I wrote this article myself, and it expresses my own opinions. I am not receiving compensation for it (other than from Seeking Alpha). I have no business relationship with any company whose stock is mentioned in this article.
Disclaimer: These are only my personal opinions and you should do your own homework. Only you are responsible for what you trade and happy investing!