The Federal Reserve is going to announce that it will begin tapering its asset purchases. That much the capital markets know. What the capital markets don't know is when that announcement will be made.
Prior to the August employment situation report, it was quickly becoming conventional wisdom that a tapering announcement would be made at the September 17-18 FOMC meeting. After the August employment situation report, that conventional wisdom has been called into question.
The report was neither strong nor weak, but to call it just right is giving it more credit than it is due. It wasn't just right. It was just maddening because it provided a little something for everyone to press their respective cases on when a tapering announcement will be made.
It didn't change our opinion that the economic foundation isn't strong enough to warrant a tapering announcement at the upcoming meeting. Even if the Fed thinks otherwise, we'd posit that the August employment report solidified the prospect that any tapering announcement will be on the light side of things (i.e. cutting monthly purchases by roughly $10 billion and doing so only by pulling back on the purchase of Treasury securities).
Labor Pains
Nonfarm payrolls increased by 169,000. That was pretty close to expectations, but below the 184,000 average over the prior 12 months. Moreover, nonfarm payrolls in July were revised down to just 104,000 from 162,000, and June nonfarm payrolls were lowered to 172,000 from 188,000.
Private sector payrolls rose by 152,000 in August (Briefing.com consensus 180,000). Private sector payrolls for July were revised down to 127,000 from 161,000.
The unemployment rate dipped to 7.3% from 7.4%, but that dip was the result of a drop in the labor force participation rate to 63.2% (lowest since August 1978) from 63.4%. If the labor force participation rate remained at the same level as July, the unemployment rate would have increased to nearly 7.6%.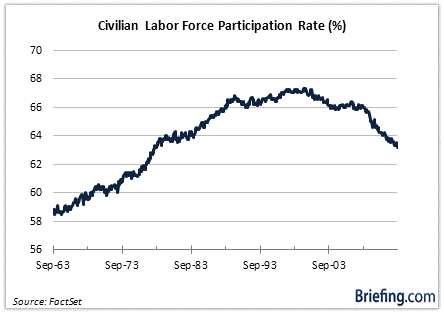 The employment-population ratio fell to 58.6% from 58.7%. This ratio stood at 59.9% in March 2009, and peaked at 64.5% in 2000.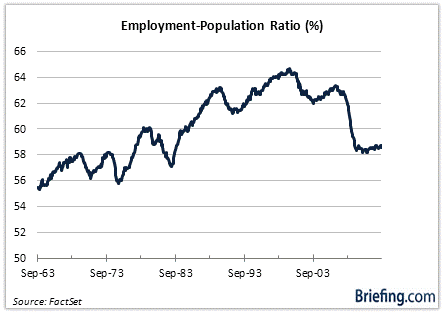 Long-term unemployed workers (27 weeks or more) accounted for 37.9% of the unemployed versus 37.0% in July. Fed Chairman Ben Bernanke has expressed his concerns often about the debilitating effects of long-term unemployment.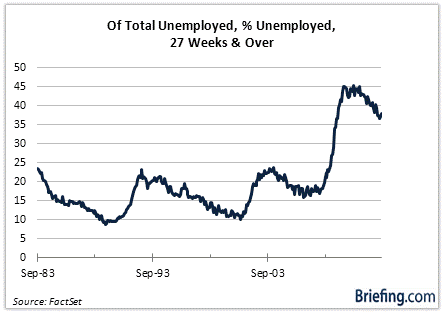 After declining by 3,000 in July, construction job growth was flat in August. This raises some questions about the enduring strength of the housing market in the face of rising mortgage rates.
The U-6 unemployment rate, which accounts for marginally attached workers and individuals working part-time for economic reasons, slipped to 13.7% from 14.0% in July. Still, that suggests roughly one out of seven eligible workers is unemployed or underemployed. The U-6 rate was 8.7% when the Great Recession started in December 2007.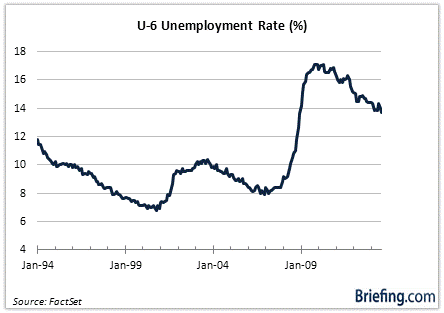 On the Brighter Side
U.S. businesses are still adding jobs. In 2009, when the Fed ratcheted up its quantitative easing program, job losses averaged 421,000 per month. This August marked the 35th straight month of nonfarm payroll increases.
The best indication in the August employment report is that aggregate earnings increased a solid 0.6%. That is a product of the average workweek increasing 0.1 to 34.5 hours and average hourly earnings increasing 0.2%.
According to Briefing.com Chief Economist, Dr. Jeffrey Rosen, the increase in aggregate earnings should have been enough to keep consumption growth moving higher in August, especially since the drop in initial claims probably encouraged stronger feelings about job security that would also lend to decisions by employed workers to spend from savings.
Some Initial Thoughts
We have heard it said that one's first thought is one's best thought. Like the Fed's timing for making a tapering announcement, that view is open for debate. To be sure, there are plenty of tweets (and deleted tweets) that would refute such thinking. In any event, I have put together a list of initial impressions I had in the wake of the August employment report. Consider them food for thought more than anything else.
If the Fed decides to make a tapering announcement at its September meeting, it would be due more to a reflection that the costs of QE are outweighing its benefits, although it probably won't be so explicit in stating that view.
The economic data has been uneven and a sustained pickup in growth is not assured. Accordingly, the risk of policy error has gone up, not down, with the August employment report. To the extent that a tapering announcement drives interest rates higher from here, the greater the risk there is that higher rates will choke off recovery efforts and invite disinflation.
If the Fed makes a tapering announcement in September, the September employment report will quickly become the most important data point on the release calendar. That report will be released on October 4, shortly after the October 1 deadline for a budget agreement to be reached and in the midst of what is expected to be a contentious debt ceiling debate. If the September jobs report is weak, the Fed will look foolish for making its tapering announcement and will be facing a credibility battle.
If the Fed holds off on a tapering announcement, it will be good for Treasuries, gold, home builders, and emerging markets. The stock market in general should also like the idea of the Fed staying the course for longer. It will be bad for the dollar and the ProShares UltraShort 20+ Year Treasury ETF (NYSEARCA:TBT).
If there is a U.S.-led strike on Syria between now and the FOMC meeting, and oil prices spike and there is retaliation that invites the risk of a broader regional conflict, the Fed will hold off on making a tapering announcement in September.
What It All Means
Regretfully, the August employment report didn't provide any signaling closure for the timing of a tapering announcement. The Fed has said of course that its decision will be data dependent. To that end, we have seen some good data points and some bad data points since the last FOMC meeting. And we have seen some mixed data points like the August employment report.
We know from the encouraging trend in initial claims that businesses aren't laying off as many people. By the same token, we know from the deliberate pace of job growth that they aren't in a hurry to hire new workers either.
The Fed finds itself walking a delicate line at this point, and that's not even taking into account the uncertainty surrounding Syria, the budget agreement, and the debt ceiling. In total, the body of economic data received since the last FOMC meeting has been neither strong nor weak. It hasn't been just right either. It has been confusing because the data have been mixed and the Fed has said it will be data dependent in its decision-making process.
Our view is that the economic foundation isn't strong enough to warrant a tapering decision in September. Our belief, however, is that the Fed will proceed with a "light" tapering announcement in September because it is recognizing in the mixed data that it isn't getting a big enough economic return on its QE investment.
Disclosure: I have no positions in any stocks mentioned, and no plans to initiate any positions within the next 72 hours. I wrote this article myself, and it expresses my own opinions. I am not receiving compensation for it. I have no business relationship with any company whose stock is mentioned in this article.