On March 5th, 2013, I wrote an article that aimed to enlighten potential investors about the risks and opportunities that WFT offered. Six months later, it's time to review the situation and evaluate how has the company been during the last 2 quarters.
When compared to the main indexes, the stock has done very well (up to September), beating the S&P and the DJI by more than 25%.
(click to enlarge)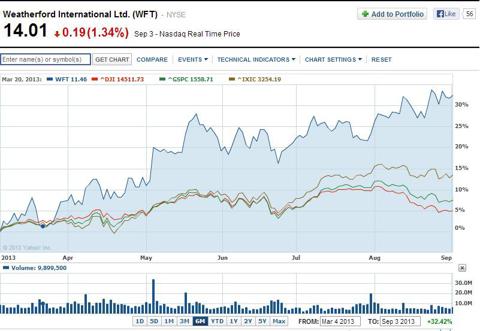 Click to enlargeSource: Yahoo.com/finance
Against its peers, the stock has also fared better than expected, as shown in the chart below.
(click to enlarge)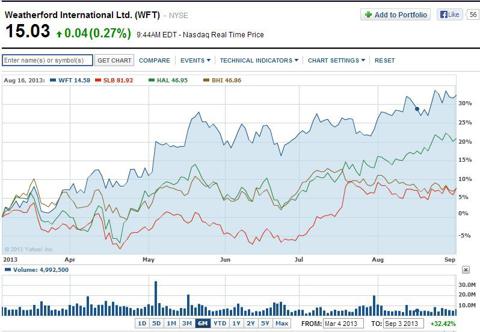 Click to enlargeSource: Yahoo.com/finance
However, this rise may be a consequence of the stock's extremely high volatility, shown by its above average beta of 2.08. If the market turns, there's a good chance that the stock will take the hit worse than its counterparts.
Volatility (beta). Source: Yahoo.com/finance
Halliburton (NYSE:HAL)
1.73
Schlumberger (NYSE:SLB)
1.82
Baker Hughes (NYSE:BHI)
1.73
Weatherford (NYSE:WFT)
2.08
On the fundamentals, nothing has changed dramatically. WFT continues working on its material weaknesses, but has not yet shown that it can fully overcome its accounting, working capital and cash problems. Although there were slight improvements on all counts, these are not enough to explain the stock's stellar performance during the last 6 months.
Each and every financial data that follows was analyzed either from the company's second quarter 10Q or from its Q2 results webcast.
Cash
Free cash flow is still an issue, and will certainly be for the foreseeable future. Cash provided by operating activities in Q2 was $241M, while cash used by investing activities (minus capital expenditures plus sale of assets) was $790M. That means that the company was forced to borrow short term to cover its cash position. While free cash flow improved $200M against the previous quarter, WFT's cash flow is a clear red flag. In times of low interest rates and huge money supply, refinancing short term is not a problem; however, if the tide turns there's a clear fragility here. Management has committed itself to improving free cash flow through cash collection, reduction in inventory dollars and increased profitability. FCF is expected to increase by $500M by Q4 2013.
Balance sheet
Balance sheet cleanup is ongoing and should be for the next 2 to 3 years. Current liabilities stand at 42% of total liabilities, clearly a very risky debt structure. Total debt/equity ratio is 1.69, while HAL, BHI and SLB have it between 0.28 and 0.33, meaning that WFT is inherently risky due to its financing and debt structure. Management has confirmed its strategy of selling non-performing assets, and the CEO has disclosed that at least 2 of these sales should happen before Q4 2013. Asset sales will be focused on non-core businesses, i.e., anything that doesn't belong to well construction, formation evaluation, completion and production. Due to WFT's extremely low return on assets (negative, in fact), the balance sheet cleanup is a must and should contribute to future potential earnings growth.
Working capital
Capital allocation has been WFT's Achilles' heel for several years now. The first step, which is to accept that it's a problem, was taken a few quarters ago. Things have improved in that department, albeit not as much as it's needed. Capital expenditure has come down from 14% of revenues to 9% of revenues, which is good news. When comparing Q2 to Q1 we find that capex has decreased by 25%. DSIs are going down due to an increase in revenue and a decrease in inventory levels. The capital discipline of control over new capital allocation and strengthened focus on asset utilization seems to be working, but not on a level that will satisfy the shareholder. There's a ton of room for improvement here. WFT's return on assets is the worst among its peers, by a wide margin.
Source: google.com/finance
Based on historical data, it doesn't look good. But, since investing means forward-looking analysis, we need to consider whether it's possible for WFT to get rid of these non-performing assets and improve the rate of return on its core businesses as well. The answer seems to be 'more or less'. This cleanup will take several quarters and we should expect the company to sell its assets at less than book value, write-off others, and so on. Nevertheless, while it's a hard path, it's important that management has stepped up once and for all.
Profitability / Income
From an operating standpoint, Q2 was interesting. North American margins were hit by a slowdown in the Mexican and Canadian markets. However, international markets improved, especially Europe, Caspian, Russia and SSA (sub-Saharan Africa). North American margins will improve in Q3 and Q4, the CEO said during the conference call. There's an important order backlog, especially in artificial lift's already expanded capacity. Iraq's money losing contracts are finally being finalized (including a $31M charge in Q2), although there will be further losses accrued in the next couple of quarters. Contracts that are linked to production increment in Azerbaijan, Kazakhstan and Russia should also help boost margins in Q3 and Q4. Management has raised its EPS guidance to $0.90 by December 2013. That means a forward Dec. 2013 PE of 17.4 as of today, Sept. 06th. Analysts have forecasted EPS of $1.30 by December 2014, which would drive PE down to 12x. That's a mean consensus and it's coherent.
Going forward
This stock is a clear turnaround candidate. From a historical standpoint, fundamentals are bad, period. Although investing deals with the future, caution is suggested with this specific stock, considering past issues. There are plenty of red flags to be aware of, especially on tax problems (not anywhere near solved), debt structure, balance sheet and overall profitability. The company is being valued at $15.60 by the market right now. The stock's fair price should be between $12.00 and $18.00 for the next year or so, but the market is obviously unpredictable. There's a clear cushion below $12.00, and that's called takeover threat. If the company continues to get rid of its low performing assets and focuses on its core business, it'll certainly become more and more interesting for its competitors. We have seen GE paying top dollar for Lufkin, known for its artificial lift products. That's why I believe there's a cushion somewhere at or just below the $12.00 mark. WFT is the type of turnaround to invest in for the long term. On the short run, considering its above average beta, anything can happen. A slight change on interest rates could do a lot of harm to its day to day operation, seeing how much the company relies on short term financing. A decrease in the price of oil could have an impact on future orders and, therefore, harm the company's already fragile cash flow. There are plenty of red flags concerning WFT's ability keep up with its expenses on tax and accounting fees, IT infrastructure which is sucking millions of dollars, DOJ settlements, and so on. Investing on WFT requires cool temper, a long run perspective and keeping up to date with monthly developments. A good starting point will be to wait for next quarter's results and check how all these red flags have behaved and what management has to say about them.
Disclosure: I am long WFT. I wrote this article myself, and it expresses my own opinions. I am not receiving compensation for it (other than from Seeking Alpha). I have no business relationship with any company whose stock is mentioned in this article.