Recently, the agriculture chemical industry saw the split of one of the biggest potash cartel, 'Belarusian Potash Company', or BPC. A cartel is an association of independent business organizations formed to regulate production and pricing of a commodity, which is potash in this case. It affected the major industry players like Potash Corp. of Saskatchewan (POT), Mosaic (MOS), and Agrium (AGU). It will be interesting to find out to what extent the cartel split affected the share price of these companies, and what they have to offer going forward.
Crack in cartel
The global potash market was dominated by two cartels namely BPC and Canpotex, which were responsible for deciding the price of potash. On July 30, 2013, BPC, the world's largest potash cartel, was broken when one of its members 'Uralkali' quit it. Uralkali (OTC:URALL) is a Russia based potash producing company. It quit the BPC cartel due to allegation that the other BPC partner 'Belaruskali' violated an export agreement with Uralkali. Belaruskali broke the agreement and exported potash against the terms of agreement. This breakup of BPC made the Canpotex cartel -- the world's largest potash cartel. Canpotex cartel is a group of potash producers including Potash Corp., Agrium, and Mosaic.
Uralkali used to sell potash using the trading unit of BPC. After it quit BPC, it decided to sell potash using its own trading unit. Uralkali aims to ramp up potash's production from 10.5 million tons in 2013 to 13 million tons in 2014 by raising its market presence in China, India, and Brazil. Since the company will now operate independently, it will try to attract price-sensitive farmers in these regions with higher production at a lower cost. Uralkali is now focusing more on its production growth rather than price of potash. The new emphasis on production over pricing might force another cartel, Canpotex to use the same strategy of preference of volume over price, leading to a potash price war. According to Uralkali, this strategy may cut the global potash price from the current $400 per ton to $300 per ton in the second half of this year.
Consequently, it will create problems for Canpotex cartel members. Following the news of BPC cartel's breakup, the market reacted swiftly, and the stock prices of these three potash producers plummeted accordingly.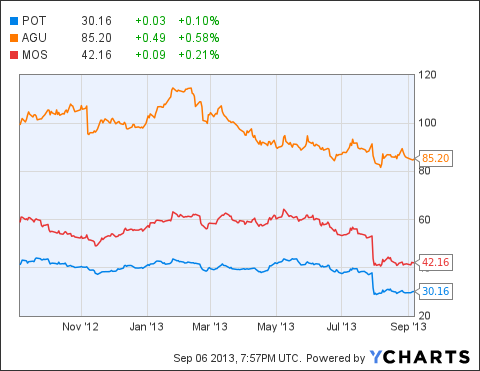 Worst hit
Potash accounted for 62.6% of the Potash Corp.'s gross margin (around $979 million) in the second quarter of 2013. In the first half of this year, potash production was around 4.77 million tons. This production is a year over year growth of 23.7%, and if we assume the production will grow at this rate, Potash Corp. is expected to produce a total of around 10.67 million tons of potash in this year.
For the second quarter, potash cost around $356 per ton. Revenue generation from 10.67 million tons of potash, at $356 per ton is expected to be $3.79 billion. If the potash cost declines to $300 per ton, then revenue generated from 10.67 million tons potash is estimated to be $3.2 billion, which is a decline of 18%.
To help offset Uralkali's exit effect on its stock price, Potash Corp. announced approval of a share repurchase program on July 31, 2013. It is expected to repurchase up to 5% of company's outstanding shares. There were 866 million outstanding shares as on July 30, 2013. The shares are expected to be purchased over a period of one year that is from Aug. 2, 2013 to Aug. 1, 2014.
For the full year 2013, the company estimates earnings per share, or EPS, around $2.7 per share. Due to the planned buyback, this EPS is expected to increase to $2.84 per share, which is a growth of 5.18%.
As earnings are directly related to the revenue of the company, we assume the above mentioned 18% decline in revenue will also be reflected in the company's earnings as well as the EPS. We believe mere growth of EPS by 5.18%, because of repurchase program, is not enough to offset declination of the company's stock price.
Growing with phosphate
Mosaic produced 2.9 million tons of phosphate and 2.6 million tons of potash in the fourth quarter of fiscal year 2013. As potash contributed 47.27% to the company's total production, Uralkali's exit is expected to hit Mosaic hard, as it may lead to potash price wars. To offset this pressure, the company is focusing more on phosphate production.
Mosaic announced in August 2013 that it entered into a joint venture project, 'North Promise phosphate project' with two other Saudi Arabian companies, Ma'aden and Sabic. Mosaic owns 25% stake in this project and the estimated cost is around $7 billion. It is forecasted to produce around 3.5 million tons of phosphate per annum and is expected to commence production in 2016. We believe this joint venture will sustain Mosaic's phosphate growth for the long term.
Unlikely to be hit much by breakage of cartel
Unlike Mosaic, Agrium's portfolio is better diversified. It includes crop nutrients like nitrogen, phosphate, potash, and ammonium sulphate. Consequently, Uralkali's exit announcement did not impact its share price much compared to the steeper decline of Mosaic and Potash Corp.'s stocks. Agrium's nitrogen segment contributed about 42.84% of the company's revenue in the second quarter of 2013. Its potash segment accounted for only 14.17% in the second quarter, and we believe going forward Uralkali's exit may only slightly impact its stock price.
Competitive scenario:
As shown in the table, the trailing twelve months price to earnings, or PE, ratio of Potash Corp. is higher than its peers' ratio. However, it is lower than the industry's figure, which states its stock is overpriced as compared to peers but not if compared with the industry. Due to the lower P/E ratio of its peers, we feel the stock of its peers would be preferred over Potash Corp.'s stock. This belief is substantiated by the above discussed factors of the three companies. Potash accounts for the majority of Potash Corp.'s revenue generation compared to relatively lower contribution of potash for Mosaic and Agrium. Going forward, Uralkali's exit and ensuing potash price war will hit Potash Corp.'s stock the most.
Companies like manufacturing and agriculture chemical companies, which use more assets, post smaller price to book value, or P/B ratio, so a lower ratio is considered better. On the basis of this parameter, Potash Corp.'s stock is also overvalued compared to peers but quite low compared to the industry's figure. Since P/B ratio of Potash Corp. is higher than its peers' ratio, its stock is least preferred.
| | | | | |
| --- | --- | --- | --- | --- |
| Valuation Parameter | Potash Corp. | Mosaic | Agrium | Industry |
| P/E | 11.49 | 9.42 | 9.41 | 15.20 |
| P/B | 2.49 | 1.32 | 1.74 | 3.71 |
Source: Finviz.com
Conclusion:
The agriculture chemical industry was hit hard by the Uralkali's exit, and Potash Corp.'s stock declined significantly. Due to this exit, the resulting potash price war is expected to be a headwind for the company in the future. We feel its share repurchase program might increase its earnings per share, or EPS, slightly but not enough to completely offset the decline from Uralkali's exit. These fundamentals show uncertainty about the company's future growth prospects, which is also reflected in the valuation of its stock.
Since potash's contribution is not as significant for Agrium and Mosaic as compared to Potash Corp., the potash price war due to Uralkali's exit will not majorly impact their stock prices as it will hit Potash Corp.'s stock. We will suggest new investors to stay away from Potash Corp.
Disclosure: I have no positions in any stocks mentioned, and no plans to initiate any positions within the next 72 hours. I wrote this article myself, and it expresses my own opinions. I am not receiving compensation for it (other than from Seeking Alpha). I have no business relationship with any company whose stock is mentioned in this article.
Additional disclosure: Fusion Research is a team of equity analysts. This article was written by Satya P, one of our research analysts. We did not receive compensation for this article (other than from Seeking Alpha), and we have no business relationship with any company whose stock is mentioned in this article.