With a market share in excess of 50%, Altria Group (NYSE:MO) is the leading tobacco company in the U.S. The company has delivered solid financial results in the past. Earlier this week during its presentation at the 'back to school' conference, MO provided information on its recent e-cigarette launch, market share trend and cost control efforts. Also, the company reiterated its EPS guidance for the full year 2013.
MO has been aggressively working on product innovation to strengthen its top and bottom line results. MO, along with the U.S. tobacco industry, has been beset with the problem of declining sales volume with regards to traditional cigarettes, primarily due to health concerns and tougher regulations. In the recent second quarter, the company's total shipment volume decreased by 6.7%. Due to the lessening of the sales volume of traditional cigarettes, I believe MO's product innovation initiatives remain an important long-term earnings growth driver. Recently, the company launched e-cigarettes under the brand name 'MarkTen'. The company has been pushing hard on its market campaigns and ongoing test in Indiana to support the recent launch of MarkTen e-cigarettes. According to the company's press release published earlier this week, almost 85% of the stores in Indiana have signed up to sell MarkTen e-cigarettes. The e-cigarette market offers a significant growth potential to the U.S. tobacco industry. The following chart shows the growth in U.S. e-Vapor adult consumer spending in the last two years.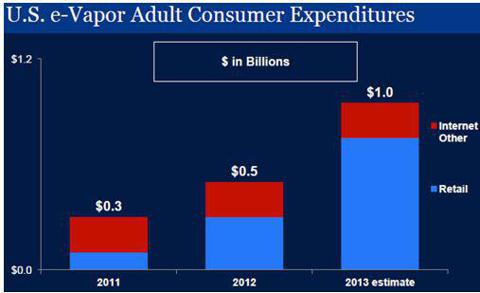 Source: Presentation Slides
Marlboro is MO's flagship cigarette brand; the brand comprises almost 85% of the company's total cigarette sales volume. MO has been able to maintain a solid retail market share for Marlboro; in 1H2013, Marlboro's retail market share was up 0.1% YoY to 43.6%. The following chart shows Marlboro's retail market share.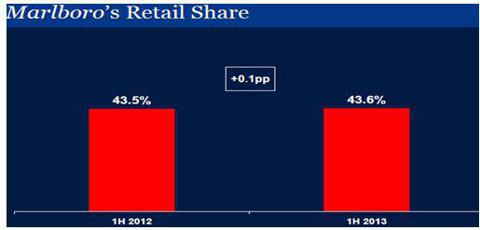 Source: Presentation Slides
The company has also taken initiatives to improve upon its cost structure. It has been successful in improving fixed infrastructure costs and committed to manage variable costs per pack more efficiently. Cost control initiatives remain among MO's important long-term strategies, and they are likely to fuel its future earnings growth. Its cost control initiatives are likely to result in cost savings of $400 million by the end of 2013.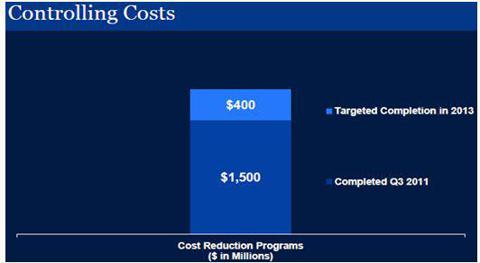 Source: Presentation Slides
The company reiterated its EPS guidance range of $2.36-$2.41 for 2013, targeting a long-term earnings growth rate of 7%-9%. As opposed to the company's projections, analysts are anticipating an EPS of $2.39 for 2013 and a next five year growth rate of 7.80%.
Consistent with its healthy financial performance, the company shares its successes with shareholders through a high dividend yield of 5.7%, and an impressive ongoing share repurchase program of $1 billion. Last month, MO announced a 9.1% increase to its quarterly dividend, and a $700 million increase to its share repurchase program. The dividend increase had been anticipated by the market; however, an increase of 9.1% was above the market's expectations of 8%. Also, the dividend increase was above the company's long-term EPS growth target range of 7%-9% and higher than last year's dividend increase of 7.3%. As the company continues to repurchase its outstanding shares, it will boost its EPS growth and magnify ROE in the future.
Conclusion
The stock is currently trading at $34.25; down 8% since its recent second quarter earnings release. I believe the recent pullback remains an attractive entry point for investors. Moreover, the stock offers potential price appreciation of 12%, based on my price target of $38.5. I calculated the price target using the S&P 500's forward P/E of 15x and the 2014 EPS forecast of $2.56. Therefore, I remain bullish on the stock.
Disclosure: I have no positions in any stocks mentioned, and no plans to initiate any positions within the next 72 hours. I wrote this article myself, and it expresses my own opinions. I am not receiving compensation for it (other than from Seeking Alpha). I have no business relationship with any company whose stock is mentioned in this article.