American Capital Agency Corp. (NASDAQ:AGNC) is a mREIT investing in agency mortgage securities backed by Freddie MAC (OTCQB:FMCC) and Fannie Mae (OTCQB:FNMA). AGNC operates a leveraged finance business that depends on cheap financing in order to distribute quarterly dividends to shareholders. AGNC competes with Annaly (NYSE:NLY), Armour Residential (NYSE:ARR), Chimera (NYSE:CIM), Hatteras (NYSE:HTS) and Invesco (NYSE:IVR).
mREITs are almost exclusively bought for their double-digit dividend yields which, can only be sustained via cheap third-party financing, shareholder dilution and leverage. Current dividend yields (as of 6/09/2013) for the main mREITs mentioned above are almost too good to believe:
AGNC: 18.50%
NLY: 13.70%
ARR: 20.05%
CIM: 12.2%
IVR: 16.86%
HTS: 15.30%.
If something is too good to be true then usually it is. While mREIT shareholders believe in quarterly distributions that roll in quarter in and quarter out, they seem to be missing that their income streams are only temporarily favored by low interest rates in the US. Any business that is leveraged up to the hilt is likely to take a hit once rates rise and/or become more volatile. As the housing market continues to recover, this poses a severe industry challenge that bullish investors miss to consider. Usually, the logic goes like this: As long as dividends are paid, the stock price is nothing to worry about. Unless, of course, capital depreciation exceeds the cash flow return, share capital increases dilute existing shareholders and overall distributions are declining (which they are: For Annaly check here, AGNC here, IVR here). While I do not pay too much attention to a single dividend, the trend is clear: down and in big steps.
The recent AGNC Q2 2013 dividend stands at $1.05 per share and is down 16% quarter over quarter and even more so since the height of the financial crisis in 2009. Already, mREIT investors who bought into such stocks last year have taken a massive hit (but probably haven't realized it yet because dividends are still paid).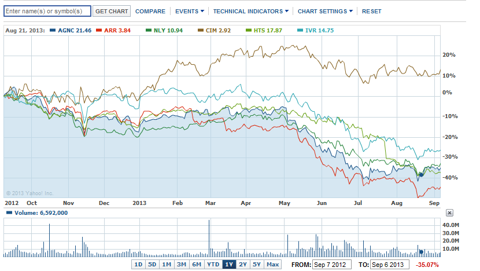 With the exception of the CIM performance, those charts clearly aren't nice. AGNC shareholders took a 35% capital hit alone. Annaly shareholders lost 33% and ARR investors took the largest hit with nearly 45% over the most recent one year period. Much more than the double-digit yield.
Industry headwinds going to impact business profitability
The fundamental reason for the decline in mREITs is the increase in interest rates since April 2013. The following graph depicts the two year chart for 30-year US mortgage rates:

The strength in the US economy is reflected in higher average mortgage rates marking a new two year high at 4.57%. Fannie Mae summarized the development for a variety of maturities:
Mortgage buyer Freddie Mac says the average rate on the 30-year loan was 4.57% this week. That's up from 4.51% a week earlier and close to its high this year of 4.58% reached Aug. 22.

The average on the 15-year fixed mortgage rose from 3.54% to 3.59%. That's near the year's high of 3.6%.

Long-term mortgage rates have risen more than a percentage point since May, when Federal Reserve Chairman Ben Bernanke first signaled that the central bank could reduce its bond purchases later this year. The bond purchases have been intended to keep loan rates ultra-low.
Volatile and rising rates will affect the distribution stream from mREITs. Higher rates cause borrowers to hold off with home purchases impacting REIT prices and earnings. Given the strength and momentum of the US economy, I expect volatility in rates to continue indicating cyclical short-term downside for AGNC.
Regulatory risk and leverage limits?
Quite interestingly, Fed Governor Jeremy Stein cast the spotlight on mREITs in February indicating that this sector engages in excessive risk-taking (AGNC's leverage ratio is around 8.4x as of Q2 2013). A higher focus on mREITs from a supervisory level increases regulation risk that could adversely affect industry prospects if supervisory bodies declare the sector to be systemically important and aim to impose leverage restrictions or demand more equity capital. Both developments would curtail business development and affect profitability.
Be prepared for lower dividends and dilution
I expect dividend distributions to fall further based on an increasing rate scenario. Falling payouts will translate to lower dividend yields which make shares unattractive for the income-seeking investor crowd. As a result, shares could fall further to reach an acceptable cash flow yield level. Falling dividends and implied share depreciation further suggest a short position in AGNC.
Furthermore, mREITs have engaged in an orgy of capital raises with IVR, ARR and American Capital Mortgage Investment Corp. (NASDAQ:MTGE) holding out their hands. Dilution risk is a real sector risk contributing to the negative thesis outlined above. I expect this to be particularly relevant to AGNC and NLY shareholders.
Dismal Q2 2013 performance
AGNC's second quarter results were dismal and proving the arguments made above: AGNC lost $2.37 per common share and book value declined $3.42 from $28.93 in Q1 2013 to $25.51 in Q2 2013. This marks an 11.8% decrease in book value per common share in a single quarter. The economic loss on equity was 8.2% for the most recent quarter or 32.9% annualized. Truly staggering numbers of value destruction that do not contribute to building confidence.
Bottom line
AGNC investors face at least cyclical headwinds coming from increased interest volatility and lower dividends. A strengthening housing market and rising rates should prove to be an overall negative for mREITs and leveraged AGNC in particular. Dividends are likely to fall further, but also put pressure on share prices as yields are too low. As a result, investors could be squeezed on both capital and income levels. Regulatory risk in the sense of leverage restrictions also add to a negative industry outlook. Shareholder dilution and excessive leverage are further points that make AGNC unattractive in the short-term and lead me to initiate a short-term short position in AGNC with an estimated downside of 20-30%.
Disclosure: I am short AGNC, NLY, ARR. I wrote this article myself, and it expresses my own opinions. I am not receiving compensation for it (other than from Seeking Alpha). I have no business relationship with any company whose stock is mentioned in this article.