Timken (NYSE:TKR), the bearings and steel company, made an interesting announcement Thursday:
The Timken Company announced that its board of directors unanimously approved a plan to create two independent publicly traded companies - via a spinoff of its steel business from its bearings and power transmission business. The transaction will provide the two stand-alone companies with the ability to focus on their own distinct growth strategies within their respective core markets, which we believe will drive these businesses to new levels of success.
We don't have any very precise timings on this spin-off ("within the next 12 months") but we can make a few observations. Certainly the stock market took the news well with the share rising to an all-time high: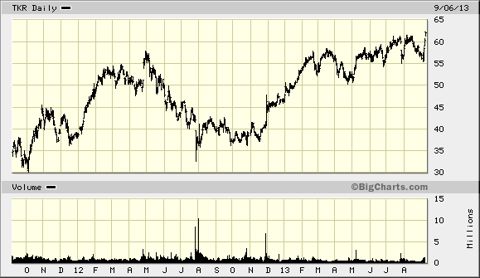 Today, Timken has a market cap and EV of US$5.9bn. Will underappreciated inherent value in their (soon to split) major divisions be shown by the spin-off?
First, what does old Timken look like if split into two? This is a useful chart from the presentation document which gives a feel for the basic business profiles. The bearings/'new Timken' business is approximately twice as big as the steel business.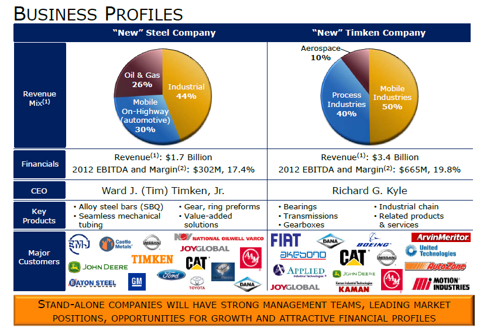 This timing is interesting given the last (Q2) update - part of which is shown below - by the company highlighted some trading issues across both divisions. Splitting up the company should allow more focus from divisional management to the potential benefit of results.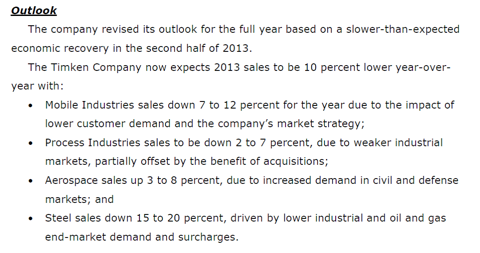 The above needs to be taken into account with the information, usefully provided in the presentation appendix, showing the (historic) division revenues/profits.
The bearings business is a peer of the Swedish company SKF (OTCPK:SKFRY). Within this research piece SKF is valued at a prospective x12 EV/EBIT valuation reflecting its global leadership position. Looking at Timken's profile though, they match up fairly well. One difference is that Timken is about 75% 'developed' markets versus SKF at nearer two-thirds and, unsurprisingly, Timken is more US-centered whilst SKF is more European-centered. This lower exposure to the emerging markets means that the company's sales profile is, however, more variable.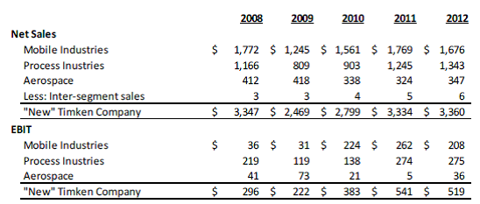 This greater variability is seen in the comments noted above regarding the Q2 13 results. Timken should be valued at a discount to SKF with x10 EV/EBIT seems suitably conservative. A US$5bn valuation feels about right.
Turning to the steel business, progress here has been much more variable due to some of the difficulties surrounding the global steel business. Some of the points below about "high performance", "leadership" and "value-driven" indicate that this is not a commodity steel business.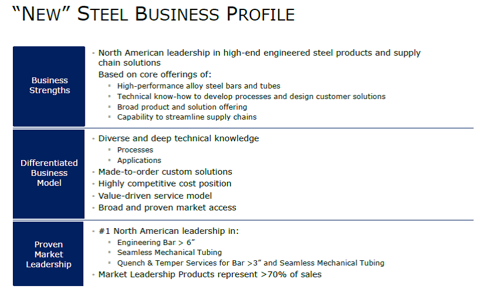 This better-than-many-other-steel-names profile is shown by the earnings profile, which has seen the division make profits in four of the last five full years. Nevertheless the sales line shows volatility and variability. x6 EV/EBIT reflects a reasonable valuation for this sort of variability. This suggests a divisional valuation of around US$1.4bn (using a blend of the last three years including an extrapolation for FY13e).

Timken is fortunate that they have no debt, and the pension, according to the company, is nearly fully funded.
Other deal metrics include timing (12 months) and the one-time separation costs of US$125m. I would also highlight US$80m worth of corporate costs which will have to be split between the businesses.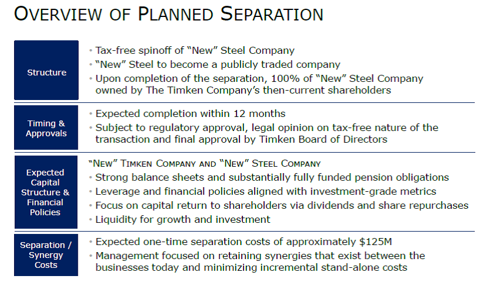 So ahead of any spin-off, what is our core valuation for Timken today?
Bearings business c. US$5bn
Steel business c. US$1.4bn
Deduct corporate cost US$80m * 8 = US$640m
Deduct the US$125m of one-time separation costs too
Add back a year's worth of free cash generation c. US$150m
Indicative value = just under US$5.8bn
Market cap of the share today = US$5.9bn.
The market has been fairly efficient here.
I will be keeping an eye on Timken, especially if we see a 10%+ fall in the share price. Today though I believe the real value will be in waiting for the spin-off and seeing if one or both of the independently traded companies ends up at a big discount to their underlying worth (as the shareholder bases evolve etc.).
Both elements of the company are fortunate that with negligible debt there are clear opportunities to grow each respective division if that is desired. Similarly differentiated policies regarding dividends and other related matters could be pursued.
As I said above, it makes sense to keep in touch with what is happening at Timken, even if the shares are not a buy today.
Disclosure: I have no positions in any stocks mentioned, and no plans to initiate any positions within the next 72 hours. I wrote this article myself, and it expresses my own opinions. I am not receiving compensation for it. I have no business relationship with any company whose stock is mentioned in this article.