Quiksilver Inc. (NYSE:ZQK) posted third quarter earnings, excluding restructuring charges, of 10 cents per share on Thursday September 5th. This was ahead of analyst estimates which called for the Huntington Beach, CA based company to earn just four cents per share. Revenue for the quarter came in at $496 million down 3% year-over-year on a constant currency basis. On the plus side SG&A costs were down $9 million year-over-year as the company works to restructure its business lines. Additionally gross margins were in line with last year's results at 49.4%. Pro-forma adjusted EBITDA increased $4 million in the quarter to $56 million and the company saw e-commerce sales increase 33% year-over-year and emerging market sales gain 21% year-over-year.

Billabong International ADR (OTCPK:BLLAY), Quiksilver's closest competitor, is considering two restructuring deals outlined in this article. This comes after VF Corp (NYSE:VFC) dropped its purist of Billabong saying the company wanted more than VF thought it was worth. Compared to the troubled Billabong you can see Quiksilver trades at much higher EV/EBITDA, P/S and P/B ratios. However Quiksilver's P/S and P/B ratios trail the much stronger, and debt free, Zumiez, Inc. (NASDAQ:ZUMZ), .44 and 1.65 for Quiksilver versus 1.11 and 2.53 for Zumiez.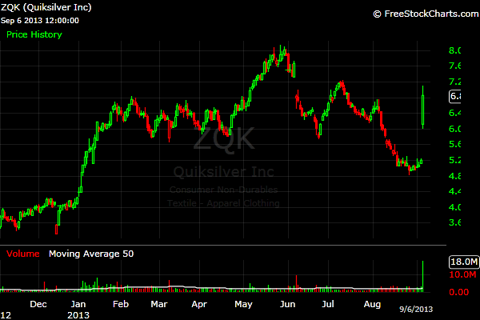 Looking at Quiksilver's chart you can see how restructuring helped lift the stock throughout much of the year, reaching a high of $8.14 in the end of May. Since that time the stock has fallen before rebounding after Thursday afternoon's earnings beat. However I see $7.25 as a short term resistance level and I don't see any reason to chase the stock above $6 per share. I believe the patient investor will not have to wait long for the stock to test the first area of support around $5.75 per share.
In conclusion Quiksilver management appears to have strong control over costs and this could allow the company to beat reduced analyst earnings estimates over the next few quarters. However management also stated that revenue will remain choppy until at least fall of 2014 when new product development teams start to hit their stride. I believe this will mean revenue declines for the Quiksilver and DC brands for at least the next year with some strength possible for the Roxy brand. While long term the company targets $300 million in annual EBITDA the main drivers for increasing EBITDA is reducing SG&A costs along with pushing gross margins above 50%. Looking at the company's prospects I see an intermediate term price target of $8 per share which if bought below $6 per share could yield a 33% gain for investors. However entry in the stock at current levels would produce a much more modest 16.8% gain which I do not believe is enough to outweigh the potential downside.
Data sourced from: Company filings, and Yahoo!Finance. Chart from: Freestockcharts.com
Disclosure: I have no positions in any stocks mentioned, and no plans to initiate any positions within the next 72 hours. I wrote this article myself, and it expresses my own opinions. I am not receiving compensation for it (other than from Seeking Alpha). I have no business relationship with any company whose stock is mentioned in this article.