By RJ Towner
At Valuentum, our stock-selection methodology blends two long-time investing foes-value and momentum (click here-pdf-for why this combination is so powerful). For an idea to fit the profile of a 'Valuentum stock', it simply cannot just be undervalued, nor can it exclusively possess fantastic momentum and technical measures. The firm must have both characteristics and pass the qualitative muster of our analyst team to make the cut for addition to our actively-managed portfolios. We credit the Valuentum discipline as the major driver behind the significant outperformance in our portfolios.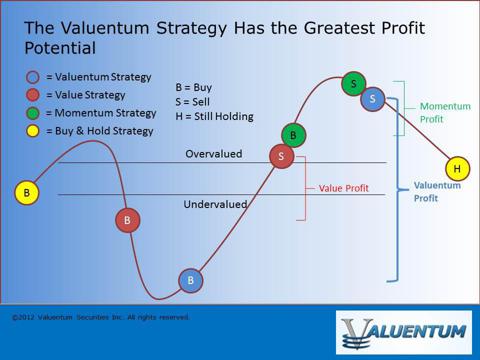 In addition to highlighting one of the biggest industry collapses during the year (the mREITs) and perhaps the biggest alpha trade (stock up, market down) of the year (Apple recently), the Valuentum process has also helped us avoid another painful drop during 2013: the homebuilding industry. Shares of the SPDR S&P Homebuilders ETF (NYSEARCA:XHB) are down 12% during the past three months (shown below), while shares of the iShares Dow Jones US Home Construction ETF (NYSEARCA:ITB) have reached bear market territory, down 20% over the same time frame.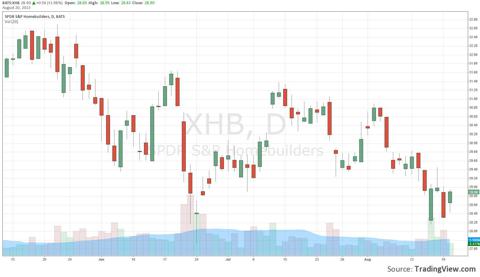 Stocks Were Priced for the Housing Recovery
In our view, the legitimacy of the housing recovery through the first half of 2013 is undeniable. We crafted an elaborate argument in favor of housing market fundamentals, but we also noted that valuations looked unattractive. Back in late May we said:
"Shares of homebuilders such as Toll Brothers, Pulte, Ryland, NVR, Lennar, and KB Home have surged during the past year, reflecting the basic need for more housing in the US. Though we like the fundamental improvement in orders and backlog across the industry, valuations are still a bit stretched. We're not rushing to add any to our Best Ideas portfolio at this time."
It was fairly clear to us that based on our rigorous discounted cash-flow process, momentum had run well ahead of homebuilding fundamentals. Additionally, a few housing-related drivers have shifted since May.
Interest Rates are Still Historically Low But Much Higher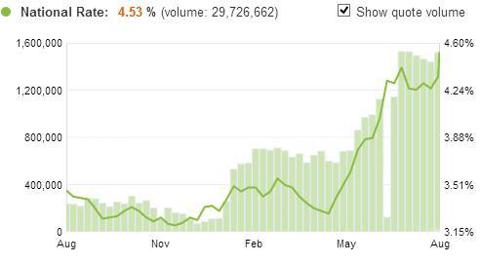 Image Source: Zillow
After bottoming earlier this year, mortgage interest rates have climbed to the mid-4% range. Though this helps mortgage lenders capture a larger spread, higher interest rates increase the real cost of lending to consumers (as inflation has been timid). In spite of this large upward move in rates, quote volumes have still advanced as Americans move to lock-in rates in anticipation of additional upward movement. But overall mortgage applications appear to be trending downward, and with the Federal Reserve strategy in question, rates could continue to drift higher unless the Fed decides not to taper its quantitative easing strategy.
Fortunately, the lion's share of mortgage originations during the past few years have been refinancing rather than purchase-based, and we believe many potential homeowners remain on the sidelines. Continued pricing strength in major metropolitan areas could encourage homeowners to sell, bringing additional inventory to markets that simply do not have ample supply to meet demand (bolstering mortgage originations).
Prices Are Still Improving Off the Bottom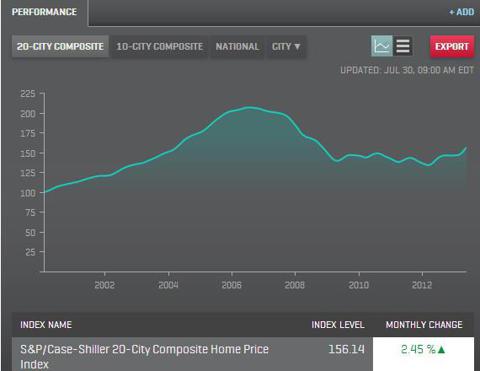 Image Source: S&P/Case-Shiller
The S&P/Case-Shiller 20-City Index suggests continued improvement in housing prices, which were up 2.45% during the last recorded month (the S&P/Case-Shiller Index is published with a two-month lag). Though the index reading remains below its 2006-2007 peak, prices have returned to mid-2000 levels. Behavioral tendencies suggest homeowners are loss averse, so higher prices could help alleviate a cohort of prospective sellers' concerns about breaking even.
Tougher Comparisons
Going forward, we're unlikely to see the same rate of growth in the housing industry as a result of more difficult comparisons. KB Home (NYSE:KBH), for instance, experienced net order growth of 6% year-over-year during its second quarter--a decent number, but the measure was still down substantially from the 40% order growth the firm experienced during its first quarter. The housing industry isn't lapping the easy numbers it had been previously (in terms of unit growth), but improved market prices should help both revenue and earnings growth going forward.
Net new orders at PulteGroup (NYSE:PHM) actually declined 12% year-over-year during its second quarter to 4,885 homes. However, management noted that it was limiting sales to capitalize on stronger prices, saying on its second quarter conference call:
"Based on feedback from our operations, in about 2/3 of our markets, we have purposely constrained sales to some degree in 10% or more of the available communities. In fact, in some of the hotter markets out west, including Arizona, Nevada and Southern California, we have controlled sales in more than 50% of the opened communities.

In a nutshell, we are effectively maximizing the value of our land assets by selling houses for more money and better margins, while using the resulting strong cash flow to invest in the business, pay down debt and as demonstrated by our action on dividends and share repurchases, returning funds to shareholders."
Other homebuilders may be doing the same, which may be helping to prevent supply from outstripping any demand increases. Though the strategy isn't risk-free (housing prices could fall again), it could lead to improved long-term performance (and less-severe cyclical troughs) even if near-term results aren't as robust.
Are the Homebuilding Stocks Attractive Now?
After experiencing the worst housing crash in recent memory, many of the smaller players have left the market or have taken on considerable financial leverage, leaving the large, publicly-traded builders well-positioned to purchase land and steal market share.
Pending home sales have held fairly steady during what is usually a seasonally-weak time period, and we think most of the fundamentals we highlighted in late May remain intact today. Though fundamentals continue to look strong in spite of a near-term interest rate headwind, we simply do not believe any homebuilder possesses an attractive valuation at this time.
Our favorite housing-related plays remain outside of the homebuilder space. Best Ideas Newsletter holding Ford (NYSE:F), which is selling a tremendous amount of F-series pickup trucks, is a particular favorite of ours, and we also like appliance maker Whirlpool (NYSE:WHR), which we think has material valuation upside.
Disclosure: I am long F. I wrote this article myself, and it expresses my own opinions. I am not receiving compensation for it (other than from Seeking Alpha). I have no business relationship with any company whose stock is mentioned in this article.
Additional disclosure: F is included in our Best Ideas portfolio. RJ Towner is the Director of Research Development at Valuentum.