by John Nyaradi
August showed a wide spread between hot and cold ETFs
Newton's First Law says that an object in motion will stay in motion until acted upon by an external force, and oftentimes this law applies to the direction of ETFs. A quick look at hot and cold ETFs for August could give us a clue about where to invest and where not to invest as we leave summer in the rear view mirror. Now that summer is over and many people are realizing how severely they went over budget during their vacations, investors who managed to stick with the same stocks and ETFs through the entire month of August (without being scared off by the threat of the taper) are taking account of how well they did.
Let's take at some of the winning and losing ETFs during the month of August, when the S&P 500 (NYSEARCA:SPY) declined 3.1 percent, as investors began to run scared at the thought that Ben Bernanke may begin to gradually allow the punchbowl to run dry, beginning in September.
At the top of our list of ETFs is the Market Vectors Junior Gold Miners ETF (NYSEARCA:GDXJ). This ETF designed to replicate the performance of the Market Vectors Junior Gold Miners Index, which includes companies that generate at least half of their revenues from gold mining and/or silver mining or have mining projects with the potential to generate at least half of their revenues from gold and/or silver when developed.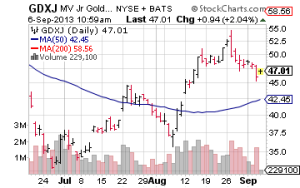 chart courtesy of StockCharts.com
While the spot price of gold increased by 5.5 percent during August, the share price for NYSERCA:GDXJ skyrocketed 21.2 percent. The Junior Gold Miners ETF fared much better than its big brother, the Market Vectors Gold Miners ETF (NYSEARCA:GDX) which gained only 4.2 percent during August.
Another big winner was the iShares Silver Trust ETF (NYSEARCA:SLV). This ETF is designed to reflect the price of silver, less the fund's expenses. The share price for SLV soared 19.1 percent during August.
Our third big winner is the Velocity Shares Long VIX Short Term Futures ETN (NYSEARCA:VIIX). Although the name might sound a bit oxymoronic, it is called "Long VIX" because Velocity Shares has an inverse ETN (XIV) which is the opposite of VIIX (and one of our Big Losers). VIIX is an exchange-traded note, intended to replicate the daily performance of the S&P 500 VIX Short-Term Futures index. The index was designed to provide investors with exposure to one or more maturities of futures contracts on the VIX, which reflects implied volatility of the S&P 500 Index at various points along the volatility forward curve. The calculation of the VIX is based on prices of put and call options on the S&P 500 Index. The ETNs are linked to the daily return of the index and do not represent an investment in the VIX. Investor anxiety about the likelihood that the Federal Reserve will taper its bond-buying in September sent the VIIX ETN climbing 16.6 percent during August.
When examining the ETFs which were Big Losers during August, special attention must be given to the Market Vectors Indonesia Index ETF (NYSEARCA:IDX). After Ben Bernanke's May 22 testimony before the Joint Economic Committee, in which he first discussed the taper, IDX began to fade. Up until that time, IDX had been happily bouncing along above its 50-day moving average. Four days after Bernanke's testimony and following a great deal of commentary about the consequences of such a move, IDX crossed below its 50-day moving average and sank from $32.93 per share at the closing bell on May 21, to a closing price of $22.15 on August 30. That translates to a loss of 32.73 percent. The portion of that decline which was made during the month of August – when taper fear began to rattle nerves – amounted to 20.7 percent.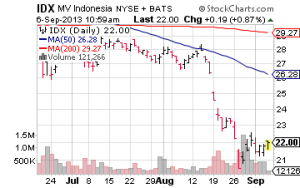 chart courtesy of StockCharts.com
Another ETF which was a Big Loser during August was the iShares MSCI Turkey Investable Market ETF (NYSEARCA:TUR). Turkey's Sapphire office tower stands as an iconic monument for everything which has gone wrong with that country's economy. The skyscraper was built with easy money, printed-up and loaned out in the wake of the financial crisis. As money tightened in August under threat of America's dreaded taper, Turkey's lira was crushed by America's strengthening dollar. In Turkey, loans have gone into default and there are few takers for the multi-million-dollar condos in the Sapphire. The country's weakened currency has helped inspire the flight of investors from this and other similarly-afflicted emerging markets. TUR, which tracks the performance of the iShares MSCI Turkey Investable Market Index, sank 15.1 percent during August.
Our final losing ETF for August is the Velocity Shares Daily Inverse VIX Short-Term ETN (NYSEARCA:XIV). This exchange-traded note is designed to inversely track volatility in the markets as measured by the S&P 500 VIX Short-Term Futures Index and it is the opposite of the VIIX ETN, discussed above and fell 16% for August.
Bottom line: Hopefully, the performance of your own investment portfolio during August was closer to the first three ETFs mentioned in this article, rather than the last three. While no one knows what September might bring, Isaac Newton was a bright guy and so current trends could continue as autumn leaves begin to fall.
Disclosure: Wall Street Sector Selector actively trades a wide range of exchange traded funds and positions can change at any time.