Active investment manager Andrew Shapiro argues that the U.S. Navy will spend more on Sonobuoys, but it is not clear at all yet what the military budget will look like going forward. An anticipated showdown in Congress this fall will determine much of what will be spent by the military, despite current Navy movements in the Middle East.
One company that stands to profit from any increase in military orders is Sparton Corporation (NYSE:SPA). Recently, along with Britain's Undersea Sensor Systems, Sparton Corp. was awarded $7 million for 9,400 AN/SSQ-53F Sonobuoys - buoys that detect underwater submarine assets.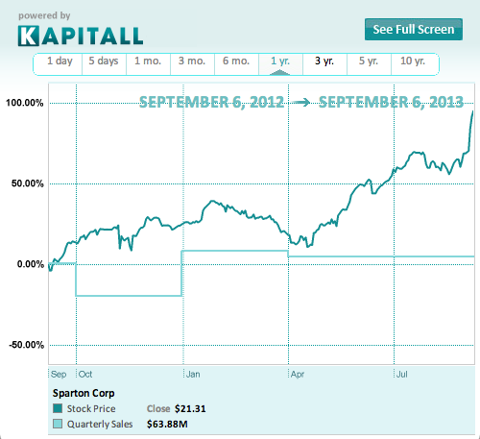 (Click to enlarge. Sourced from Zacks Investment Research.)
For investors, earnings typically dominate the stock headlines, but taking a closer look at a company's sales can be a more worthwhile move. Take, for example, Sparton
In a 52-week period, Sparton has gone from trading at $9.99 to $21.87. With a current market cap around $209.70 million, generated by ever-increasing contracts, this electromechanical device manufacturer has solid fundamentals.
Sparton specializes in medical and biotechnology, industrial and commercial, and the military and aerospace sectors. During the fourth quarter of fiscal 2013, Sparton was awarded 26 new business contracts, which is estimated to reap an additional $12 million in revenue. An acquisitive company, Sparton also recently completed its purchase of Creonix, LLC., an original equipment manufacturer (OEM) engineering firm.
Sparton's fourth quarter end sales backlog of $199.8 million included its acquisition of Onyx EMS, which contributed an additional $31.9 million alone, resulting in an additional 35% increase to the fourth quarter balance sheet year-over-year. And this past quarter Sparton was added to the Russell 2000 index, which the company has outperformed this year.
In total, for the fourth quarter, the Sparton reported sales of $87.1 million, or a leap of 42% from $61.3 million in the same period 2012. For fiscal 2013, fourth quarter net income was $6.8 million or $0.67 per share, versus net income of $4.1 million, or $0.40 per share in the same quarter a year ago.
Recently, Sparton also announced the acquisition of Aydin Displays, Inc., an $18 million revenue business, in an all-cash transaction. Aydin specializes in industrial and military strength monitors, as well as weather detection displays.
In addition to Sparton's recent purchase of Aydin, Sparton received in the last fiscal year a new five-year credit line from BMO Harris Bank with $65 million in committed facilities and a $35 million accordion add-on should a cool $100 million be needed.
In total for the fiscal year 2013, Sparton was awarded 71 new business contracts with sales reaching $266,015,000. Meanwhile Sparton's current debt is $14.57 million.
To investors with an eye for engineering, Sparton's product and service lines is a good assembly. The list includes, but is not limited to: electromechanical devices, biotech devices; sub-assemblies, military, telecommunications, energy and industrial components, detection and control devices; satellite communications, audio, fuel systems, navigation, underwater acoustics, commercial products; RF, lasers, optics, sensors and robotics.
Yet for all of Sparton's momentum, the company's current stock price should be considered a cautionary tale for two reasons, despite TheStreet's current buy ratings-among just three analysts' reports.
First, the Sparton relies heavily on military contracts, and specifically is counting on sales from its Sonobuoy product for ongoing organic growth. Therefore, without these contracts, the share price may very well depreciate significantly.
Investors looking for a short opportunity should build into their strategies a rigorous analysis of Sparton sales, over a longer time period, when analyzing any stock in today's bull-run.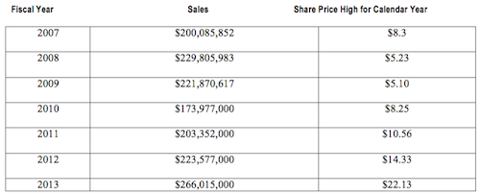 That said, when looking at Sparton's sales over the last seven years, the share price has far outpaced revenue gains. Calendar year 2013 (so far), the stock price high has been $22.13 and is currently trading around $21.68.
From fiscal years 2007 to 2013 revenues have increased approximately 30 percent while share price has increased nearly 200 percent.
What savvy investors might consider is that the stock is currently in overbought territory and therefore could be a potential short candidate. In short, no pun intended, the percentage gain in the share price has far outpaced the revenue gains.
Disclosure: I have no positions in any stocks mentioned, and no plans to initiate any positions within the next 72 hours.
Business relationship disclosure: Kapitall is a team of analysts. This article was written by Aimie Gresham, one of our writers. We did not receive compensation for this article (other than from Seeking Alpha), and we have no business relationship with any company whose stock is mentioned in this article.