The online recruitment platform is no longer restricted to hiring, resume building, and applications, but more about how companies are interacting with candidates. Employers are nowadays also looking at brand building, besides recruitment, and this is where LinkedIn (LNKD) comes into picture. LinkedIn is having an impressive run and continues to beat market estimates with 59% year-over-year increase in its revenue to $363.7 million in second quarter of 2013. The company has been rolling out new products, aimed to help people achieve career growth and companies to build their brand. Let's analyze how different initiatives of LinkedIn's will translate into earnings.
Get yourself sponsored
LinkedIn is the world's largest online professional network with 238 million users. LinkedIn's marketing solutions offer different products that let advertisers target quality audiences. Recently, it announced the introduction of 'Sponsored Updates', an advertisement campaign in its marketing solution segment. Through sponsored updates, publishers such as companies, recruiters, and professional can pay to get their content seen by LinkedIn users. It enables publishers to increase their brand awareness by reaching out to members who are not following them. The sponsored updates will be displayed on LinkedIn newsfeeds, where users can like, comment, and share the publisher's content. It has received great results from its pilot program with companies like GE, Mercedes-Benz, Xerox (NYSE:XRX), and CapGemini coming on board for this initiative.
It has already generated quality leads so far for a few companies, for example a software company, HubSpot generated 400% more leads from sponsored updates than other paid channels, such as e-mails and other business-to-business websites. The sponsored updates will bring significant revenue to its marketing solution segment, as there are more than 3 million company pages on LinkedIn.

Click to enlarge
(Source: LinkedIn)
Facebook (FB) also launched its sponsor updates in the second quarter of last year and has seen its mobile advertising revenue grow 76% to $656 million in the second quarter of 2013. Taking a cue from the success of Facebook's sponsored updates, we think that LinkedIn could attain same the growth in its ad revenue from its sponsored updates.
University Pages to open floodgates for students
In August 2013, LinkedIn launched its new product LinkedIn University Pages, targeted to students who are looking for colleges for their studies. It also dropped its minimum age for users to 14 years from 18 years to let younger generation participate on this platform. There are around 200 universities enrolled in this program, which include University of California, INSEAD, New York University, and University of Illinois, with more planned in the coming year. LinkedIn has around 30 million student and graduate users, representing 13% of the total user base. Around 2 million students will graduate with bachelor degrees this year and will start looking for a job. Therefore, the University Pages will help these students look for colleges, get associated with alumni, and get a job referral.
35% of students plan to use LinkedIn as a primary source for job search. Therefore, out of 2 million graduates entering the job pool this year, 700,000 will use LinkedIn in the U.S. As these graduates start looking for a job, they are likely to use LinkedIn premium services which will give them direct access to connect with employers and get job references. The average cost of LinkedIn premium services is around $380 annually per user, and looking at its annual report, contribution of premium subscribers was around 0.25% of the total LinkedIn user base in 2012. We believe that as more students migrate to LinkedIn, they are more likely to buy a premium subscription.
Premium subscription offers extra features and benefits, which help users get a job. This will also give recruiters more reason to buy LinkedIn services. This will boost profits for LinkedIn in the coming years.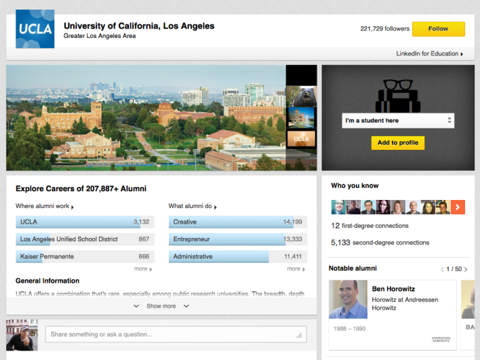 Click to enlarge
Falling monster
Monster Worldwide (MWW) is the parent company of monster.com, a global online and mobile employment solution company with presence in 55 countries. It is one of the biggest competitors of LinkedIn in both online and mobile segments. Its share price has fallen 20% YTD, due to the company's weak performance. It reported an 11% year-over-year decrease in its revenue to $200 million in the second quarter of 2013. The management stated that they are taking different strategies to overcome this decline.
Sal Iannuzzi, chairman, president, and CEO of Monster Worldwide said:
"We are aggressively pursuing the execution of our business strategy and are also developing a number of new strategies to better position the Company for sustained, long-term revenue growth in the evolving job market."
In contrast, LinkedIn has shown 69% year-over-year increase in its talent solutions revenue in the second quarter of 2013. The talent solution segment derives its revenue from providing recruitment products and job postings. Such a significant contrast in earnings is due to the difference in the business model of these companies. While monster.com, only charges employers for recruitment services, LinkedIn charges both job seekers and employers for these services.
We believe that Monster Worldwide failed to innovate and evolve in this dynamic online job industry, which is partly responsible for its downfall. It failed to capture the most desirable segment of college going students, while LinkedIn seized this opportunity.
Social Media Battle
Average revenue per user
| | | | |
| --- | --- | --- | --- |
| Companies | 2010 | 2011 | 2012 |
| LinkedIn | $2.69 | $3.48 | $4.82 |
| Facebook | $3.25 | $4.39 | $4.8 |
While there are different ways to compare social media companies, we believe that average revenue per user, or ARPU, is the most appropriate way. ARPU is the measure of average revenue generated by each user annually. This is because, companies may have a large user base, but it is only meaningful when they are generating revenue for the company. In 2012, LinkedIn showed a 39% increase in its ARPU to $4.82, even surpassing social media giant Facebook. Though LinkedIn's user base grew by 39%, the revenue showed a massive growth of 86% in 2012. Meanwhile, Facebook's ARPU increased 9% with 37% year-over-year revenue increase in 2012. Facebook has a large user base of 1.15 billion as compared to LinkedIn's 238 million users; therefore, Facebook's ARPU growth is slowing down.
Valuation:
LinkedIn has posted a 110% year to date, or YTD, increase. If we look at LinkedIn, it has a P/E of 916.81, 33 times the Industry P/E of 26.9. Investors might be confused with such a large number, but LinkedIn possess significant potential and hasn't disappointed, showing 81% increase in net income in 2012. Also, take a look at its forward P/E of 109.60, which is one-eighth of its trailing P/E, indicating high growth of LinkedIn's future earnings.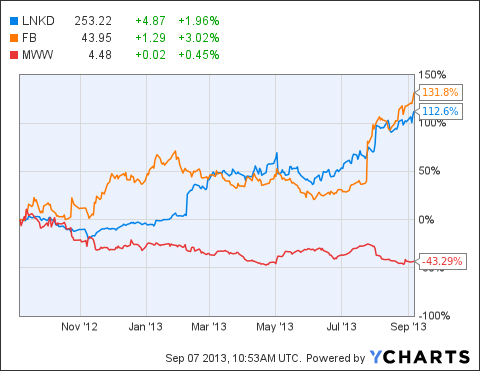 Conclusion
The number and the results speak from themselves in the case of LinkedIn. And, despite achieving such a feat, it is still looking to grow its sales and subscriber base through various initiatives. We believe that this company will continue to grow due to its ability to innovate and release new products at a rapid pace. Facebook has seen a significant growth in its mobile advertising that will help maintain its growth trajectory in the coming years. We believe these two stocks are worth having in your portfolio. On the other hand, Monster Worldwide has not been a delight for investors, and its earnings continue to slide down. This stock is a hold for investors.
Disclosure: I have no positions in any stocks mentioned, and no plans to initiate any positions within the next 72 hours. I wrote this article myself, and it expresses my own opinions. I am not receiving compensation for it (other than from Seeking Alpha). I have no business relationship with any company whose stock is mentioned in this article.
Additional disclosure: Fusion Research is a team of equity analysts. This article was written by Rohit G., one of our research analysts. We did not receive compensation for this article (other than from Seeking Alpha), and we have no business relationship with any company whose stock is mentioned in this article.