For 9 months investors have had to listen to the mixed signals of the Federal Reserve about either tapering or ending Quantitative Easing. In the face of the actual facts, I am now convinced that no matter what the facts show, the Fed will not only begin to end QE, but it will also end its policy of ZIRP for short term rates.
The Team Alpha Retirement Portfolio will need to be adjusted accordingly, to minimize potential losses, reduced dividends from the dividend opportunity stocks, and over concentration of allocation in business sectors that could be impacted to the downside. The portfolio consists of Ford (NYSE:F), Chevron (NYSE:CVX), Apple (NASDAQ:AAPL), McDonald's (NYSE:MCD), Exxon Mobil (NYSE:XOM), Johnson & Johnson (NYSE:JNJ), AT&T (NYSE:T), General Electric (NYSE:GE), BlackRock Kelso Capital (NASDAQ:BKCC), KKR Financial (KFN), Procter & Gamble (NYSE:PG), CSX Corp. (NYSE:CSX), Realty Income (NYSE:O), Coca-Cola (NYSE:KO), Annaly Capital , Cisco (NASDAQ:CSCO), Newmont Mining (NYSE:NEM), and Wells Fargo (NYSE:WFC), and Intel (NASDAQ:INTC).
The stocks that immediately come to mind are BKCC, KFN, and NLY.
I do not say this lightly. It was just about 2 weeks ago when I suggested that it might be time to buy shares of Annaly (NYSE:NLY). The article (read it here) outlined and detailed the facts that our economy faces, and why it simply is not growing, but also contracting.
Employment is still too high, especially considering those who have fallen off the unemployment benefit count. Income has dropped below pre-recession levels. Those lucky enough to find jobs are finding part time work, not high wage full time careers. Mortgage rates have risen, and while still remarkably low, lower incomes means fewer folks can afford mortgages anyway. Savings rates have declined as has the value of the average portfolio, making it harder to retire or plan for a more secure financial future.
Even with these facts right in front of our face, we are being spoon fed this:
One of the Federal Reserve's most hawkish officials urged the central bank on Friday to curb bond buying to $70 billion a month when it meets later this month, while a noted policy dove agreed that the Fed could start to taper later this year.

Expectations for a modest cut in the U.S. central bank's monthly bond purchases at the upcoming meeting were mostly intact after a mixed August payroll report, released earlier on Friday.

Most economists at U.S. primary dealers expect the Fed to ease back on stimulus after the September 17-18 discussions, according to a Reuters poll which showed such bets had firmed in the last month.
On top of that, we are also being told this, via a Seeking Alpha Market Current:
Evans: First hike could come in late 2015

Expecting the Fed to begin the QE taper this year and end the program altogether by the middle of next year, the Chicago Fed's Charles Evans suggests the first rate hike could come in late 2015 as unemployment falls below 6.5%.
The link to the actual presentation is noted in the above paragraph, and I suggest everyone read it. The one thing that strikes me is now we have moved beyond tapering talk, and into INTEREST RATE HIKE chatter. Trust me, this will not be the first time we will hear about the Fed doing an about-face on the zero interest rate policy that has been in place for 5 years now. This was just the beginning.
What this suggests to me is that the end of QE (or tapering) is a done deal, no matter what the facts of the economy are, and that next on the agenda is rising interest rates.
To stay ahead of the herd, I now am going to sell my shares of NLY, as well as another interest rate sensitive stock. I believe they will get clobbered.
What Will Thrive In A Rising Interest Rate Environment?
Aside from just dumping shares of the most obvious potential losers, we also should be proactive in selecting other areas that could benefit from a rising interest rate environment. That does not mean moving all of our money into the fixed income sector, but at 3% yields, the 10 year Treasuries do offer a place to park SOME cash with at least a decent return, with reduced risks.
That being said there are sectors that seem to do well in the oncoming environment. The Boston Globe recently printed this graphic: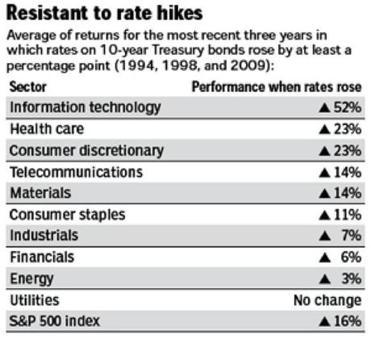 We will get to the stock selections in a moment. First I would like to tie this information in with what a rising interest rate environment will actually affect negatively.
Mortgage rates will increase. The housing sector will be impacted. Stay away from home builder stocks.
Auto loans could rise dramatically. Keep an eye on the auto stocks. Especially the ones that do not pay a dividend.
If you have credit cards, pay them off now, since those rates will skyrocket.
All dividend stocks could take a hit because when treasury interest rates and CD yields increase, there will be a knee jerk reaction to move money OUT of the dividend champion stocks when they drop, and into the fixed income sector. Be alert, be aware of your risk tolerance, and keep that dry powder handy to pick up some really great bargains on the blue chip stocks of choice.
Dividend "opportunity" stocks like BKCC and KFN could take a hit as the banks begin competing with them in the business development arena, since conventional lending will be more difficult.
Of the stocks we currently hold in the Team Alpha Retirement Portfolio, I am prepared to add a significant amount to AT&T.
To maintain our current yield on cost at 5.10%, I will need to add 2 dollars to AT&T for every 1 dollar sold in BKCC, KFN, and NLY since the average yield of these are roughly 10.6%, and the current yield of T is 5.5%.
By selling our position in NLY right now, we will have $4,800 added to our cash, and by selling 1/2 of our positions in BKCC and KFN (to get the allocation well below a total of 6%) we will also generate another $5,300 in cash. However, to keep it simple I am going to keep all shares of BKCC for now, and sell our entire position of KFN (for $5,600 in cash) for 2 reasons:
BKCC is a qualified BDC with an IRS mandate to pay at least 90% of earnings to shareholders in the form of dividends.
KFN has no mandate, operates like a BDC but is a limited partnership, and requires the additional tax work of a K-1. At the stage of progression that our portfolio has reached, keeping things simple is not a bad idea.
The bottom line is that we will sell all shares of NLY, and KFN, and keep an eye on BKCC for any deterioration in the dividends paid currently.
We will immediately add roughly $10,400 to our existing cash reserves of $7,391 for a total of $17,791. Since we cannot afford a 2 for 1 exchange, we will purchase 280 shares of T for roughly $10k and temporarily reduce out yield on cost to 4.99% from 5.10%.
The tradeoff will work because we are reducing exposure with our dividend opportunity stocks, and increasing our allocation to a dividend champion stock. At the same time we will still have roughly $8,000 in cash reserves to deploy into other sectors and stocks that tend to do well when interest rates rise.
One other note; I believe there will be panic selling when interest rates rise quickly. The opportunity to add shares of even more blue chip dividend paying stocks, will become fertile ground for those of us who truly understand dividend investing. Keep your focus on what your financial goals are and what is best for you and your family.
Now is not the time to run and hide, but to be prepared to take action, in whatever form you feel comfortable with.
Disclosure: I am long AAPL, BKCC, CSCO, CSX, CVX, F, GE, INTC, JNJ, KFN, KO, MCD, NEM, NLY, O, T, WFC, XOM. I wrote this article myself, and it expresses my own opinions. I am not receiving compensation for it (other than from Seeking Alpha). I have no business relationship with any company whose stock is mentioned in this article.