Guidance Software, Inc. (NASDAQ:GUID) provides a digital infrastructure in order to collect and preserve evidence for investigative purposes, while providing a verifiable process for presenting evidence in discovery. Their software was recognized by Gartner as a leader in e-discovery and is used in 65% of Fortune 100 companies and 40% of Fortune 500 companies.
Guidance Software 3-Year Chart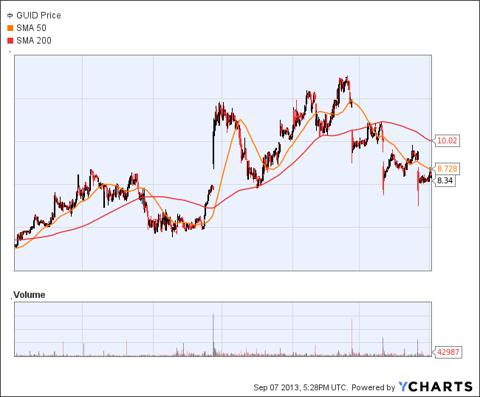 On August 1, 2013 Guidance Software announced a downward revision in their guidance for the second half of 2013. The stock dropped 14.6% to $8.13. The price drop represents a buying opportunity because Guidance Software is uniquely positioned to take advantage of the ongoing digitization of the government's cyber-infrastructure. Further, insider buying by the Hedge Fund RGM Capital following the price decline and Gabelli Funds disclosure of a large position, strengthens long term conviction.
Macroeconomic Factors
Guidance Software cited weakness in the federal sector as the major reason for the earnings revision, at the same time, in 2012-13 the IRS stepped up its investigative efforts involving identity theft-related crimes. Identity theft is no longer the only computer related crime with the advent of digital currency and growth of paperless documentation, there is definitely going to be demand for Guidance's products as more judicial proceedings rely on e-discovery software to present evidence. It seems the macroeconomic case for Guidance Software is very strong.
The Fiscal Cliff in 2012 likely affected the government's spending power which may have led to weakness in federal spending on devices like EnCase eDiscovery. Further, as more government agencies become involved in prosecuting computer related crimes from the federal level to the local level, demand will grow for Guidance Software's products.
Insider Buying
In an interview on Eureka Hedge, Robert Moses, described RGM Capital's investment strategy:
We like to find businesses that would not show up on traditional value investor screens because the company's valuation based on recent results may not tell the whole story.
Robert Moses has been purchasing Guidance Software stock consistently over the past few weeks, adding 49,385 shares from August 16 to August 23.
Mario Gabelli and the Gabelli Focus Five Fund (MUTF:GWSAX) disclosed a position in Guidance Software in early August. The fund's investment strategy is to look for companies trading below their private market value and have a potential near term catalyst. I watch this fund because it actually picks stocks, holds concentrated positions, and occasionally comes out with impressive value/contrarian investment ideas, in areas not heavily covered, for example Hillshire Farms (NYSE:HSH).
Is this the end or just the beginning?
The combination of macro factors, as well as the insider buying, seem to hint at some type of catalyst or growth over the next few quarters. On September 19, 2006, Tom Taulli speculated Guidance Software may be a potential buyout candidate. The eDiscovery space has been rather ripe with buyouts. HP/Autonomy is one example and Lexmark's purchase of ISYS is another. However, the growth story is just as, if not more, compelling. Recent current events, such as the NASDAQ shutdown, taking place on large networks, affecting millions of people, point to the importance of monitoring and preserving digital events in the private sector as well as the public.
Risks
A superior technology is developed.
Political risk associated with the budget.
Lack of demand due to market saturation.
Inability to execute federal sales plan.
AccessData, Guidance's closest competitor, takes a large amount of market share.
Disclosure: I am long GUID. I wrote this article myself, and it expresses my own opinions. I am not receiving compensation for it (other than from Seeking Alpha). I have no business relationship with any company whose stock is mentioned in this article.